Gmail plugins and browser applets are emerging as powerful ways to deliver software -- a new product from Amitree harnesses that to help keep your inbox tidy.
Every solo showing presents some level of danger for agents, and one Kickstarter project has an intriguing tech solution.
Expense tracking app Swipefin has been totally rebranded.
Have suggestions for products that you'd like to see reviewed by our real estate technology expert? Email Craig Rowe.
It's a been a busy week for real estate tech product updates. We have new names, new money and altogether new products.
Let's get into it.
Chrome add-on makes your Gmail smarter
Real estate technology innovators at Amitree have released a new Gmail for Chrome integration called Folio that helps agents manage transactions.
This is a natural-looking add-on to the popular Gmail interface that neatly stacks emails into "Smart Folders" containing essential deal content like contact names, timelines and attached documents.
Any mention of a listing address or name in a message will send it to its appropriate folder.
Without having to leave Gmail, Folio quickly organizes related messages so users aren't fumbling all over their inboxes to confirm when the buyer scheduled the inspection, for example.
Folio is also intrinsically linked to your Google Calendar and uses a sidebar menu to hop through features.
Folio also offers outside-the-inbox concierge services to help close the loop on outstanding deal needs, like insurance contacts and essential date reminders.
I'm a fan of browser apps that enrich the power of software without demanding steep learning curves. Folio is available now as a free download.
Amitree was also the recent recipient of a $3 million cash infusion, which adds to a total raised of $5.7 million since late 2015.
One ring to save them all
Agent safety during showings and other field activities has become a hot topic of late, fueled in part by the faceless communication tools used to schedule showings and meet eager buyers.
Now on Kickstarter is a device that every real estate agent who has ever felt uneasy about attending an appointment should consider backing.
Now on Kickstarter is a device that every agent should consider backing.
Nimb is a ring with a subtle "panic button" that silently alerts emergency contacts to trouble. The compelling video above explains all you need to know about this very sleek, Mission Impossible-esque rescue device.
Well, that's just Ducky
I have no idea what that phrase means, but it seems to encapsulate well the news that Swipefin has been rebranded as Ducky.
The expense swiping-and-categorization favorite with more than 10,000 downloads has added some feathers of late beyond its name, including a fluffy new interface and enriched user experience.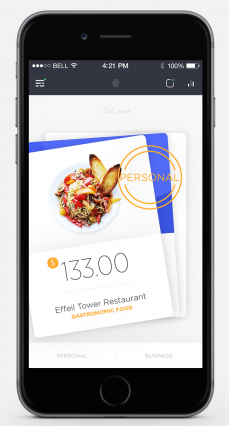 Users can add notes, attach images of receipts and quickly connect Ducky to their business bank account so expenses can be handled quickly, not weeks later.
Ducky's user base reported an average of $6,000 more in legal write-offs last year.
In short, tracking expenses with this sharp app is like…I can't say it.
Have a technology product you would like to discuss? Email Craig Rowe.