In the second quarter of 2016, the first-time foreclosure auction rate increased 33 percent year-over-year and 31 percent over the previous quarter in New York City.
Brooklyn, Queens and the Bronx recorded the highest increases in foreclosure activity, with Queens seeing nearly half of the city's total of foreclosures.
Manhattan and Staten Island saw much less foreclosures, with only four new foreclosures Manhattan's 10019 ZIP code and 11 in Staten Island's South Island neighborhood.
Foreclosures are rising in New York City, and the majority of them are being processed in Queens. According to Property Shark, first-time foreclosure auctions in NYC in the second quarter of 2016 surpassed levels seen in the past six years.
During that time there were 673 properties schedued for the first time to auction, with Queens, Brooklyn and the Bronx leading the pack. Year-over-year foreclosures going to auction increased 33 percent and 31 percent in the second quarter of 2016 compared with the previous quarter.
The foreclosure rate in the second quarter of 2016 more than doubled compared with the same quarter of 2012.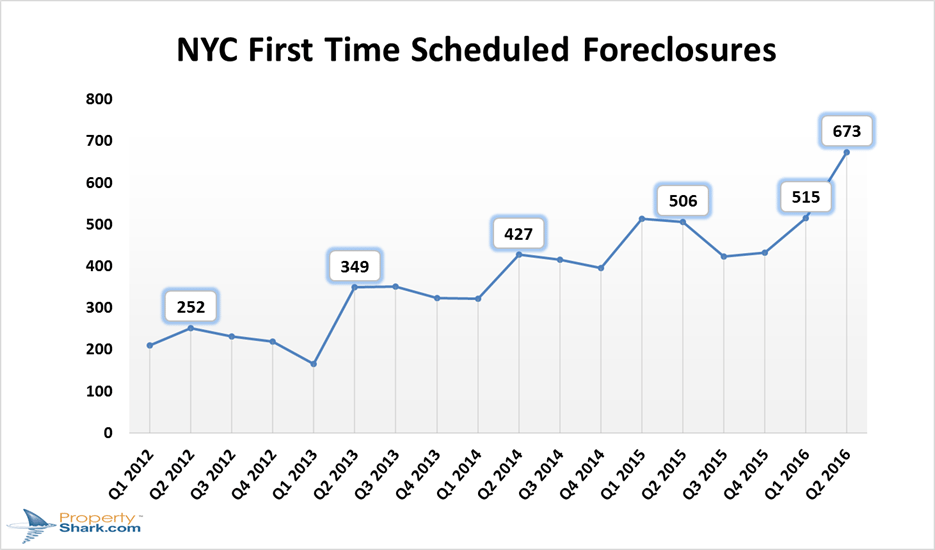 Manhattan had the smallest pool of first-time scheduled foreclosures, with only 25 in the second quarter of 2016. The borough was the only one with an annual dip in scheduled foreclosures, falling from 43 foreclosures.
Manhattan's average lien was $721,883.
Queens had the most foreclosures, at 302, which was also the biggest annual increase of any borough reported. The largest pool of foreclosures were seen in the 11434 ZIP code, where 32 new foreclosures took place with an average lien of $413,856.
In the Bronx, the second quarter saw an all time high for foreclosures. There was a 47 percent year-over-year surge in the area, which saw a total of 153 foreclosure auctions.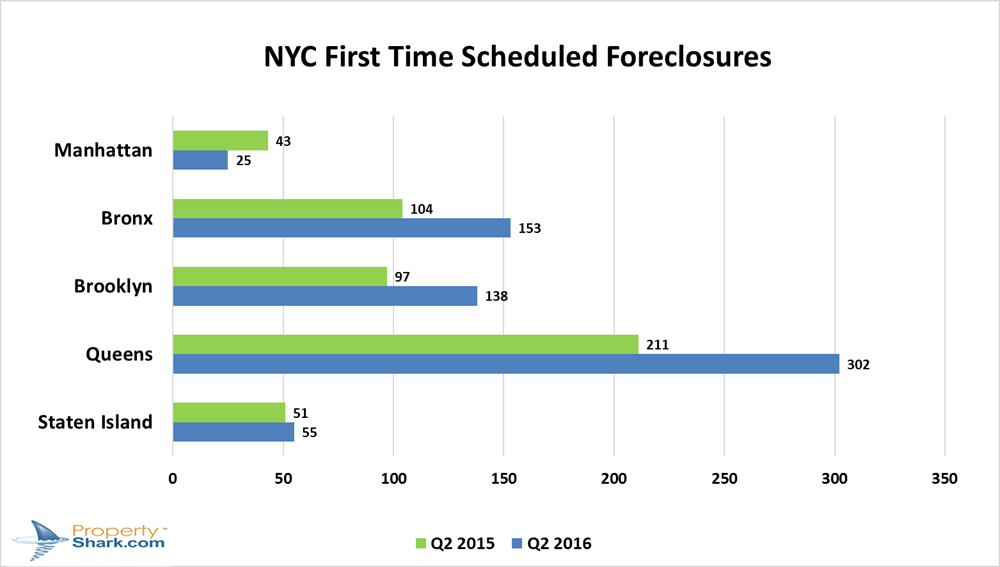 Pre-foreclosures, however, have been falling since the middle of 2013. Last quarter, pending foreclosures dipped 14 percent annually and 9 percent quarter-over-quarter.
In the second quarter of 2016, there was 3,312 pending foreclosures in NYC. The highest amount of pre-foreclosures was reported in the second quarter of 2013, when there were 4,292 pending filings.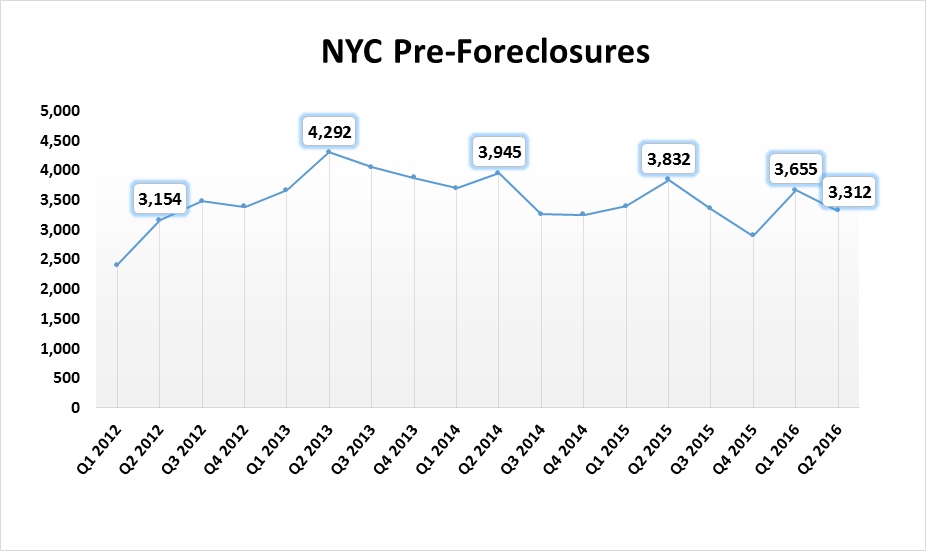 In the second quarter of 2016, the highest volume of building types listed as first-time foreclosures were two-family homes. One-family homes followed closely behind. In the first quarter of the year, one-family and two-family homes were nearly neck-in-neck for first-time scheduled foreclosures.
Condos and co-ops remained fairly unchanged year-over-year.
All foreclosure properties considered for the reported were those scheduled for auction for the first-time during the second quarter of 2016.