InsuranceQuotes study determined the average ecomonic impact of increasing a deductible and U.S. home insurance premiums in all 50 states.
States varied based on the amount of increase in deductible and the probability of natural disasters.
North Carolina was the big winner for the highest savings on premiums for homeowners raising their deductibles, and Texas was a big loser, according to the report.
For a homebuyer, traversing the landscape of insurance, mortgages and all things required to get that set of keys can be a headache to say the least, especially for first-timers. As a real estate agent, it's your job to provide some unbiased guidance when homebuyers are making decisions such as whether to get homeowners insurance with a higher deductible.
InsuranceQuotes recently released its new study comparing home insurance deductible savings across all 50 states, and the savings vary greatly around the U.S.
Depending on the state, having a high homeowners' insurance deductible could mean big savings. On average, the study found that an increase from $500 to $1,000 would yield 7 percent savings, $500 to $2,000 would yield 16 percent savings, and $500 to $5,000 would yield 28 percent savings for homebuyers across the U.S.
It seems like a no-brainer — but the higher the deductible, the more financial risk involved if something happens and the homeowner needs to file a claim. According to Laura Adams, a senior insurance analyst for insuranceQuotes, having a higher deductible makes a homeowner less likely to file a claim, hence the lower premium.
"What you do with your home insurance deductible should depend on where you live. If there's no significant savings, it may not make financial sense to increase your deductible," she said in a statement. "Be sure to review your coverage every couple of years to make sure your policy and insurance provider is still right for you."
The study considered annual costs for a hypothetical two-story, single-family home that covered for $140,000, and the potential savings after increasing a deductible. The average U.S. home insurance premium is $1,034, according to the National Association of Insurance Commissioners.
One of the biggest factors in cost is the probability of local natural disasters. In these states, a policy holder is likely to absorb more risk with a higher deductible and a lower premium — but it is still dependent on the increase in price.
In Florida, for example, an increase from $500 to $2,000 would yield a 22.69 percent lower premium on average. This is one of the best breaks in the nation, ranking no. 4 on the list. However, those increasing their deductibles to $1,000 or $5,000 will save a respective average of just 6.45 percent and 26.59 percent, both of which are ranked in the bottom half of the list.
In Illinois, where natural disasters aren't common (but do happen), the premium savings aren't spectacular at any rate. The biggest savings can be found when a deductible is increased to $5,000, saving homeowners 27.09 percent.
New Yorkers can save an average 9.85 percent when they increase their deductible from $500 to $1,000, 20.08 percent by increasing it to $2,000 and and 31.57 percent by increasing it to $5,000.
Californians will save the most when they increase their deductible to $2,000, saving an average of 16.82 percent. Increasing to $1,000 will lead to an average of 6.84 percent and a savings of 27.84 with an increase to $5,000.
Texas homeowners are at the bottom of the totem pole for savings, especially for those increasing their deductible from $500 to $1,000. The state was in the bottom five for all three categories measured, saving only 1.87 percent by increasing a deductible from $500 to $1,000, 6.07 percent by increasing it to $2,000 and 21.33 percent by raising it to $5,000.
The nation's capital didn't fare too well for those homeowners looking for savings, either. Washington D.C. ranked in the bottom 10 for all three categories, with the smallest amount of savings available for those increasing their deductible to $2,000.
North Carolina was the winner across the board in savings for homeowners opting to increase their insurance deductibles. The state has a reported savings of 16.38 percent, 38.84 percent and 44.93 percent on premium costs when increasing a deductible from $500 to $1,000, $2,000 and $5,000, respectively.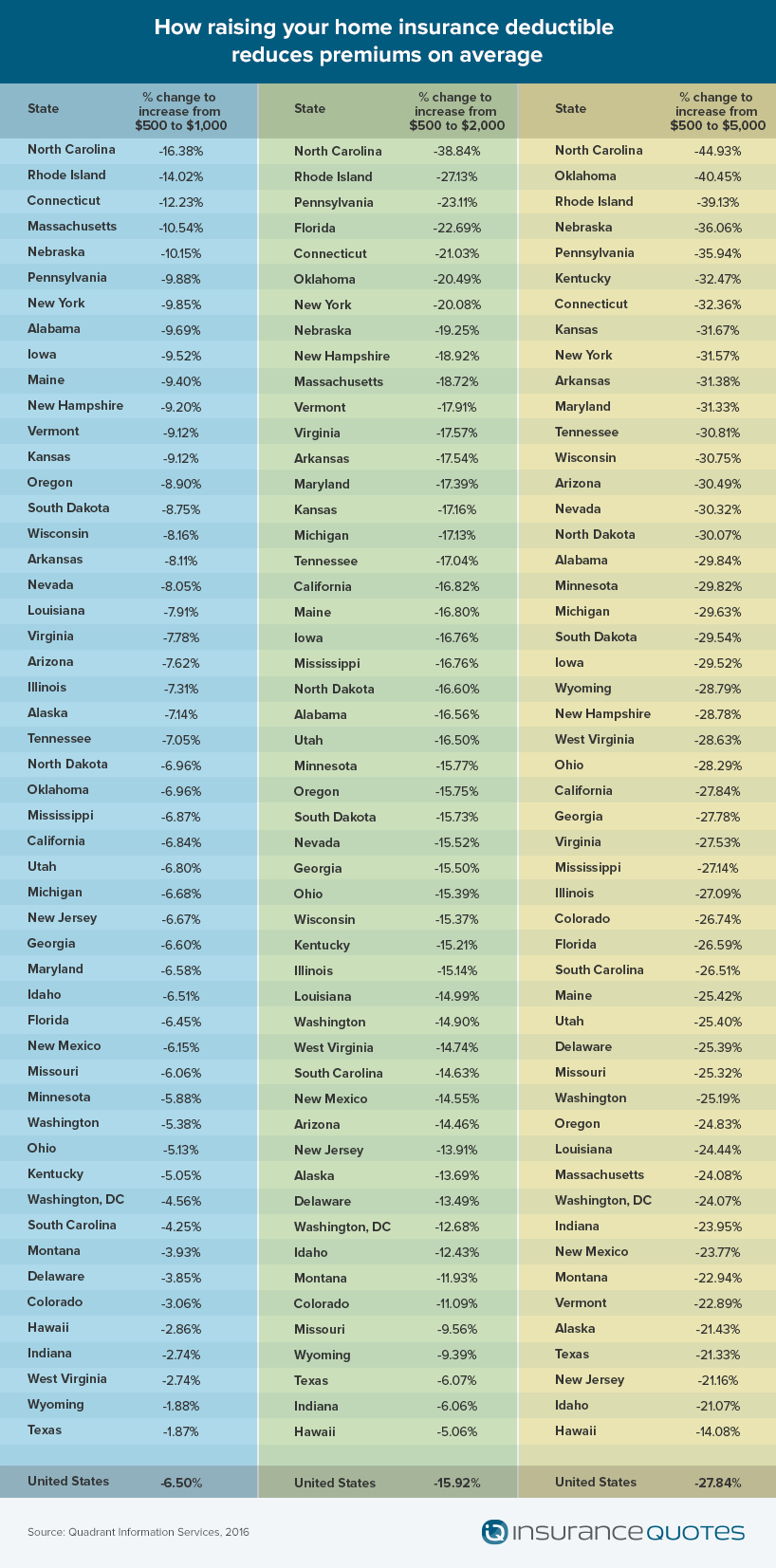 The 2016 Quadrant Information Services study was commissioned by insuranceQuotes.