Location Certified will stamp listings with a seal of approval if it determines they are located in neighborhoods with good schools, low crime and low traffic.
Agents who pay a fee for certification of a qualified listing get exclusive rights to use it to market a listing.
Some think the service might flirt with fair housing laws, but Location Certified says it actually promotes the spirit of such regulation.
"This home is in a quiet neighborhood with low crime and good schools."
Although that may be exactly what many homebuyers want to hear about a property, many agents wouldn't make such a statement for fear of testing fair housing laws.
But "Location Certified" lets agents express the idea without actually putting it in words.
For a fee, the Boston-based startup will offer a stamp of approval to properties that it determines are located in low-traffic neighborhoods with low crime and high-performing schools.
While acknowledging that the service will stir controversy, Location Certified founder David Hitrys says his company's designation can help agents win and market listings, and far from skirting fair housing laws, actually promote diverse neighborhoods.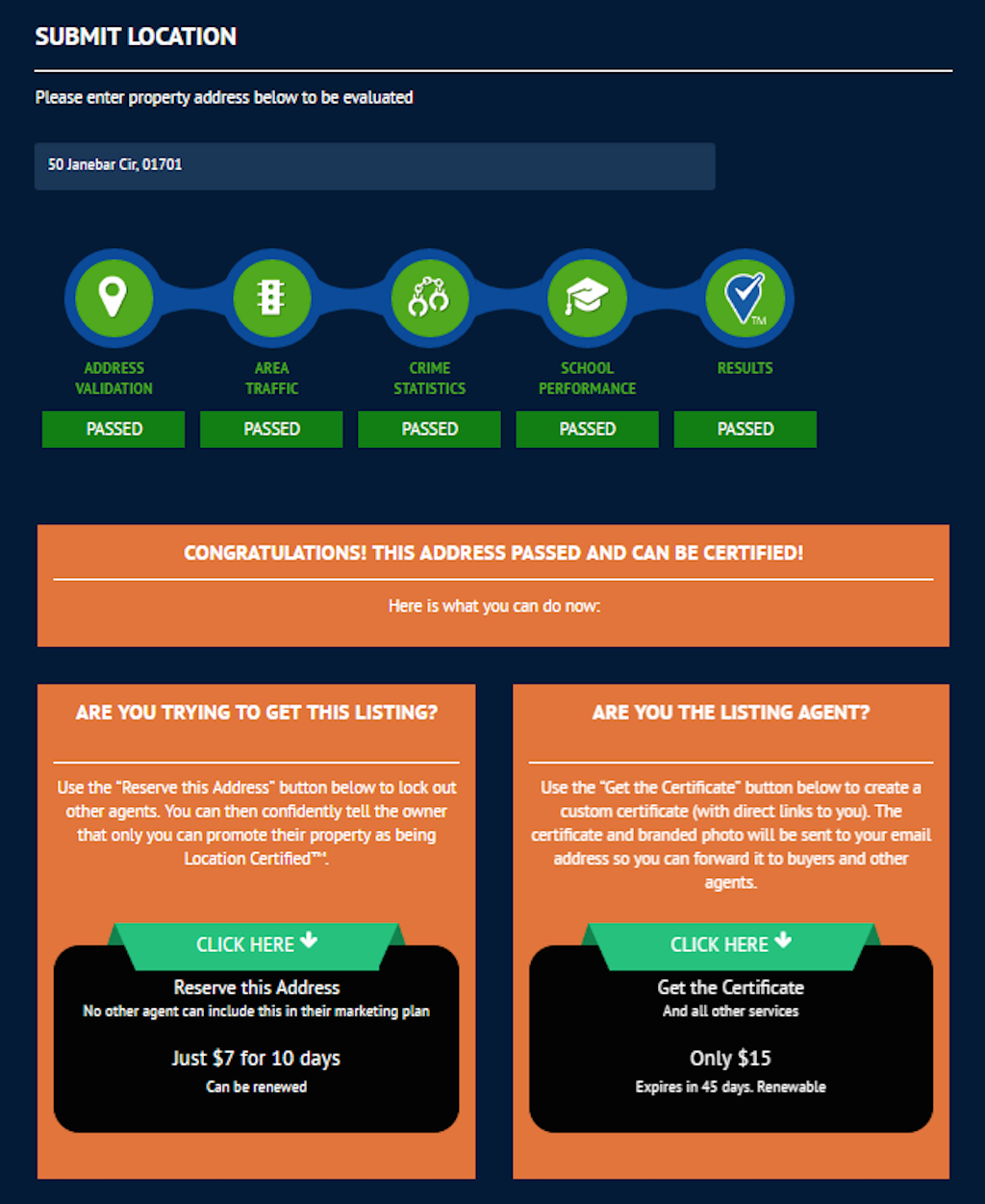 To see if a property qualifies for certification, agents must register on the site with a real estate license ID number and then search the property's address.
If a property passes Location Certified's quality tests, then agents have the option of paying $7 to reserve the right to tell a prospective seller client "that only you can promote their property as being Location Certified," the website says.
Listing agents, meanwhile, can pay $15 for the exclusive right to market a qualified listing using the designation for 45 days. They receive marketing materials featuring the certification, including property certificates, a property page on locationcertified.com and badges for listing photos.
They also have the option to purchase a Location Certified rider (pictured below) that they can tack onto a for-sale sign.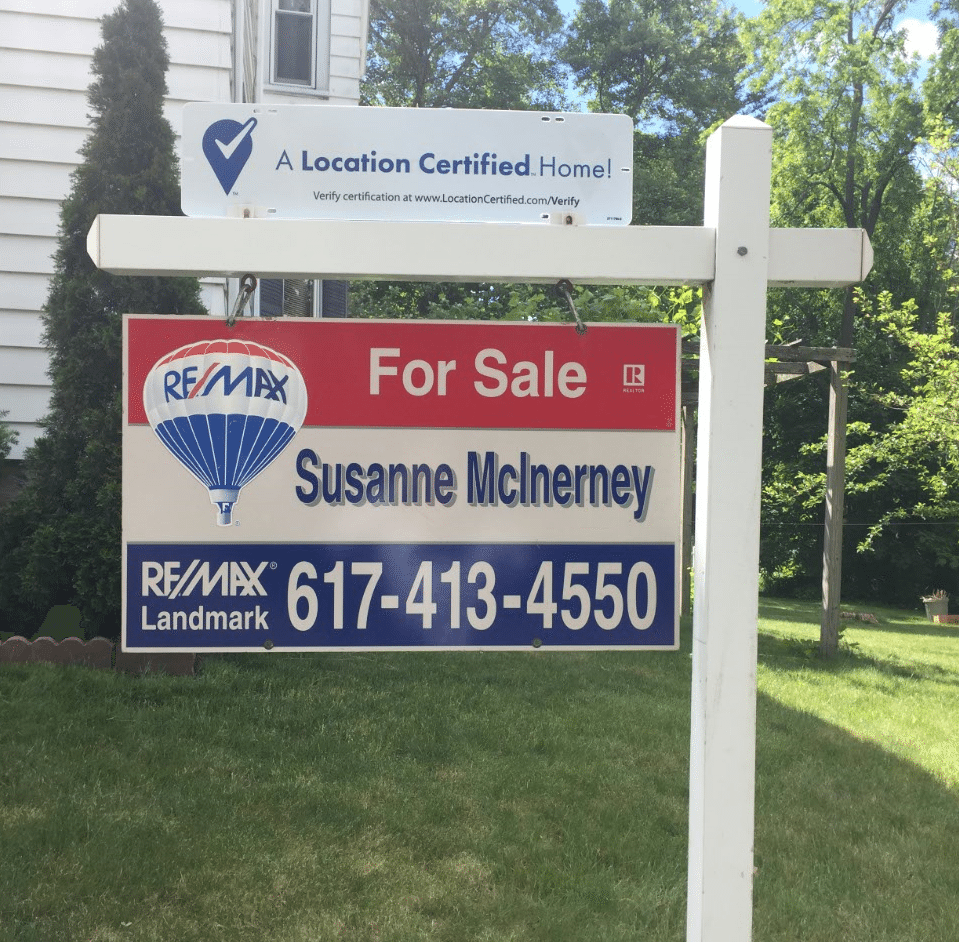 About two in 10 U.S. properties would qualify for Location Certified's certification, according to Hitrys.
Hitrys launched a version of Location Certified in the early 2000s. Called Sunshine Certified, it gained some traction, but Hitrys said he tabled the venture due to the high cost and poor quality of data at the time.
He's recently resuscitated the idea because crime and school data sets provided by Maponics — which Location Certfied uses to evaluate properties — has made the service more economically viable, he said.
Maponics, a provider of neighborhood and geographic boundary data that was recently acquired by Pitney Bowes, is also a seed investor in Location Certified, and Location Certified has enrolled in a startup incubator program run by Maponics, Hitrys said.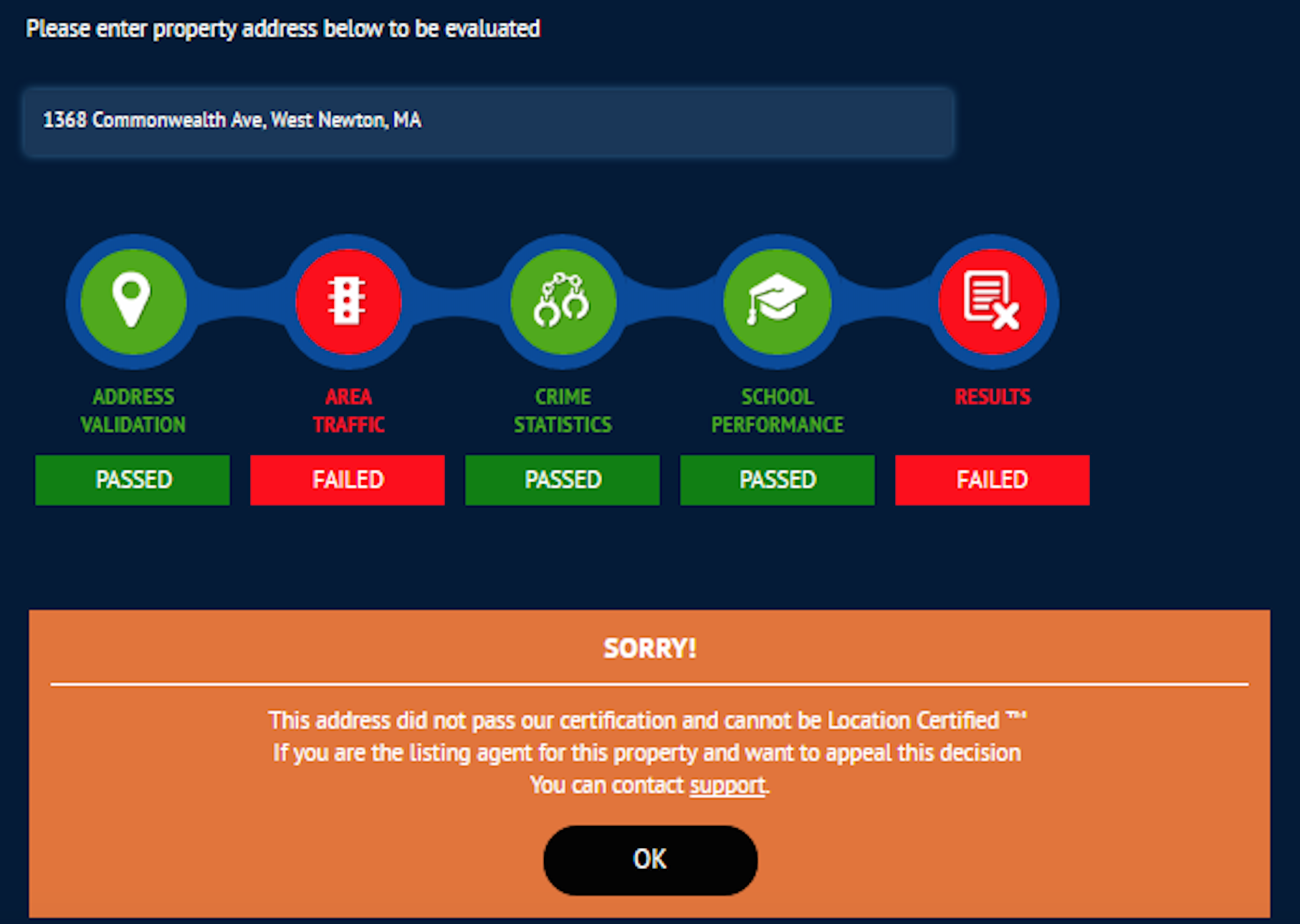 Back when Sunshine Certified was endorsing properties, buyers would often ask about its designation — which Hitrys described to the Boston Globe in 2004 as a tool for marketing "Leave It to Beaver" neighborhoods.
Once it was explained, buyers would take its meaning to heart, with some even asking to see more properties with Sunshine Certified's seal of approval, he said.
While agents can dangle the Location Certified label as a lure to buyers, it's most valuable to agents as a tool for bolstering their listing proposals to potential seller clients, according to Hitrys.
"During that 10-day period that agent who reserved it can include it in their marketing plan and tell the seller, 'I'm the only one that can do this for you," he said.
Hitrys anticipates that interest in Location Certified will snowball once some agents and consumers catch wind of it.
"What we learned and tested and proved was that once it exists in the market even a little bit, it's kind of a herd mentality," Hitrys said about adoption of Sunshine Certified's designation.
Still, Hitrys conceded that Location Certified scares off some agents due to what he says is the mistaken perception that the service flirts with fair housing laws.
Federal and many state housing laws generally prohibit housing-related behavior that produces a discriminatory effect on the basis of race, national origin, familial status and other characteristics — whether intended or unintended.
So agents are often taught to avoid any discussion of neighborhoods attributes that can be associated with various "protected classes."
Hitrys admits that "you would probably find a correlation" between predominantly white neighborhoods and good schools, low crime and low traffic — the neighborhood attributes that qualify listings for Location Certified designation.
But he maintains that the certification can promote integration by highlighting listings in affordable neighborhoods that boast those qualities but might not ordinarily be recognized for them.
Eligibility for certification isn't based on price, size or appearance and, "Very expensive mansions may fail to qualify while the most modest homes may qualify," Location Certified says in its FAQ section under a tab titled "Is this in compliance with the Fair Housing Act?
"We're helping to reveal that there are opportunities out there," Hitrys  said.
Location Certified has fair housing compliance "totally covered," he added.
One of the company's partners is a real estate attorney and employees of the Department of Housing and Urban Development (HUD) said Sunshine Certified, Location Certified's predecessor, was above board in what he said was "probably" 2003.
HUD spokesman Brian Sullivan said he wasn't sure HUD could verify a meeting between HUD employees and Hitrys in 2003, "nor pass judgment" on Sunshine Certified's business model.
Paranoia over fair housing laws "has spiraled to the point where buyers and sellers are being poorly served and this is what we are fixing," Hitrys said.
Due to the controversial nature of the service, he said that Location Certified is catering to "early adopter real estate agents."
"When we talk to real estate agents they say, 'Whoa, I'm running away from this," Hitrys said. "Others say, 'I know what is going on in the marketplace. I know it, and I get it."
Russ Cofano, who is chief strategy officer at eXp Realty and has occupied executive roles at several large real estate organizations, said that — depending on the criteria used to assess neighborhoods — a service like Location Certified could "certainly … be the means to create a fair housing violation" — though he clarified that he's not saying that Location Certified rises to that level.
Cofano said he's not aware of any case law or administrative rulings that delves into the use of objective criteria to score houses, at least from a real estate professional's perspective.
But, he added, "I think that case is coming." (For more on this topic, see Inman's series on neighborhood data.)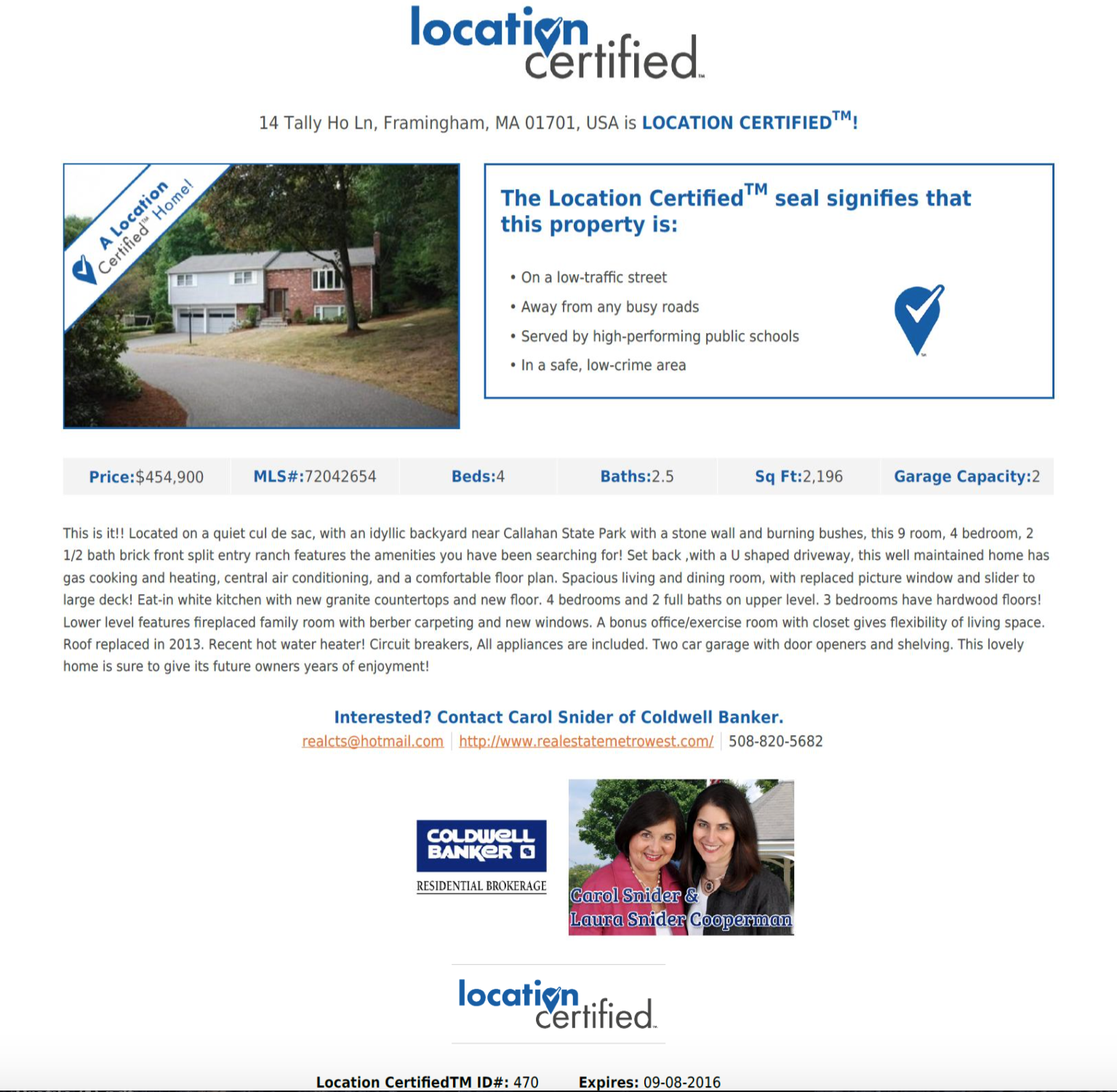 Discovering exactly why Location Certified grants or denies its stamp of approval to a listing isn't possible to ascertain.The service indicates whether a property fails to meet its crime, school or noise thresholds but doesn't explain why.
Hitrys said Location Certified gauges school quality based on a wide range of criteria including standardized test scores, performance trends and college attendance rates for both private and public schools serving a listing.
To determine whether a property's crime level passes muster, Location Certified considers a one through 10 score assigned by Maponics to the property that's based on ZIP-code level crime rates, he said.
Hitrys declined to specify what crime score a property must achieve to qualify for certification.
Location Certified's traffic data comes from several sources that Hitrys declined to name.
He clarified that Location Certified swapped the term "low-traffic" in for "quiet" in descriptions of its designation "because some agents were telling us that it is one of the 'forbidden' words."
"They are wrong," he added. "But we decided not to fight that battle as we roll out."
Editor's note: This story has been updated with comments from the Department of Housing and Urban Development (HUD) and clarification by Hitrys about conversations he said he had with HUD employees around 2003.