Philadelphia ranked first, with 91 percent of new homes having a higher Walk Score than the citywide score.
In Chicago, Cleveland, St. Petersburg, Boston and Seattle, more than 80 percent of new homes have a Walk Score higher than the citywide score.
Greensboro, Corpus Christi, Albuquerque, Plano and Bakersfield all had the lowest percentages of walkable new home construction.
By Eric Scharnhorst; reposted with permission from Redfin
---
New home construction doesn't always mean building farther out. Today, some builders and cities are working together to build new homes in areas with high Walk Score ratings.
So which cities are building the most walkable new homes? We took a look at new homes so far in 2016 and compared the Walk Score of each new home with the citywide Walk Score. Here are the top ten cities that had a population of at least 200,000, ranked by the share of new homes with higher Walk Score ratings than their citywide scores.
10 cities leading the way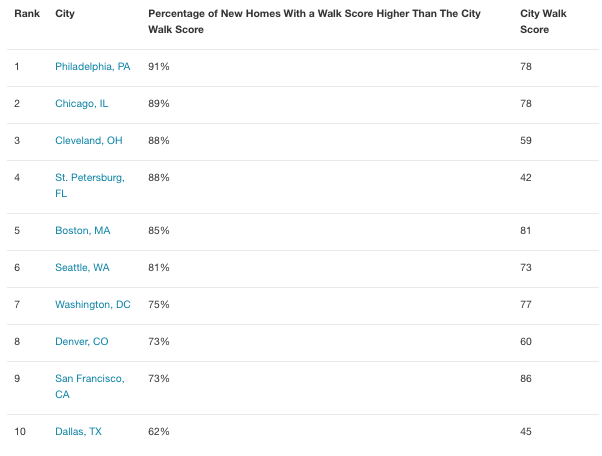 "Philly is on fire when it comes to walkable new construction," said Redfin agent Tom Lewis.
"In nearly every direction you look there are new apartments or condos going up, and older buildings are being rehabilitated. A lot of these new homes are in extremely walkable areas that are getting more walkable by the day; places like Northern Liberties, Fishtown, Frankford, South Philly and Point Breeze are seeing a lot of new construction activity," he said. "Buyers who are getting priced out of New York and Washington D.C. are flocking to Philly, and developers are rushing to meet the demand. A lot of the new construction buildings are also mixed-use, which in turn is increasing walkability throughout the city."
Most of these cities showed up in a report we did earlier this year, when we noticed that America's most walkable cities got even more walkable. Seeing cities on both lists makes sense, because a citywide Walk Score is weighted by population, so adding more homes in walkable areas can bump up the Walk Score of a city.
On the other hand, in some cities, new homes are mostly popping up in areas with Walk Score ratings lower than the citywide score.
10 cities on the bottom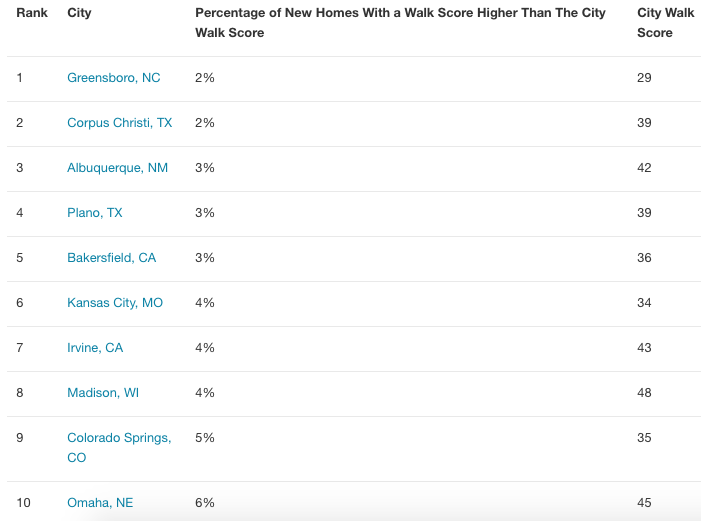 So what's going on in these cities? Builders are making new homes in areas that are more spread out. Think of a home with a big yard and a big garage — although these homes have a lot to offer, they tend to have lower Walk Score ratings than homes that are close to a lot of businesses and schools.
Remember, walkability is more than just sidewalks. It's also about building destinations along the way. New homes, services, shops and schools can all create invitations to walk, and this means that new construction projects can help improve the Walk Score of a place.
Methodology
We used data from Redfin to estimate new home construction in cities with a population greater than 200,000, and with more than 50 new properties this year. We defined new construction as a new property in 2016, in one of our existing market areas, even if the property has not yet been listed. Then, we used Walk Score data to get the Walk Score of each new home and compare it to its city's Walk Score.