The spirited element of competition that arrives with football season isn't quite the same when the stakes are higher (and extremely personal), as is the case with buying a house.
Many real estate consumers are thinking the superfandom ends when the housing pickins' are slim and the offers are fierce.
The latest Pending Home Sales Index (PHSI) from the National Association of Realtors (NAR) for the month of August reports that "suffering supply levels have taken the wind out of the momentum the housing market experienced earlier this year."
The PHSI, which measures how many real estate contracts were signed in the given month (a forward-looking indicator), dropped for the third time in four months.
Specifically, August's index reading declined 2.4 percent to 108.5 from a downwardly revised 111.2 in July.

Speed-to-lead: The mission-critical step where most agents fall short
How to capture every opportunity (before your competitors do)
READ MORE
By comparison, August 2015's index was 108.7 (a 0.2 percent difference), and this most recent reading reading represents the lowest PHSI since January 2016.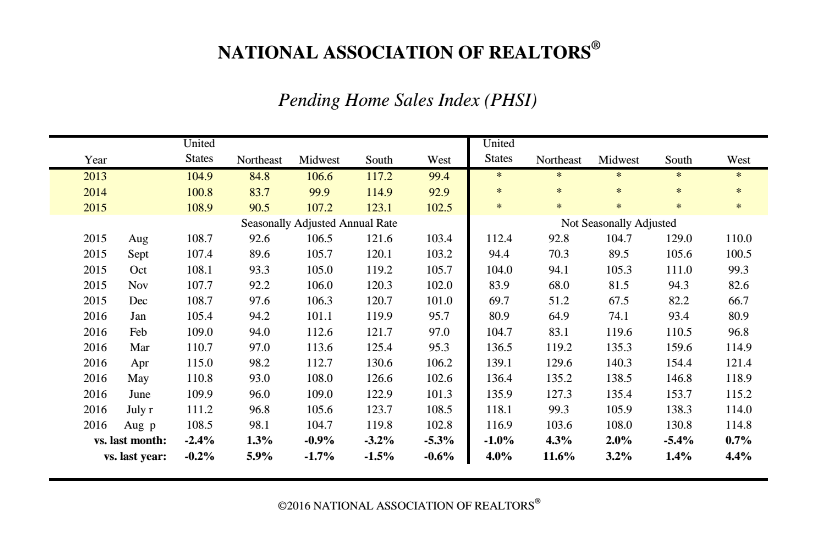 Regional outlook
NAR's chief economist Lawrence Yun explains that only one U.S. region was able to provide buyers with a decent selection last month.
"Contract activity slackened throughout the country in August except for in the Northeast, where higher inventory totals are giving home shoppers greater options and better success signing a contract,""he said in a press release.
"In most other areas, an increased number of prospective buyers appear to be either wavering at the steeper home prices pushed up by inventory shortages or disheartened by the competition for the minuscule number of affordable listings."
To expand on Yun's regional analysis, here's how the four corners fared:
West (declined 5.3 percent to 102.9, down 0.6 percent year-over-year)
Northeast (increased 1.3 percent to 98.1, up 5.9 percent year-over-year)
South (decreased 3.2 percent to 119.8, down 1.5 percent year-over-year)
Midwest (decreased 0.9 percent to 104.7, down 1.7 percent year-over-year)
The stalled state of new construction
A number of market influencers illustrate a future where the housing recovery could potentially stall, according to Yun.
For 15 consecutive months, inventory has fallen year-over-year; homes are staying on the market 11 days longer than they did at this time last year; and existing home prices have grown without abatement for 54 straight months.
"There will be an expected seasonal decline in new listings in coming months, which could accelerate price appreciation and make finding an affordable home even more of a struggle for would-be buyers," Yun said.
"Given the current conditions, there's not much room for sales to march again towards June's peak cyclical sales pace."
Moreover, a study from NAR earlier this month showed a discrepancy between single-family home builds and the job creation rate, leaving 80 percent of the country's metro areas lacking in available housing.
"When combined with the scant supply levels for existing homes, these tight inventory conditions continue to hamper affordability in many of the largest cities in the country — especially those in the West," the report noted.
NAR uses a large national sample of signed residential property sale contracts to build its monthly pending home sales index. The sample size typically represents about 20 percent of transactions for existing-home sales.
The index level was benchmarked to 100 in 2001, which was the first year to be examined. Existing-home sales in 2001 were in the 5 million to 5.5 million range, which is considered normal for the population in the U.S.