National home prices moved up 5.1 percent year-over-year in July, according to the latest S&P CoreLogic Case-Shiller U.S. National Home Price Indices, slightly passing the 5 percent annual increase reported in June.
Among the top 10 metros studied, home prices boosted 4.2 percent annually, down from 4.3 percent the month prior.
The firm's 10-City Composite is made up of the following metro areas: Boston, Chicago, Denver, Las Vegas, Los Angeles, Miami, New York City, San Diego, San Francisco-Oakland and Washington D.C.
Within the 20 major metros studied, prices are up 5 percent annually, compared with a 5.1 percent year-over-year jump in June. In addition to the aforementioned metros, the 20-City Composite includes Atlanta, Charlotte, Cleveland, Dallas, Detroit, Minneapolis-St. Paul, Phoenix, Portland, Seattle and Tampa.
Between June and July, 12 cities saw prices rise, two cities were unchanged and six dropped in price after seasonal adjustment. Seven out of 20 cities have reached new price records, while eight cities posted price increases of 6 percent or more over the last year.
"The S&P CoreLogic Case-Shiller National Index is within 0.6 percent of the record high set in July 2006," David M. Blitzer, managing director and chairman of the index committee at S&P Dow Jones Indices, said in the report. "Given that the overall inflation is a bit below 2 percent, the pace is probably not sustainable over the long term."

3 ways to get ahead in 2020 — starting right now
Grow and nurture your sphere now so you can reap the rewards next year
READ MORE
Despite skyrocketing home values, Blitzer assures there is no massive collapse in the near future. Since outstanding mortgage debt for one-to-four family homes is 12.6 percent below its 2008 peak and up less than 2 percent in the last four quarters, the housing market is able to sustain price growth, even if the Fed raises interest rates in December as anticipated, the report says.
For the second consecutive month, Portland, Seattle and Denver led in annual price gains.
Little change in the City by the Bay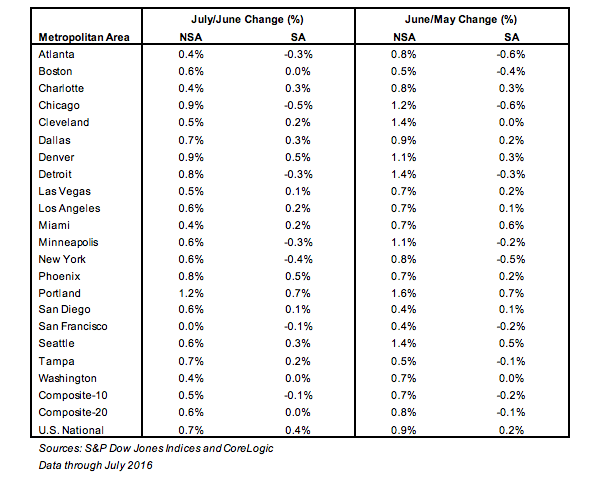 Home prices in San Francisco were flat month-over-month, remaining at an index level of 228.42. In comparison, San Francisco home prices grew 0.4 percent between May and June. Overall, prices are up 6 percent annually as of July.
Adjusted for seasonality, San Francisco home prices dipped 0.1 percent between June and July, slightly less than the 0.2 percent monthly drop posted from May to June.