Homes.com's concierge service qualifies leads from all manner of sources on behalf of agents, including those who don't advertise on the website.
It's also debuted an Uber-like contact feature that involves a new mobile app for Homes.com advertisers.
The listing portal's new social media marketing service can post ads and content on behalf of agents across several sites.
The ads feature an agent's brand alone and can link to any website of an agent's choosing.
Homes.com is trying to one-up Zillow with new lead-generation technology — some of which puts an agent's brand front and center.
The country's fifth-most popular real estate website — outranked only by Zillow, realtor.com, Trulia and redfin.com as of May — has unveiled standalone lead concierge and social media marketing services, along with an Uber-like contact tool for homes.com advertisers.
Concierge service
Homes.com's concierge service calls, emails or texts leads to find out if they're serious buyers or renters.
Those who pass muster are live transferred to agents by phone, while information for all leads — including what you could call "unqualified" leads — flow into a Homes.com-powered contact-management system.
Unlike Zillow Group's Premier Agent Concierge, Homes.com's concierge service is separate from site advertising and can filter leads from sources other than Homes.com, including Zillow Group and brokerage websites.
It's "not tied just to the Homes.com platform because we know agents advertise across multiple websites, including their own website and in many cases other portals," said Homes.com President David Mele.
Agents can add a Homes.com-assigned phone number to their online and offline marketing to route leads through a Homes.com concierge first.
"They're able to now have this personal concierge work on behalf of all of their marketing investments," Mele said.
Concierge assistants identify themselves as calling on behalf of an agent. Homes.com wouldn't provide any pricing information for the service, but Mele claimed it was available for less than what agents typically have to spend on Zillow ads to qualify for Premier Agent Concierge.
Zillow Group didn't respond to questions about its concierge service.
TalkNow
Homes.com has also added an Uber-esque contact feature for all Homes.com advertisers. Listings still show local agent advertisers on a contact form, but when users scroll down, they're invited to "Talk Now!" to an agent.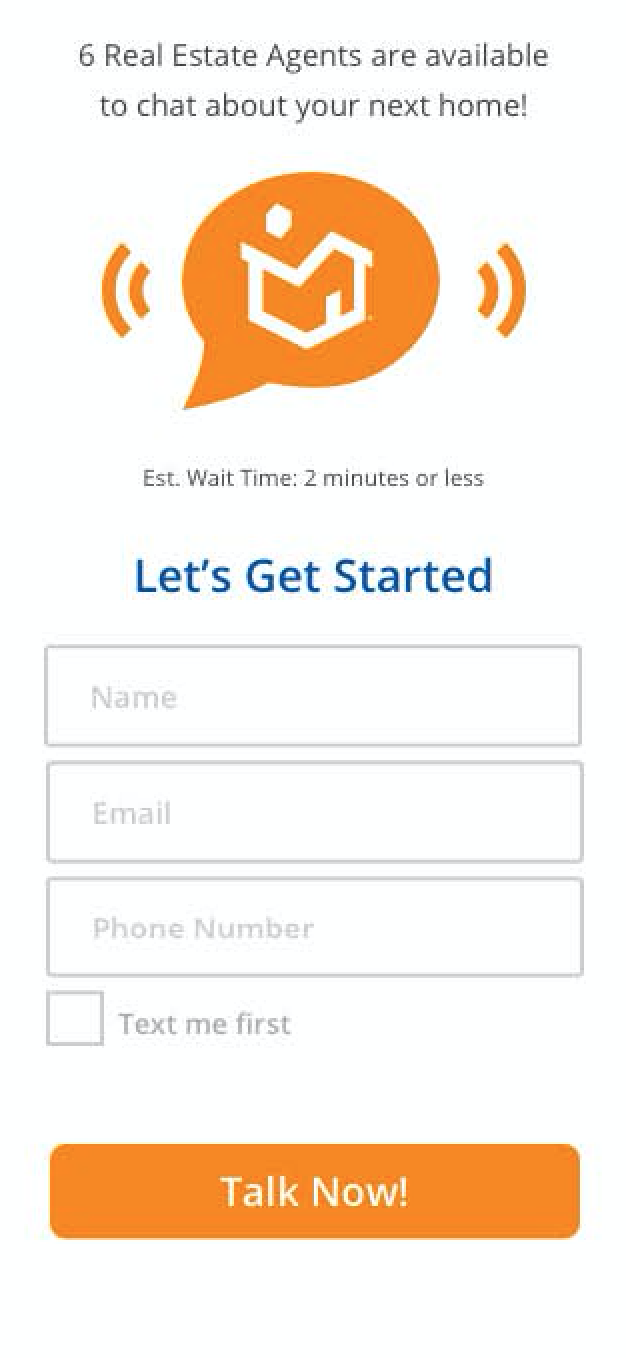 Consumers who click the feature see an estimate of how long they'll have to wait for a call and can submit their name and contact info to request one.
Agents can receive and respond to these leads through Homes.com's mobile app. If they switch their status to available, they'll receive mobile invitations to claim the leads, similar to how Uber drivers snag pickup requests.
When Homes.com advertisers aren't free to field inquiries, they can switch their status to "offline." Homes.com has baked TalkNow into its website advertising product for no additional cost.
Social media marketing
Fast on the heels of Zillow Group, Homes.com has also unveiled a social media marketing product just days after its chief rival debuted Facebook ads for agents.
Like its concierge service, Social Fuel is a standalone product available to all agents, not only those who advertise on Homes.com. It differs from Zillow Group's Facebook ads in several ways, according to Mele.
Second, Homes.com can set up and post content — not just place ads — on social media accounts for agents who buy the product.
Third, it can place ads, such as ads for listings, on both Facebook and Twitter, as opposed to Facebook only.
And fourth, keeping with Homes.com's professed aim of privileging an agent's brand, the ads only feature agent branding and can link to any website of the advertiser's choosing. They don't mention Homes.com, and they don't send consumers to Homes.com (unless an agent wants them to go there).
Zillow Group's Facebook ads show both agent and Zillow branding and represent "another opportunity for an agent to connect with Zillow's audience," Mele said.
But Social Fuel, he said, "allows an agent to assemble their own audience, connect with their own network without a portal in the middle."
Editor's note: This story has been updated to correct that Homes.com was ranked the fifth most popular real estate website in May, not the fourth.