The Trump administration is considering slashing the budget of the Department of Housing and Urban Development (HUD) by $6 billion, The Washington Post reports, citing preliminary budget documents.
The cuts would affect public housing support and could nearly eliminate community development grants. It remains to be seen whether the administration's final budget proposal will include the proposed cuts, the newspaper said.
The National Low Income Housing Coalition (NIHLC) called the suggested cuts "unconscionable and unacceptable." Among other consequences, the group claimed the plan would:
Cause properties "in which billions of dollars have been invested over decades to fall further into disrepair"
Result in more than 200,000 families losing "critical support" through cuts to Housing Choice Voucher rental assistance
Put a swath of low-income seniors and people with disabilities at a "high risk of eviction"
Trulia's Chief Economist Ralph McLaughlin noted that a 14-percent HUD budget cut could pour salt on the inventory shortage wound in major markets and "dampen economic growth."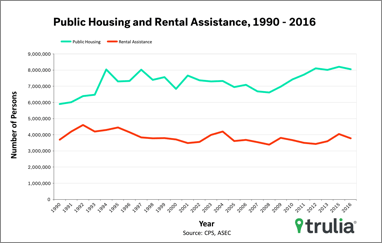 "HUD administers programs that support the provision of affordable housing choice (Section 8, Section 202 and Section 811 Programs), facilitates growth of jobs and public services (Community Development Block Grant Program) and encourages redevelopment (Brownfields Economic Development Initiative) in communities where they're needed most," McLaughlin said in a statement.
"The budget cuts to these vital programs that the Trump administration is considering could undermine the housing market recovery in communities where affordable housing, economic opportunity, public services and community development is undersupplied by the private sector.
"Moreover, these budget cuts could put nearly 8 million Americans in both inner-city and suburban communities at risk of losing their public housing and nearly 4 million at risk of losing their rental subsidy.
"Further, cutting such programs could reverse the progress that has been made in reducing racial and housing choice segregation over the past five years," McLaughlin added.
"Last, we fear that such cuts could ultimately dampen economic growth by increasing housing stress for working-class Americans — teachers, firefighters, healthcare workers and more — who are vital for supporting higher-paying base industries in their respective markets."
Las Vegas-based Realtor Todd Miller noted in a Facebook thread that cuts would have no implications to the real estate industry from "a [homebuying] and selling and perspective."
"The cuts aren't coming from FHA loans, but from HUD public housing," Miller commented. HUD oversees the Federal Housing Administration.

Sarah Schnell Jones of Bamboo Realty added to the conversation, "Depends on what you mean by 'real estate industry.' If you believe that means transaction (buying and selling) of real estate, not much. If you mean stable and affordable housing for a population, huge implications. Sadly most real estate agents use the first definition and won't care much."

HUD Secretary Ben Carson has commented on the perils of federal assistance in the past, but at a Congressional confirmation hearing in January he expressed support for HUD's core responsibilities and homeownership-driven programs. Those comments appeared to increase support for the cabinet member from the real estate industry.
National Association of Realtors President William E. Brown said: "It's difficult to respond to reports of budget cuts at HUD without firm details in place, as the Administration has yet to formally release a budget. We'll be watching for that, but our hope of course is that programs critical to homeownership and real estate investment get the support they require."
NIHLC called on Carson to "uphold the commitments he made during his confirmation process," citing his statement at that time that:
"We need to be cognizant of our fiscal responsibilities as well as our social responsibilities. Safety net programs are important. I would never abolish one without having an alternative."
News of the suggested cuts comes two months after HUD "suspended indefinitely" a plan to reduce mortgage insurance premiums (MIPs) charged by the FHA.