We'll add more market news briefs throughout the day. Check back to read the latest.
Most recent market news
Thursday, May 25
April Zillow Real Estate Marketing Report: National Home Values Surpass Peak
The median home value across the country is now $198,000, 1 percent higher than peak value hit in April 2007, according to the April Zillow Real Estate Market Reports.
National home values have returned to peak value for the first time in over a decade.
U.S. home values rose 7.3 percent over the past year to a Zillow Home Value Index (ZHVI) of $198,000. During the housing boom, home values hit a peak of $196,600.
Rents rose 0.7 percent over the past year to a Zillow Rent Index (ZRI) of $1,412 per month. Rents in Seattle and Sacramento, Calif. are rising the most.
There are almost 8 percent fewer homes on the market this year than last, with Minneapolis, Columbus, Ohio and Seattle reporting the greatest drop in inventory.
Mortgage rates on Zillow ended April at 3.83 percent, down from a high of 3.88 percent in the first few weeks of the month.
Freddie Mac's Primary Mortgage Market Survey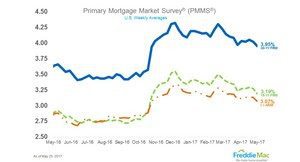 30-year fixed-rate mortgage (FRM) averaged 3.95 percent with an average 0.5 point for the week ending

May 25, 2017

, down from last week when it averaged 4.02 percent. A year ago at this time, the 30-year FRM averaged 3.64 percent.
15-year FRM this week averaged 3.19 percent with an average 0.5 point, down from last week when it averaged 3.27 percent. A year ago at this time, the 15-year FRM averaged 2.89 percent.
5-year Treasury-indexed hybrid adjustable-rate mortgage (ARM) averaged 3.07 percent this week with an average 0.4 point, down from last week when it averaged 3.13 percent. A year ago at this time, the 5-year ARM averaged 2.87 percent.
"As we predicted, the 30-year mortgage rate fell 7 basis points this week in a delayed reaction to last week's sharp drop in Treasury yields," said Sean Becketti, chief economist at Freddie Mac, in a statement. "The survey rate stands at 3.95 percent today, a new low for the year."
Mortgage rates:
[graphiq id="b2w6fmfIyNL" title="30-Year Fixed Rate Mortgage Rates for the Past 6 Months" width="600″ height="400″ url="https://w.graphiq.com/w/b2w6fmfIyNL" link="http://mortgage-lenders.credio.com" link_text="30-Year Fixed Rate Mortgage Rates for the Past 6 Months | Credio"]
News from earlier this week
Wednesday, May 24
National Association of Realtors: Existing-home sales (and days on market) dropped in April
The March 2017 existing-home sales numbers from the National Association of Realtors (NAR) contained some hope that maybe (maybe!) inventory was about to normalize, with sales reaching their fastest seasonally adjusted annualized growth pace since February 2007.
That hope was dashed with the release of NAR's April numbers. Sales fell 2.3 percent from March's rate, although they showed an improvement (by 1.6 percentage points) over April 2016's sales metrics.
And the median number of days that a home is on the market dropped to a new low in April — just 29 days. That's down from 34 days in March and 39 days in April 2016; 52 percent of homes sold in April were on the market for less than a month.
Black Knight's First Look at April 2017 Mortgage Data
First-lien mortgage delinquencies rose by 13 percent, the largest monthly increase since November 2008
Month-over-month, the number of borrowers past due on mortgage payments increased by 241,000
April's delinquency rate increase was primarily calendar-driven (due to both the month ending on a Sunday and March being the typical calendar-year low) and largely isolated to early-stage delinquencies
The inventory of loans in active foreclosure continues to decline, hitting a 10-year low in April
At just 52,800, April saw the fewest monthly foreclosure starts since January 2005
Prepayment speeds (historically a good indicator of refinance activity) fell by 11 percent from March
Tuesday, May 23
First American Financial Corporation April 2017 Potential Home Sales
Potential existing-home sales decreased to a 5.69 million seasonally adjusted, annualized rate (SAAR), a 0.2 percent decline over last month's revised data.
This represents an 89.3 percent increase from the market potential low point reached in December 2008.
In April, the market potential for existing-home sales fell by 0.1 percent compared with a year ago, a decline of 5,000 (SAAR) sales.
Currently, potential existing-home sales is 674,000 (SAAR), or 11.8 percent below the pre-recession peak of market potential, which occurred in July 2005.
Email market reports to press@inman.com.