Remember that scene in "The Devil Wears Prada" where Andy and Emily needed to memorize notebooks full of faces and names so they could feed Miranda information at her party?
While this case of memorizing details about business associates was a little extreme, it did showcase the importance of being able to recall information about our business contacts on the fly.
A human brain can remember only about 150 meaningful relationships, according to Robin Dunbar, a professor at Oxford University. One hundred fifty people?! I can count at least 70 people in my family alone between aunts, uncles, cousins, second cousins and so on. Throw in connections I have made in school and work and I am in the mid-hundreds. Top it off with the connections I have made in the social media world and I am now in the thousands.
Now, do I have "meaningful" relationships with thousands of people? I would like to think so, but realistically is just isn't possible.
As a real estate professional who thrives on business relationships, I can only image the number of contacts that comprise your book of business. I can almost guarantee after adding up past and current clients, prospects, home inspectors, mortgage advisers and so on, you are right up near the thousands as well.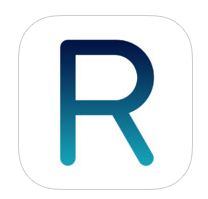 The need for a "social" cheat sheet is real, and to my delight I discovered an app named Refresh while attending Real Estate Connect San Francisco last month. In a nutshell, Refresh syncs with your calendar and alerts you with information about who you will be meeting with before the meeting starts. This information, which is called your dossier, is broken down into several categories including mutual contacts and interests, shared passions, and important moments. You can even connect with them on social media through the app.
I am sure you can imagine how incredibly useful this app is to have prior to meeting a prospect for the first time or catching up with a client you haven't seen in years. Or if you are a broker, imagine the information you could find about a possible candidate for your office prior to your talent attraction meeting!
Another possibility? Using this tool for talent retention. Imagine how delighted the agents in your office will feel when you bring up one of their social media posts or ask them about that book they are currently reading?
For example, if I were meeting with my colleague, David Marine, our VP of consumer engagement, and wanted to break the ice or avoid small talk, I could bring up …
Last night's Mets game since Refresh told me he is a super fan. (I could even mention the score — or not in this case):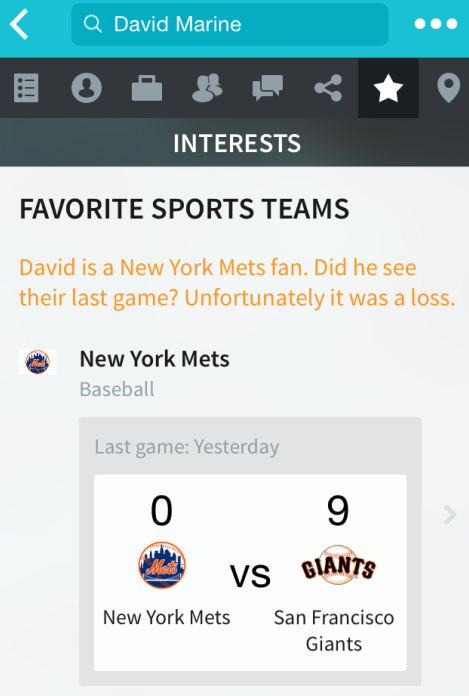 The great blog post he wrote last week and posted to Google Plus: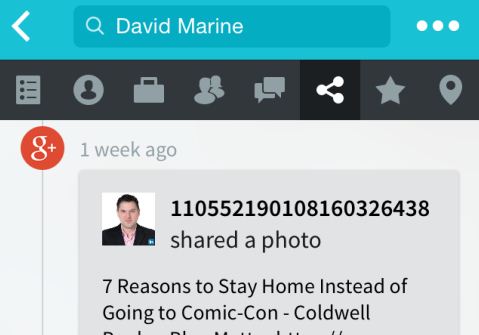 Or ask how his wife is. What was her name again? Oh, right, Tara, I knew that: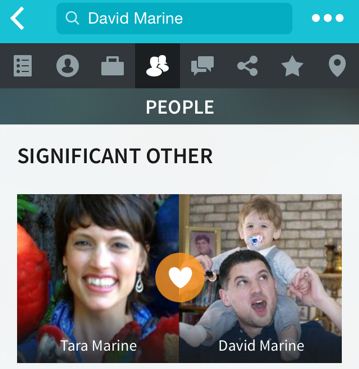 Depending on how well you know someone, you can pick and choose which information to actually bring up. Needless to say, you will be upping your relationship game tenfold!
I recently ran into someone who I only know through social media. It was our first IRL (in real life) meeting and I wanted him to know how much I enjoy reading his posts. I scrolled through my dossier and discovered that just two months ago I liked a post that announced his mom is finally cancer-free. Having this information at my fingertips was priceless, and congratulating him in person and asking how she was doing allowed to me to connect in a way that is truly invaluable. Like all technology, this app will never replace the human experience but rather will enhance your connections.
I am incredibly impressed with the data mining and intelligence this app has to offer, and I encourage you to test it out. By the way, did I mention the cost for this incredible virtual assistant? The best four-letter word besides L O V E — that's right … F R E E! The only downside? I believe, at this time, this app is available only in the Apple Store. Fingers crossed it becomes available for Android soon!
Have a favorite business app you are willing to share? Please tell me about it below!
Lindsay Listanski is the social media manager for Coldwell Banker Real Estate.