Seth Siegler is the cofounder of Simplistate, an eco-friendly, virtual real estate brokerage. He is also the owner and founder of Robot Workshop – a real estate technology solutions company specializing in IDX and PPC based lead generation. You can find his real estate industry blog at www.sethsiegler.com. We are also pleased to announce that Seth will be speaking at Real Estate Connect NYC 2011 in January!
The year was  2005.  Kanye West was singing about a Gold Digger and Google had just released its first Maps API and the real estate world was abuzz.  The word "mashup" was everywhere.  Everyone started building map-based IDX searches.
They started out as an optional way of searching and eventually became the norm.  Maps of all sizes anchored the search pages of real estate websites, worldwide.  Little markers of all shapes and sizes covered those maps, representing potential dream homes.
Fast forward five years…
Map based searches are pretty much the norm.
But I believe that they are holding us back in terms of usefulness to shoppers and lead capture.  I'm pronouncing map-based searches to be officially among the walking dead.  Here's why…
Problem #1 – Only so many markers can be placed on a map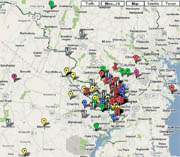 As a general rule of thumb, Google maps become unstable after 100 markers are placed.  Bing is about the same.  Even if Google and Bing were to increase their ability to handle more markers, the main problem would remain; only so many pushpins can fit on a map!  Users run into problems trying to select the listing they want on the map and end up accidentally selecting others.
So if you're limited to displaying 100 or less markers on a map, you're left with three options:
Make a marker represent an arbitrary number of listings, which can be confusing and misleading.
Only map some of the listings. This is also confusing and misleading.
Limit the number of results to 100 and ask users to either narrow their search or zoom in further until results are 100 or fewer.  This sounds decent in theory but, in reality, is confusing and frustrating to users.
This problem is severely exacerbated by an over-populated listing inventory.  This makes search queries resulting in less than 100 listings, few and far between.
Analytical users want the ability to see ALL matching listings.  No matter how many there are.  100 just won't do.
Problem #2 – If the user doesn't know the area, results on a map mean nothing.
Besides looking for a specific type of frontage, viewing results on a map tells shoppers who are new to your area, absolutely nothing.  It doesn't say anything about streetscapes, neighborhood quality, architecture style or anything else they need to know.
Of course details are available when users click through from the main map interface to some sort of listing detail page, but that is backwards from what users really need.  They need that info BEFORE they view the listing on a map.
Crux of it
The main problem is that, a home's location on a map is something that users don't care about until they find out other more important info about the home.  If the home isn't right for the buyer, they don't care about its position on a confusing and crowded map.
What's Next?
So if the map-search is officially dead, what should we replace it with?  Let me start by saying that this is something I think about every day.  I own a company called Robot Workshop that makes IDX solutions for agents and brokerages.  We're currently putting the final touches on a new, non-map based interface…
In a way, I believe that we've come full circle.  Before map APIs, search results were presented in list form.  I believe we're heading that way again but the main focus will be on the search criteria and input methods.
We've seen what Coldwell Banker has done with its BlueScape search. That's a cool step in the right direction but too abstract for prime time.
Lifestyle search was a hot buzz term last year but nobody has really run with that concept yet.  (I do, however, believe there is a big future in lifestyle search.)
Ultimately, I think that we'll need to get to a point where people can answer questions and listings will be suggested to them.  (Sort of like what real estate agents used to do before IDX searches…)
What do you think the search interfaces of the future should look like?