Editor's note: This is the third in a four-part series examining what the real estate brokerage industry might look like in the year 2020, based on a survey of Inman News readers. Part I examines potential real estate compensation practices in the next decade. Part II looks at how the number of industry participants may change in coming years, and trends that will drive the industry in the future. This article, Part III, examines how agents envision spending their time in 2020 and the relevancy of brokers, multiple listing services and associations. Part IV peeks into the up-and-coming technology agents and brokers predict will dominate the industry in 2020.
While there will be fewer agents and brokers in the future, they will offer more services, according to most respondents in a real estate survey by Inman News.
The online survey, conducted from Feb. 5 to March 5, asked readers to envision the business of real estate brokerage in the year 2020.
Six questions on the survey focused on how agents envision spending their time in 2020 and the future relevancy of the services brokers, multiple listing services and associations provide. Each question received 505 responses.
Almost two-thirds of respondents (64.8 percent), said the range of real estate services will increase by 2020. Only 20.8 percent said industry professionals will offer the same number of services, and 14.4 percent said they will offer fewer.
"We still have the older generation wanting paper and to look at a large number of listings to make up their minds. We (also) service the other extreme who want everything done paperlessly over the Internet and may not even look at the home physically until they get their offer accepted," said Richard Fisher, designated broker at Morro Bay Realty in San Luis Obispo County, Calif.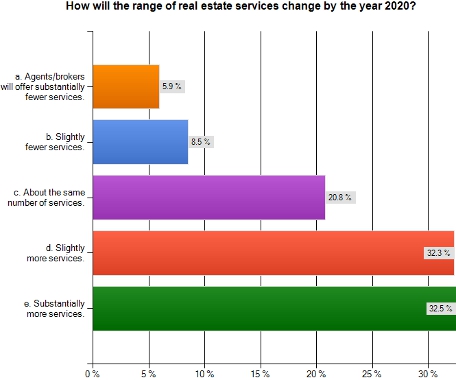 Note: Due to rounding, data in charts may not add up to 100 percent.
"With the number of distressed properties and the pain associated with this market, many agents are becoming the coach who refers to other experts: accountants, attorneys, social workers and others," said Peg Popken, a Realtor at American Dream Realty in Scotts Valley, Calif.
Not everyone likes this change, however.
"Over the past several years broker-owners have heaped additional responsibilities on the agents. In the meantime, the agent's task has become more and more complex due to market fluctuations and government regulations. Where is the agent supposed to find time to also 'sell' the benefits of the broker's title/insurance/home services/dog walking services?" said John Arquette, broker-owner of  John Arquette Properties in Syracuse, N.Y. …CONTINUED
While industry professionals are being asked to do more, a whopping 82.5 percent of respondents said agents would typically spend less time in the brokerage office in 2020 than today — the vast majority of these said substantially less time.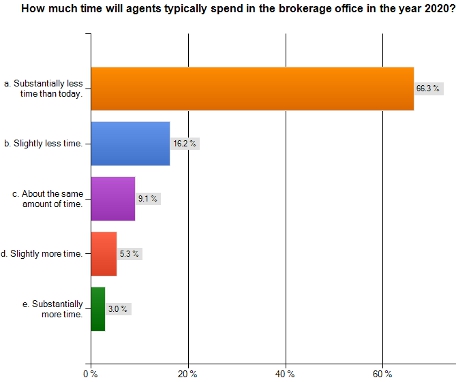 As in Part II, which detailed how respondents predict there will be fewer brokerage offices in the future and fewer agents in each office, many respondents said they expect new technology to decrease the time they spend in the brokerage office.
"(Brokerage offices) will be more of a way station for certain functions," said Rich Johnson, branch manager at Windermere Exclusive Properties in San Diego, Calif.
"Paper will not be utilized at all. Everything will be online and all documents will use electronic signatures. The change is already happening, as the economics of real estate palaces and the related overhead (are) making most brokers seek much smaller, more effective work spaces."
Still, some said, there is something to be gained by spending some time in the office.
Maggie Keats, an associate broker at Prudential Douglas Elliman RE, the North Shore Group, which serves New York's Long Island, said spending time in the office helps her to keep up with community and colleague news.
"I make sure to touch base almost every day, but for a short time," said Keats, in a written comment.
Most respondents (62.1 percent), said agents will spend less face-to-face time with clients in 2020 compared to today, while 24 percent said they would spend the same amount of time.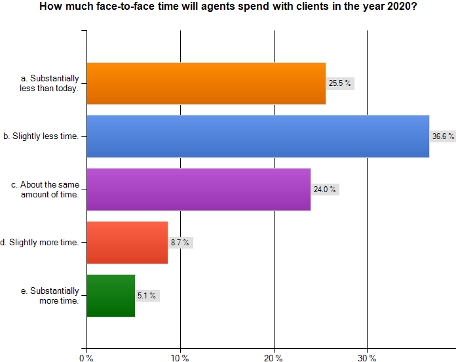 Only 7.3 percent of respondents said face-to-face time with clients will occupy most of agents' time in 2020.
"It does not mean you will spend less time with a client, as it takes as much time — it just means you (won't) spend the time showing property, giving grand tours, and shuffling paper, but you will spend this time developing information for the Internet. You are making sure your clients have all the information they need," Fisher said.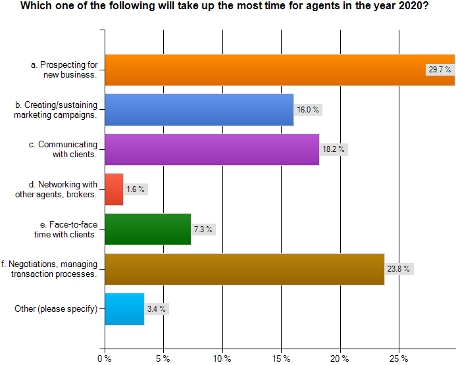 The greatest share of respondents, 29.7 percent, said prospecting for new business will take up the most time for agents in 2020. …CONTINUED
"Prospecting for new business will become a daily way of life, as the best real estate agents will live real estate as they do today," Fisher said.
"I realize today many real estate agents want to make good money by spending the least amount of time hoping to catch a good client. Many of these are no longer with us today," he added.
Nearly a quarter of respondents, 23.8 percent, said negotiations and managing transaction processes will take up the most time, while communicating with clients will occupy agents the most according to 18.2 percent.
"Because the sale of real estate is way more complex than it was 10, 20 or 30 years ago it will require a better-educated agent who is still able to satisfy the emotional needs of his client. Realtors provide tax info, legal info, marriage counseling, etc. This will not change," said Don Dogan, a Realtor at South Bay Brokers in Manhattan Beach, Calif.
Nearly half of respondents (45.6 percent) said the services that brokers provide to agents will be more relevant in 2020 than today. Twenty percent said they will have about the same relevance.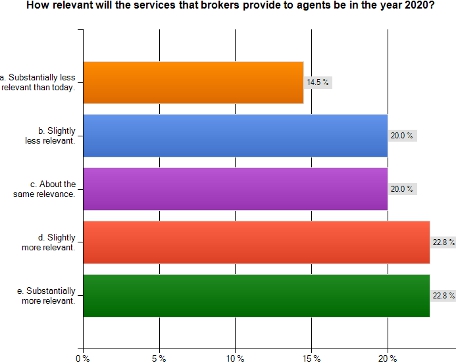 Meanwhile, about the same proportion (45.8 percent) said that the services that associations and multiple listing services provide to agents will be less relevant than today.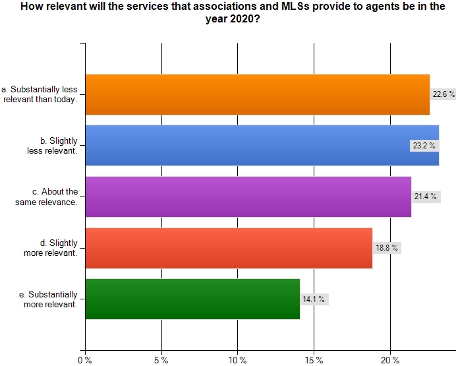 "Forget the MLS, which in today's world is on its way to retirement fast. Our agents have their properties globally in almost 100 Web sites using different methods of presentation and languages of the same material," Fisher said.
About a third (32.9) percent, said they will be more relevant, while 21.4 percent said they will be about as relevant in 2020 as today.
"We have the ability to market to 37,506 agents in our MLS and … (it) offers us much in terms of networking, referrals, virtual database sharing, agent training seminars, and customer service for one-on-one help using the MLS," said Alexis Eldorrado, managing broker at Eldorrado Chicago Real Estate.
***
What's your opinion? Leave your comments below or send a letter to the editor.