Sponsored by: Engage121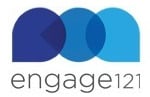 Bringing your brand online isn't as easy as simply buying a domain name and hiring a website company.
Consumers are lurking everywhere. Stalking you on Facebook, watching what you tweet, reading your recommendations on LinkedIn and Googling you several times BEFORE reaching out to make contact.
What does your online brand say about you right now? Would someone be impressed and hire you in an instant? If the answer is no, you need a strategy for building a web presence that matters.
Learn from a trusted source — Join Chris Smith, Inman News' Chief Evangelist, for this fast-paced and focused presentation sponsored by Engage121.