As manager of a Sotheby's International Realty office in Colorado, James Simpson saw a change in the role of agents firsthand.
The rise of lockboxes allowed listing agents to forgo showings, and the introduction of e-signatures eliminated a lot of legwork. He also believed that a highly skilled transaction coordinator could process 400 deals per year.
Read the full survey findings of our hybrid brokerage report — or download the PDF, exclusively for Select members. Join today!
That is why he started SQFTx (pronounced "square foot"), a tech platform that gives partner brokerages a ready-made, limited-service tool to offer their sellers. It launched in May and has closed 12 deals.
Denver-based SQFTx is licensed as a brokerage in Colorado and Texas. It also feeds seller leads to partner brokerages on a geographic-exclusive basis, as it does with Dallas brokerage REConcierges and seven other partner firms.
A homeowner downloads the SQFTx mobile app and creates a listing, which is verified by a licensed broker and uploaded to the MLS, Zillow and ListHub, and hundreds of other sites.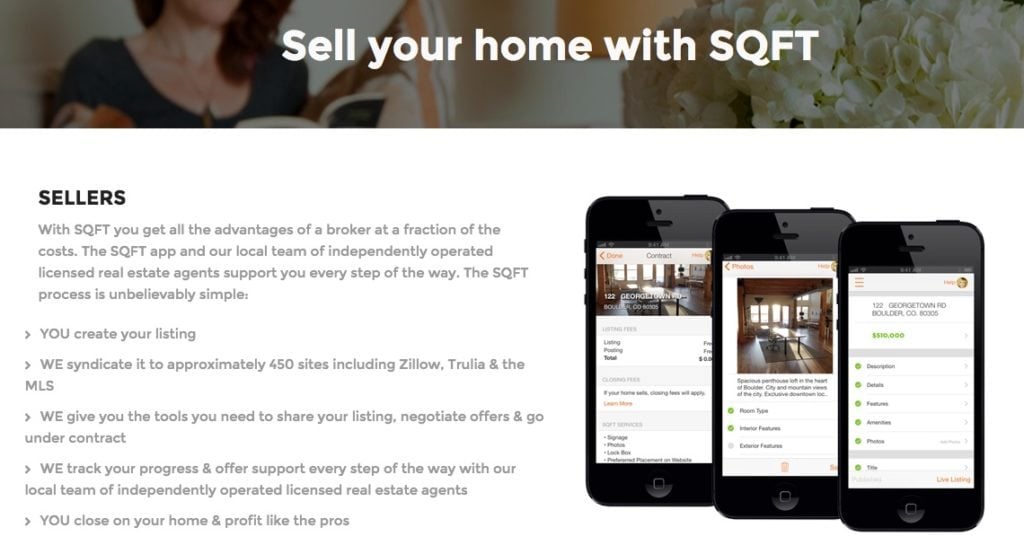 Buyers can download the app to schedule a showing. Buyers can either make offers directly through the app or through their agents.
Sellers can counter, reject or accept offers made through the app.
A contract is prepared by SQFTx and delivered for signatures. A transaction coordinator manages all post-contract deadlines and contingencies and shepherds the deal to closing.
Sellers pay a 1 percent commission on the list side. SQFTx and its partner broker split the fee.
Where SQFTx doesn't have a partner, it pockets the full 1 percent.
SQFTx offers its tools in 18 markets across the U.S., and it plans to expand to 100 markets by the end of this year.
Simpson, a third-generation real estate agent, sees a bright future for his discount brokerage startup. "Our technology works 24 hours a day, seven days a week, providing round-the-clock empowerment in an industry that has for too long kept buyers and sellers from owning the sale and purchase of their home."
See a comparison chart explaining what each hybrid brokerage model does — and does not — include.
What should you do about hybrid brokerages? Here are 10 suggestions.
Redefy targets sellers with a discount broker model.
---
Inman Connect San Francisco is right around the corner — register now and save $200!
Start Inman Connect SF off right! Choose from three powerful events on Aug. 4. Reserve your spot now for Agent Connect, Broker Connect and Tech Connect.