Are you set up for success in 2016? Join 2,500 real estate industry leaders Aug. 4-7, 2015, at Inman Connect in San Francisco. Get Connected with the people and ideas that will inspire you and take your business to new heights. Register today and save $100 with code Readers.
---
Trulia's examination of homeownership and education found:
The average college-educated American has about $26,000 in student loan debt, which translates into an average monthly payment of about $280 per month over 10 years.
In Detroit, college-educated adults aged 25 to 30 can save for a down payment in 4.1 years.
It will take 29.4 years for a 25- to 30-year-old household to save up a 20 percent down payment on a median-priced home in San Francisco.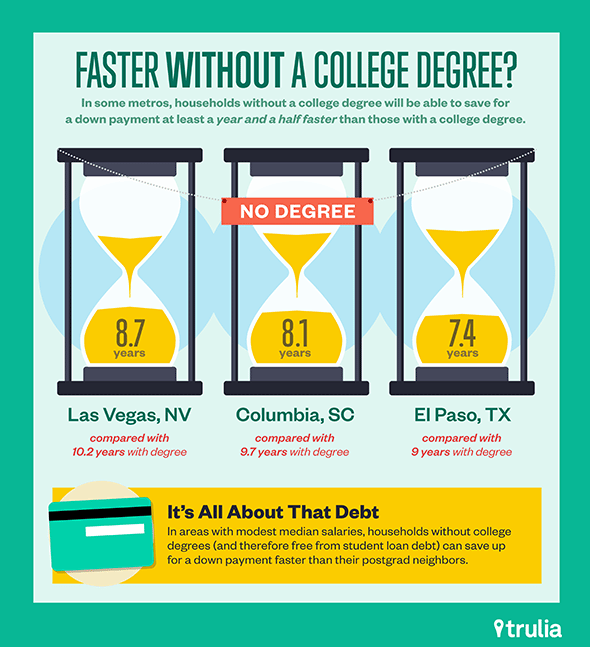 Arch MI and Veros Real Estate Solutions' reports on home value growth showed:
Houston, Midland and Odessa, Texas, are markets where noticeable declines should occur.
Texas has a 32 percent chance of seeing overall home prices decline in the next two years.
North Dakota has a 38 percent chance of future price declines.
Experian home loan data showed:
67 percent of future buyers are not preapproved.
45 percent of potential first-timers have to delay the purchase of a home because they need to boost their credit.
58 percent of future homebuyers indicate that they are actively working to improve their credit in order to qualify for a better home loan interest rate.
CoreLogic's foreclosure report found:
Foreclosure inventory declined by 27.4 percent and completed foreclosures declined by 19.2 percent from May 2014 to May 2015.
The number of foreclosures nationwide decreased year over year from 51,000 in May 2014 to 41,000 this May.
On a month-over-month basis, the number of seriously delinquent mortgages declined by 3.4 percent.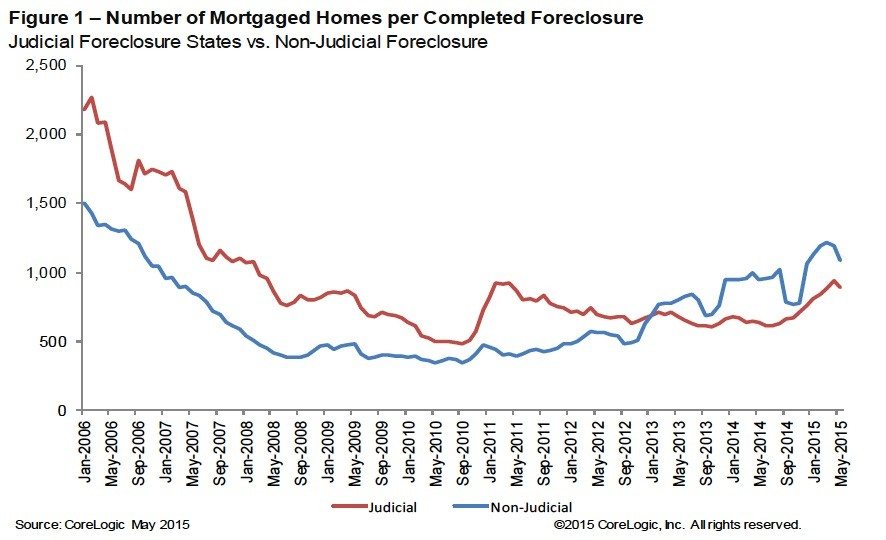 A CoStar report on Freddie Mac mortgages showed:
Revenue and income growth at multifamily properties backed by Freddie Mac grew by 3.9 percent last year.
These 2,928 apartment properties — comprising nearly 765,000 units — continue to perform despite the volume of new multifamily deliveries,.
Average revenue per room in 2014 totaled $13,002, up from $12,520 in 2013.

SmartAsset's home appreciation report showed:
Half of the top 10 housing markets with the most stable growth over the last quarter century are located in the West.
Boulder, Colorado, has experienced an average of 4 percent home price growth over the past 25 years.
Other cities in these states ranked on SmartAsset's total list of 30 states with stable housing markets: Colorado, Louisiana, Alaska, Wyoming, Montana and Washington.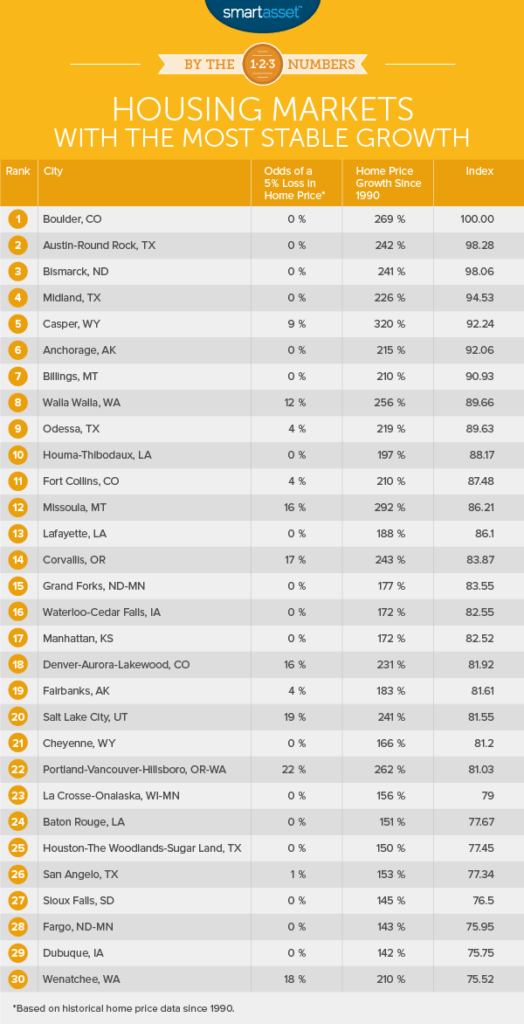 WalletHub's energy analysis showed:
In 10 states, homeowners' and single-family renters' average monthly energy costs are between $330 and $410.
Half of these states — Connecticut ($410), Massachusetts ($352), Rhode Island ($346), Vermont ($342) and Maine ($341) — are located in the Northeast.
Consumers in the District of Columbia are cited as having the lowest average monthly energy bills at $223.
Quicken's Home Price Perception Index showed:
The Home Price Perception Index fell by 1.4 percent in June, indicating that the gap between appraised value and homeowner-perceived value is widening.
Markets where the gap between appraised value and perceived value widened the most in June included Kansas City, which saw a 3.19 percent expansion.
Philadelphia and Charlotte followed with declines of 2.83 percent and 2 percent, respectively.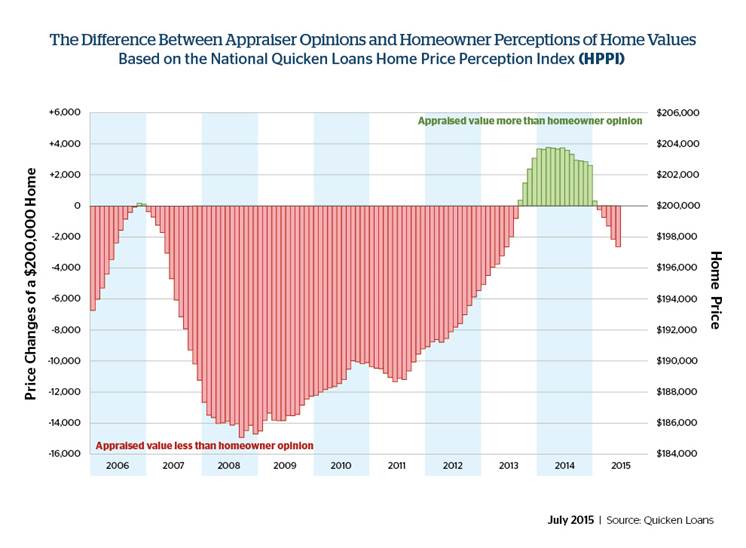 Ellie Mae's Origination Insight Report showed:
Purchase loan activity climbed 3 points to account for 61 percent of lenders' loans, marking the first time that purchase loans have reached 60 percent since October 2014.
Last month, Ellie Mae reported that purchase loans rose 6 points from May to a 58 percent market share. In April, refinance activity was at its highest level of the year.
Lenders' closing rate on all purchase loans rose to 69 percent, which is the highest level reported by Ellie Mae since it began tracking this data in August 2011.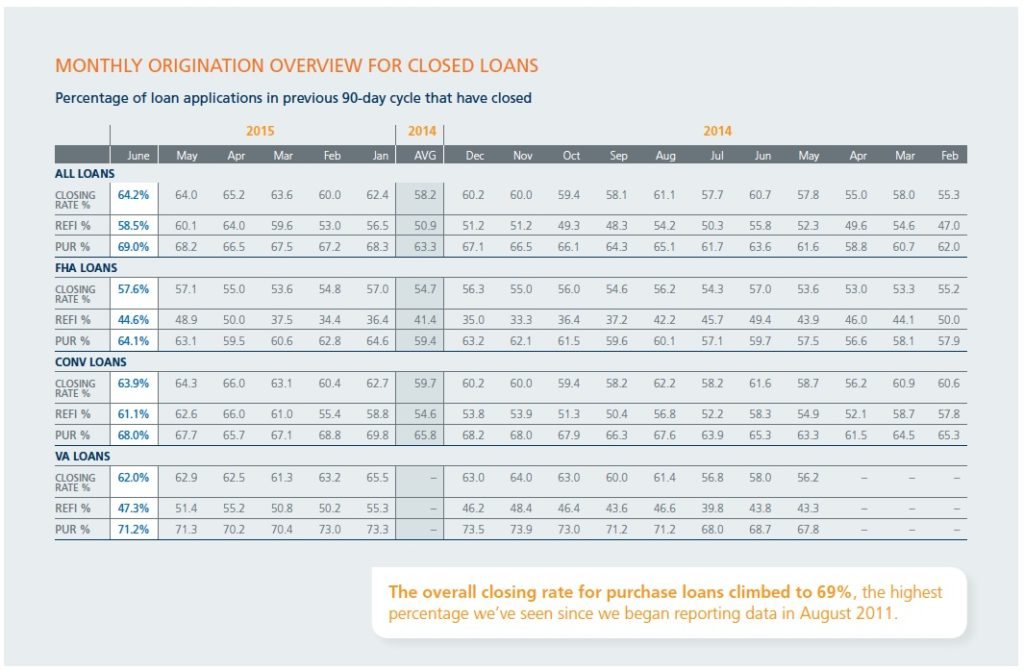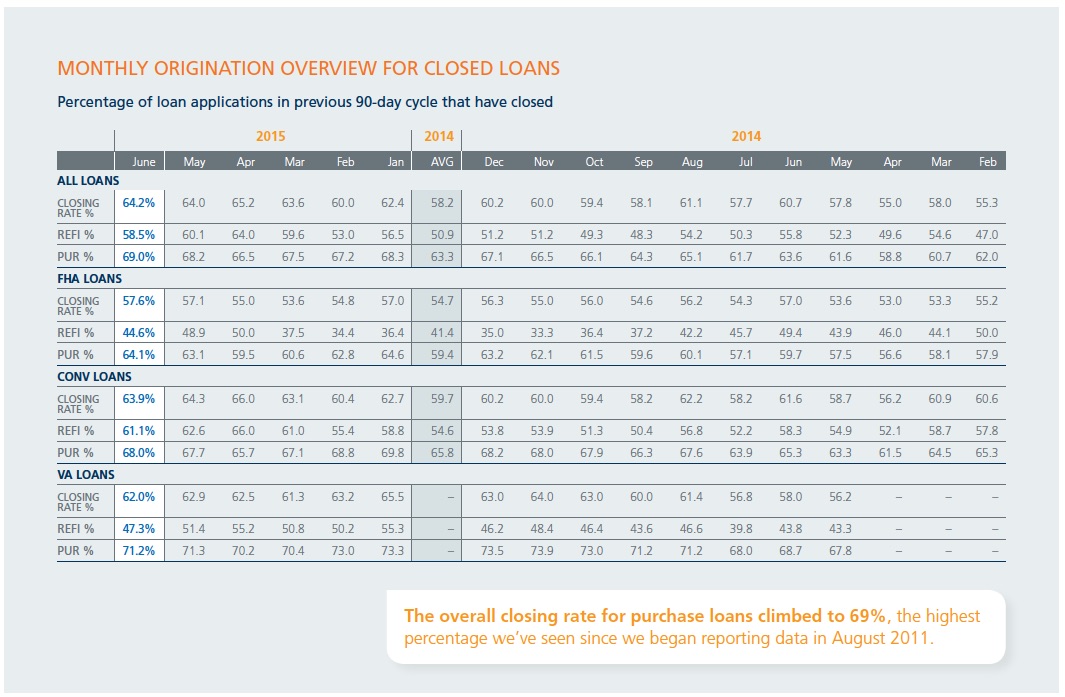 The Auction.com investor activity report showed:
26.5 percent of respondents they would flip the property.
Nearly 56 percent of full-time investors will adopt the flip strategy, with roughly 43 percent opting to hold and rent. Those working for another investor will acquire to flip nearly 64 percent of the time.
States where investors intend to flip the most include Arizona (71.3 percent), California (71.9 percent), Idaho (77.5 percent) and Nevada (70.4 percent).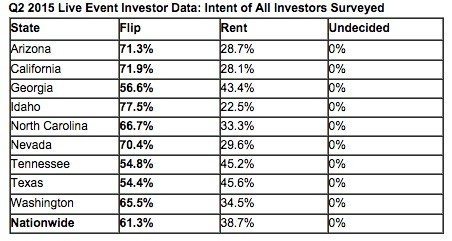 The monthly Mortgage Bankers Association builder application survey showed:
Mortgage applications for newly constructed homes increased by 1 percent.
New-home sales increased 8 percent from May on a seasonally adjusted annual basis.
On an unadjusted basis, there were 45,000 new-home sales in June 2015, unchanged from May.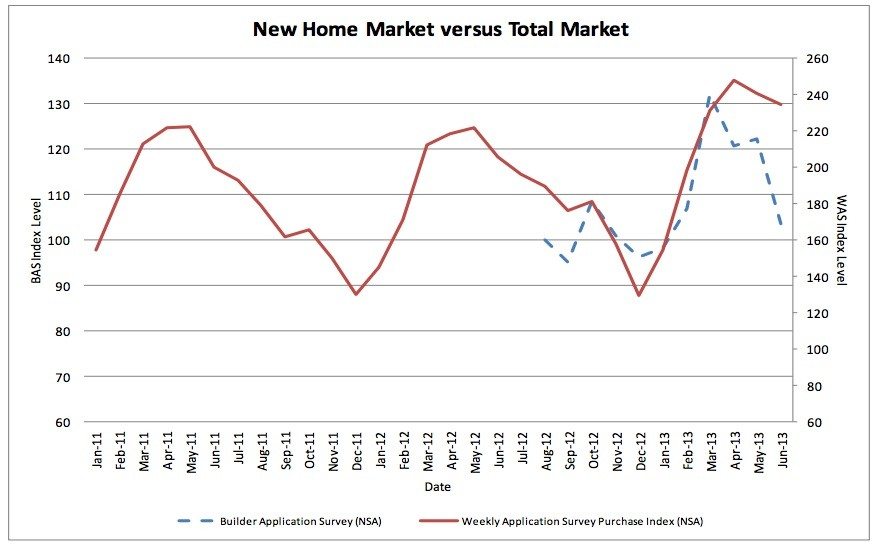 The volume of June closings in 53 metro areas was 12 percent higher than June 2014 and 14.3 percent greater than May 2015.
The median sales price of a home in June rose by 7.4 percent — to $224,671 — when compared to 12 months prior.
The overall inventory of homes for sale in June increased by 0.8 percent — to 3.6 months of supply — when compared to May.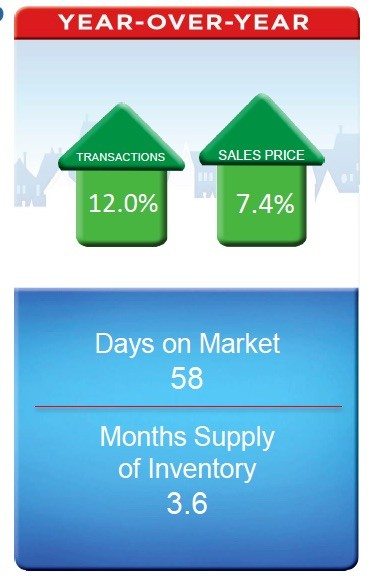 RealtyTrac's foreclosure report showed:
The volume of foreclosure filings and starts during the first half of 2015 was down from the previous six months and from last year.
There were a total of 597,589 U.S. properties with foreclosure filings during the first half of the year — down 13 percent from the previous half and 3 percent from the same time last year.
A total of 304,439 properties started the foreclosure process during the first half, representing a 10-year low and a 4 percent drop from a year ago.
The Joint Center for Housing Studies at Harvard's Remodeling Futures Program said:
Annual spending growth for home improvements will rise to 4 percent during the first quarter of 2016.
During the third and fourth quarters of this year, projections are for the industry to witness growth of 3.5 percent and 2.8 percent, respectively.
The San Francisco Bay Area, along with Denver and Dallas-Fort Worth, should see overall spending on remodeling increase.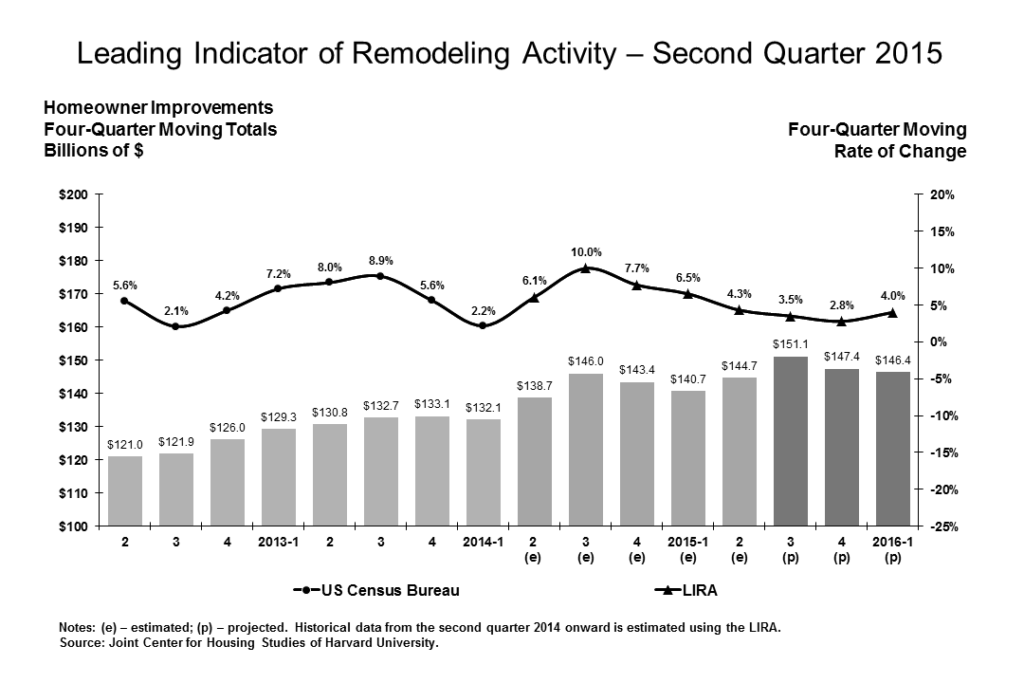 The FNC Residential Price Index showed:
Of the top 30 metropolitan statistical areas, 28 posted modest to strong home price gains in May when compared to April.
Sacramento, California, witnessed a 3.5 percent increase in May — the largest month-to-month increase of any metro.
Cleveland saw a month-to-month increase of 3.1 percent, followed by Detroit (2.8 percent), Cincinnati (2.6 percent) and Chicago (2.3 percent).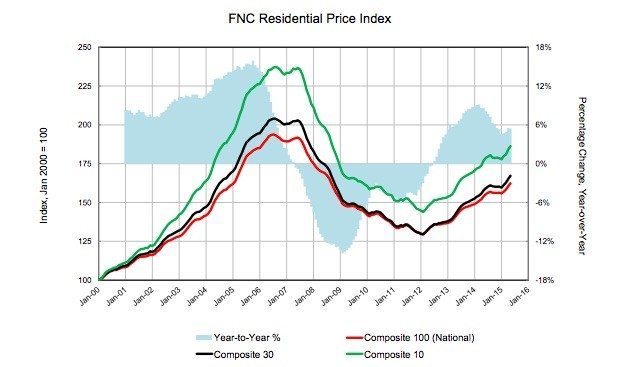 Email market updates to press@inman.com.
---
Inman Connect San Francisco is right around the corner — register now and save $200!
Start Inman Connect SF off right! Choose from three powerful events on Aug. 4. Reserve your spot now for Agent Connect, Broker Connect and Tech Connect.