Size isn't everything. Instagram may not be the biggest social network in the world, but it is the fastest-growing social network in the world. And marketers are flocking to Instagram because of its phenomenal engagement rates.
According to a 2014 Forrester Research study, Instagram generates 58 times more engagement per follower than Facebook and 120 times more engagement per follower than Twitter. Smart marketers cannot ignore stats like that! In fact, over 65 percent of the top brands are now on Instagram.
The experts have weighed in, and most believe that Instagram's huge success is based on a few things.
It's mobile only. The only way to share to Instagram is via a mobile device, and, globally, mobile social networks are the fastest-growing.
It's easy to use. Actually, it's SUPER easy to use.
It's visual. And everyone knows visual marketing is HOT!
Honestly, in my opinion, there is not an easier platform for real estate marketing! But before you jump on and start posting, remember that balance is essential. As with any social network, you will need to balance business and personal. Use Instagram for both, but first connect emotionally with your audience by posting interesting personal photos. Then your audience is open and accepting of your high-quality marketing images. And because Instagram is a social network, just like any other social network, you need to engage with others. Don't forget to log in once a day to comment on and like other posters' images.
There are many fun and creative ways to market your real estate business on Instagram. Promote new listings, sold listings, open houses, neighborhoods, lifestyle, websites, and more. Below you will find some great examples of real estate marketing! Be sure to click on the names (log in to your Instagram dashboard) and follow these amazing Instagram users for loads of great content ideas.
The Prestige Realty Group, from South Florida knows how to market lifestyle!
Amy Cesario, of Denver, Colorado, does a great job of marketing neighborhoods!
Tamara Dorris makes marketing her website inspirational!
Lesley Lambert knows how to market her open houses!
Nobody markets their listings better than The Boutique Real Estate Group!
And I couldn't show examples, without including The Corcoran Group, who's marketing is renowned!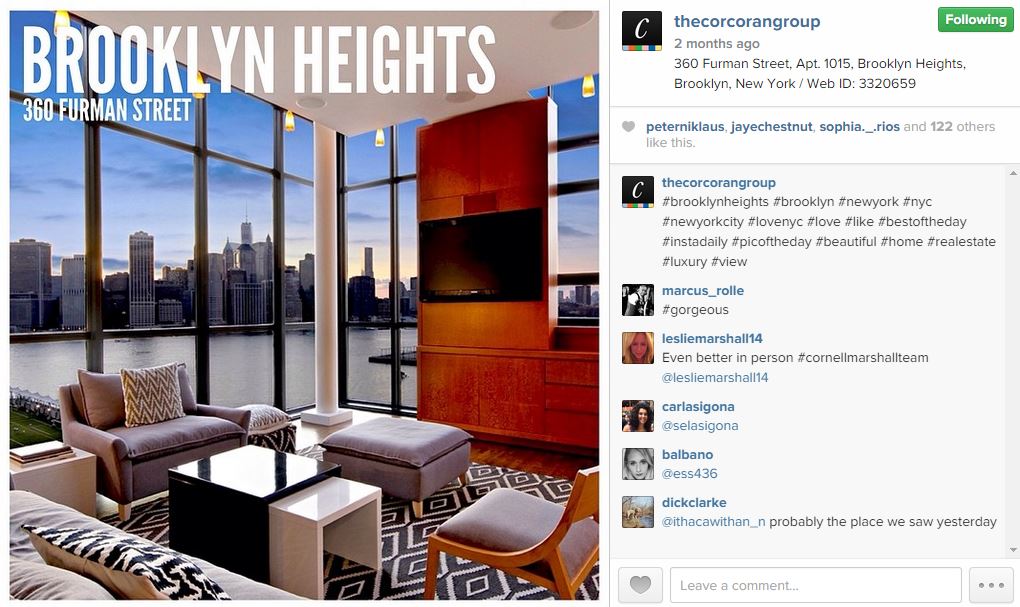 Stay tuned, as next week I'll give you some tips and ticks for creating photo collages and beautiful text overlays. And be sure to follow me on Instagram as well!
Marci James is the director of marketing at Obeo, which provides interactive virtual tours, professional photography, virtual redecorating tools and custom real estate marketing solutions.