The day before Thanksgiving, Bill was catching up with Facebook "friends" when he came across what was truly an OMG moment.
Our friend Diane had posted a photo of her husband, Bill, who was attempting to move a swag chain on a chandelier in their Folsom, Calif., home. It was important to Bill that the light be directly over the table, which had been moved and expanded to its full size to accommodate family at the next day's feast.
Diane came into the room to find Bill most of the way up an 8-foot ladder propped on top of the dining table. She sent the accompanying photo with this comment: "My husband is crazy. Eight-foot ladder on top of table isn't working so he'll try the 12-footer tomorrow. No I won't be here!"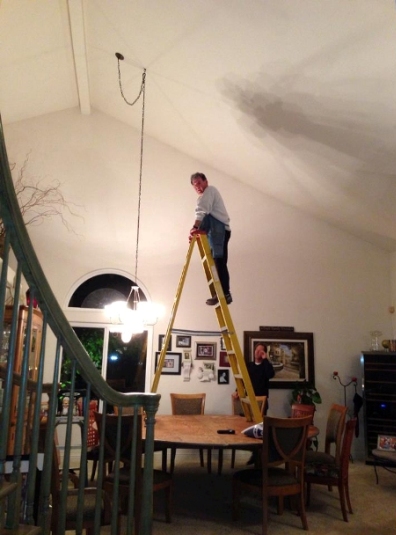 Risky business: An 8-foot A-frame ladder perched on top of a 3-foot dining table is NOT a good way to reach a cathedral ceiling. Photo by Diane Christie.
Thankfully, Bill and a friend were able to get the swag chain moved the next day without breaking any bones — or worse.
That's not always the case. The U.S. Consumer Products Safety Commission reports 164,000 ladder injuries each year. That fact prompted Kevin's doctor to suggest that we put out the word on ladder safety. It seems his business spikes each holiday season when he gets a spate of patients who've tumbled off a ladder while hanging holiday decorations.
So we decided to pass along some safety tips from Werner, one of the world's top ladder manufacturers.
Ladders are a necessity for many home improvement and maintenance projects. Try to clean gutters, wash windows, change a ceiling light bulb or hang Christmas lights without one.
Here are five tips to help you choose a ladder that will let you handle your projects like a pro and come away in one piece:
1. Select the ladder that's right for the job. It might be a 6-foot stepladder to reach a ceiling light fixture to replace the bulb, an extension ladder to clean out a second-story gutter, or a specialty ladder that bends to a 90-degree angle to get at a hard-to-reach place in a stairwell.
Different styles of ladders are designed to keep you stable and productive when climbing or standing. Using the wrong ladder or simply ignoring the limitations of climbing equipment can result in a fall and a trip to the emergency room or worse. For more advice on how to choose the correct ladder, go here.
2. The height of the job determines the length of the ladder. Sounds simple, but the rule of thumb is to never stand above the third rung from the top of a stepladder or four rungs from the top of an extension ladder. If using a stepladder to get on a roof, the ladder must extend 3 feet beyond the roofline. If an extension ladder is leaned against a gutter or roofline, it must extend 1 foot above the roofline.
3. Select the proper weight load. Ladders are designed to safely hold a specific amount of weight. Ladders come in different duty ratings identified by their grade and type. The Duty Rating is defined as the maximum safe load capacity of the ladder. A person's fully clothed weight plus the weight of any tools and materials that are carried onto the ladder must be less than the duty rating.
4. Choose a ladder that is easy to navigate, maneuver around corners, and store when not in use. The best ladder is one that is tough and light. Aluminum is the ticket here. One caveat: When working around electrical, no metal allowed.
5. Use common sense. Ladders are such common tools that it's easy to take them for granted. Climbing a ladder safely is common sense, right? Well sort of. Most of the 164,000 ladder injuries that occur every year are preventable. Think before you climb.
The "right way" to use a ladder includes:
Set up the ladder so that it's on a firm foundation.
Wear shoes with nonslip soles. Running shoes are always a good choice.
Center your body on the ladder and keep your waist between the rails while maintaining a firm grip on the ladder. Don't overreach or lean to one side.
Climb and descend facing the ladder by moving one step at a time and firmly setting one foot before moving the other.
Don't stand above the fourth rung from the top of an extension ladder or three rungs from the top of a stepladder.
Don't place the base of an extension ladder too close to or too far away from the house.
Don't try to move a ladder while on it or from above. Climb down and reposition it.
For high work, have one person hold the ladder at the bottom while the other one performs the task.
Move materials with extreme caution so as not to lose your balance. Don't exceed the maximum weight of a ladder.
Finally, here is a good checklist from the U.S. Consumer Products Safety Commission.
To sum it up, be safe out there. A trip to the emergency room does not make for such a holly jolly Christmas!