One recent week, the "Green Queen" and faithful sidekick "Chester the Jester" could be found chatting with President Obama about retrofitting the White House to make it more energy-efficient.
In another week, the Queen is seen advising her friend, Meg A. Watt, to get an energy audit on a New York brownstone she's eager to buy.
Later, the Queen and Chester are off (in a hot-air balloon) to the global-warming conference in Copenhagen.
The Green Queen and her companions are the pixie-ish creations of Manhattan real estate agent Susan Singer, who dreamed them up to star in a colorful online comic strip about environmental issues.
"I put green in everything I do," says Singer, who is a senior vice president and associate broker for Corcoran Group Real Estate. She's made it her niche, both personally and professionally.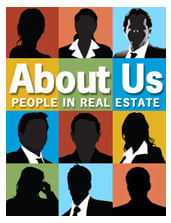 Whether she's handing out energy-saving compact-fluorescent light bulbs (CFLs) to every resident in the massive London Terrace co-op complex where she lives, or sponsoring seminars on sustainability in residential development, she says she's always beating the green drum.
It's not just because it reflects her personal beliefs, she says — it's a brand that helps her stand out in a local market that's famously competitive. And it's where the marketplace is going, she says.
"When we start building again, it's going to be green," she says. "Aside from why people should be living a greener lifestyle, I tell people that when they're renovating, it's going to be a green marketplace in three to five years" and they should make it a part of their homebuying decisions.
"Think about tomorrow — that's my mantra for everybody," Singer says.
In the course of her career, she has wandered in and out of environmentally minded endeavors, and now thinks she's firmly back in. She began her career in marketing for the graphic design business; after a few years, a friend encouraged her to become a broker for handbag importers.
"In 1989 or 1990, I was coming back from (a business meeting with) Wal-Mart, and I was reading Faith Popcorn's book on trend changes in marketing," Singer recalls.
"She was talking about companies that hook themselves into the greater good, and that Wal-Mart would be doing green things." …CONTINUED
She mused about all the vinyl handbags she had helped to sell. "I started thinking, 'Vinyl isn't biodegradable. What are we going to do with all this stuff?' "
She queried her contacts at Wal-Mart, who told her that the company might, indeed, have an interest if she could come up with welcome mats made from recycled vinyl purses.
So she left the handbag business and moved to a small town in upstate New York, where she ran a shop that sold recycled and sustainable home-and-garden products, all the while aiming to develop a company that would find a way to economically recycle the vinyl bags, separating out metal zippers and other parts.
The business, however, never got off the ground because a company she was working with couldn't pull off the technology, she said.
And though the retail store went well for a while, "unfortunately, the economy went bust in the mid-'90s," she said.
"I went back to the city and did more sales and marketing things, but I wasn't happy because I just don't do corporate well. I just like being a freelancer."
Then she went into residential real estate, which she found gave her elements of both kinds of work. And it allowed her to return to her green mission, she said.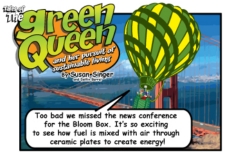 She obtained certification through the Eco-Broker training program, and became involved in numerous local environmental-awareness programs.
Separately, she began a blog, ecoqueenofgreen.com, but made a deliberate decision to leave her professional side out of it. The subject matter would be environmentally oriented, she said.
"I was very careful that when I drove people to come to the blog, it would be about green and not my real estate," she said. "I didn't want to suck people in and aggravate them."
Last fall, the comic strip appeared.
"I guess I thought of it because I'm a frustrated art director. But I'm also inspired by comic strips," she said. "Every Sunday I look at the New York Times' Week in Review section, and I noticed I'm always drawn to the page where they would take the (political) comics from around the country.
"I thought, what a great way to make political statements in a humorous way, to cut through the serious stuff by making people laugh," she said. "It seemed like a great way to tell the story." …CONTINUED
But she isn't an artist, and she hired Delfin Barral, a local illustrator, to draw the panels from dialogue and story line she supplies.
The content for the strips, which are produced about every 10 days, comes from environmental topics in the news — the development of electric cars, green-roof projects in Chicago, or carbon-neutral "eco towns" in England, for example.
She says the comics have the deliberately light touch that goes along with the comic-strip medium, but she views them as merely a departure point for more lengthy, complex discussions in the blog.
Although some of the strips have a distinctly political bent — taking a whack at the energy consumption of New York Mayor Michael Bloomberg's airplane during the Copenhagen summit, for instance — she says she hasn't gotten negative feedback from readers.
And, she says, she doesn't feel that she's gotten real estate business directly from her green niche. That's not her goal, she says.
"At this point, for me, it's just about getting the word out" on her views, she said. "It does serve me from a branding standpoint, but it doesn't bring me business. It just brings me awareness."
She takes a pro bono approach, she says.
"I earn a comfortable living from real estate, and I have no problem giving back," she says. "If I can educate people, that's a great reward.
Mary Umberger is a freelance writer in Chicago.
***
What's your opinion? Leave your comments below or send a letter to the editor. To contact the writer, click the byline at the top of the story.