Stuart Damon had sat down to take the California real estate licensing exam when a woman seated nearby leaned toward him, smiled, and said, "I know who you are."
That's milder than the reaction Damon is used to getting.
"I go to the supermarket and someone will walk up to me and say, 'Oh, God, I miss you!' " he said.
People know him — and now, apparently, they miss him — because he spent more than 30 years as a daytime TV icon.
As Alan Quartermaine on "General Hospital" — the noble physician/scoundrel and member of Port Charles' wealthiest family — he schemed and romanced his way through decades of soap opera intrigue, winning an Emmy in 1999.
The actor jokingly swears he's leaving behind Dr. Quartermaine's scandalous ways to form a real estate team with his son, Christopher Damon. The two have affiliated with the Joyce Rey Team at the Coldwell Banker Previews International office in Beverly Hills.
Like most who turn to real estate as a later-in-life career, Damon is banking on his resume to help generate business, he said.
"All of that bodes well for real estate," he said. "Recognizability is important."
Damon was cast as Quartermaine in 1977 after years on Broadway and on the London stage and many roles on American and British TV dramas.
"I was thinking 'General Hospital' might be a 13-week gig, and 31 years later, I was still there," he said.
Life in Port Charles was perennially interesting for Dr. Quartermaine, to say the least.
"Let's see. I tried to kill my wife quite a few times," Damon recalled. His character never did succeed. In one failed effort, he tried to collapse an attic roof onto his wife and her lover.
Later, he attempted a more traditional kind of confrontation as she and the lover rendezvoused in a cabin, but that didn't work either.
"I sneaked up the stairs and I had a gun and tried to shoot the both of them, but I got blown up instead," he said, laughing and likening his character to Wile E. Coyote in pursuit of the Road Runner.
Ticking off the doctor's ethical lapses, he recalled Quartermaine once throwing a man out a window. "He deserved to die, anyway," he explained, parenthetically.
"And I had a mistress," he said "And I helped to drown somebody once."
But Damon points out that his character was never convicted of any crime. "And I was only married twice on the show, which was nothing for a soap," he said.
Indeed, Quartermaine had his redeeming qualities, Damon said.
"He was also a very, very kind man and had a great sense of fair play and justice," he said, pausing. "Even if he went over the edge sometimes."
Quartermaine was a work in progress, Damon said.
"What I tried to do as an actor is I tried to make the character as complete as possible," he said. "I wanted to make sure that this character had an edge, that he wasn't Mr. Good Guy or Mr. Bad Guy — he wasn't back or white, he was gray. I wanted to make him someone you didn't mess with."
His "General Hospital" run came to what would seem to have been its end in 2007.
"I died of a heart attack," Damon said. But in the true soap tradition, he continued to appear on the show for months as his own ghost, haunting another character.
In the interval since leaving "GH," he also has done stints on "As the World Turns" (as an organized-crime figure) and "Days of Our Lives" (as the governor of the state where the mythical town of Salem is located). He also had a role in a recently completed independent film, "Rain from Stars."
Still, Damon said, he found himself with time on his hands. For several years, he and his son had bought, renovated and sold investment properties together, and Christopher suggested they try residential real estate.
"We did it all together: We took all the courses and passed the test the first time," he said. "We formed our group, called the Damon Group."
So far, he said, the two have been occupied with what he described as nonstop training at the brokerage and with laying the groundwork for their real estate practice, a process that has been more time-consuming than anticipated.
"We hired a publicist, we took pictures, and we each made a database of everybody we knew who could possibly help us," he said. "That took quite a while, and now we are constantly working on getting referrals for listings."
After his experiences with real estate investments, though, "the formal world of real estate was something that was quite foreign to me," he said. "All the real estate we had dealt with was on a personal basis."
He described what he's seen so far as "a revelation."
"I didn't expect it to be as time-consuming as it is. It's a nonstop profession," Damon said. "The people who work in real estate really earn every penny they get from their commissions, putting in 14-hour days."
Although Damon is counting on his acting reputation to feed his new line of work, fandom also can complicate business, he said. So, though his son's business contact information is freely available at JoyceRey.com, at this point there's only a bio available for Stuart Damon at the site.
"My son has had quite a few calls from people who were mysterious about what they needed," he said. "They just wanted to speak to me — they wanted to make contact with a TV star."
Not that he isn't grateful for their interest, Damon said.
"But we decided that Christopher will be like the leg man of this duo," he said. "He works hard and keeps me a little bit removed so I don't spend my life talking to fans."
This early into his real estate career, there have been no sales yet for Damon, though his son "has a few deals hanging," he said.
"It's a tough market now," he acknowledged. "I didn't have any expectations coming into this. I didn't know how quickly it would or wouldn't happen.
"I must say, I'm not disappointed, because I was told and lectured constantly that the first couple of years are very, very hard — it's hard to get known and to get the kind of respect you need. I take it as it comes," he said.
Besides, he said, despite his unusually long and dependable run with one role, he's well-schooled in the feast-or-famine nature of some careers.
"The biggest parallel to real estate and having been an actor is I've learned to think on my feet, especially having been on a soap for so long," he said. "I think that my background as an actor will stand me in good stead with clients."
And he's clear that he's not done with that first career.
"I'm not giving up on being an actor — I'm not," he said. "Until now, I've never done anything besides being an actor. If my agent sends me to an audition and I get it, I'm going to do it."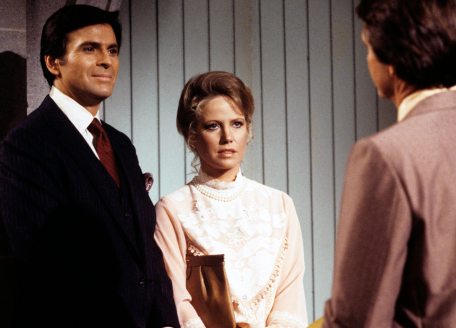 Actor Stuart Damon, left, as Dr. Alan Quartermaine on the "General Hospital" TV drama. Photo courtesy of ABC.
Mary Umberger is a freelance writer in Chicago.