GoHoming.com, an online marketplace and auction platform for real estate owned (REO) properties, has relaunched as Hubzu, with an expanded focus that will allow it to handle listings from individual brokers and agents.
Hubzu replaces GoHoming.com, which handled 25,000 to 30,000 REO sales a year, and will have a broader focus that includes nondistressed properties, said Hubzu General Manager Scott Wielar.
The site is operated by Altisource Portfolio Solutions S.A., a provider of services to mortgage lenders, servicers, investors, mortgage bankers, credit unions, financial services companies and hedge funds.
Currently, all of the listings on the site — about 3,500 to 4,000 active — are lender-owned. Most come from another AltiSource-held company, Wielar said.
But this fall, AltiSource — which owns a real estate brokerage that's focused on REO sales,  REALHome Services and Solutions Inc. — will expand the site by working with individual brokers and agents, and possibly with property owners who want to sell their own homes, he said.
"We realized we had the market, platform and scale," Wielar said, citing an average of 1 million unique visitors per month, "to expand our business and broaden our selling base."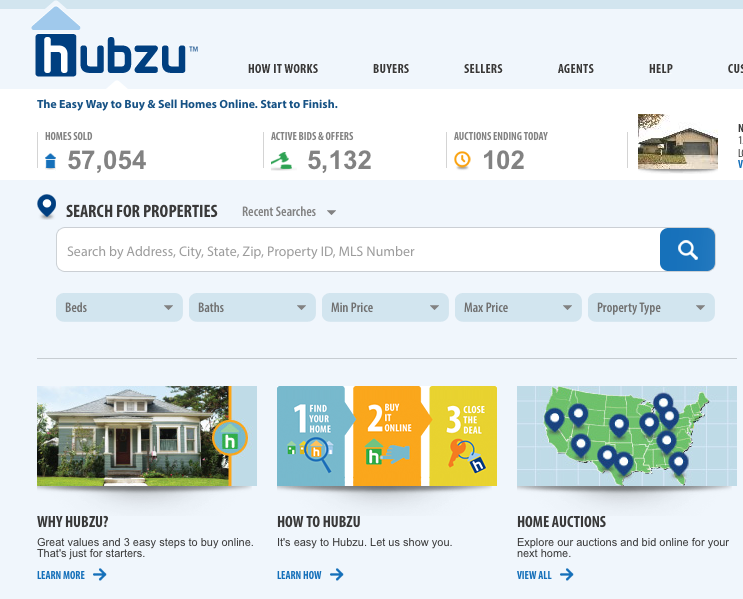 Screen shot of Hubzu home page.
At the moment, the site features a variety of lender-owned properties, including single-family, one- to four-unit multifamily, townhomes and condominium units, and land parcels, which are sold by auction or traditionally. In its three years, the site has facilitated the sale of about 60,000 properties, Wielar said in a statement.
Like popular online general merchandise auction site eBay, the properties sold by auction on the site have an "own it now" price that a buyer can offer to end the bidding and start the sale.
The auctions are timed, and to prevent "auction sniping" where a bidder waits to enter a bid just as the auction time runs out, 15 minutes are automatically added to the auction when the time is near up, as many times as is necessary, to facilitate maximized bidding.
Buyers are the revenue engine of the site. No fees are charged to buyers until a sale. Buyers pay a flat technology fee of $299 and a "buyer's premium" that ranges from $625 to 5 percent of the property's value. Sellers pay traditional closing costs, but nothing more, Wielar said.