A small Seattle-based brokerage's plans to drop out of its multiple listing service won't work out well for the firm, according to an Inman reader poll.
By leaving Northwest MLS sometime early in July, Quill Realty wants to avoid paying the MLS-guaranteed commissions that buyer's agents receive when they bring a buyer to a deal. Quill Realty plans to pass the savings on to its sellers.
Approximately 85 percent of the 847 readers who responded to the poll said the tiny, two-agent firm's unusual experiment will fizzle. Buyer's agents play a key role in getting transactions done, they said.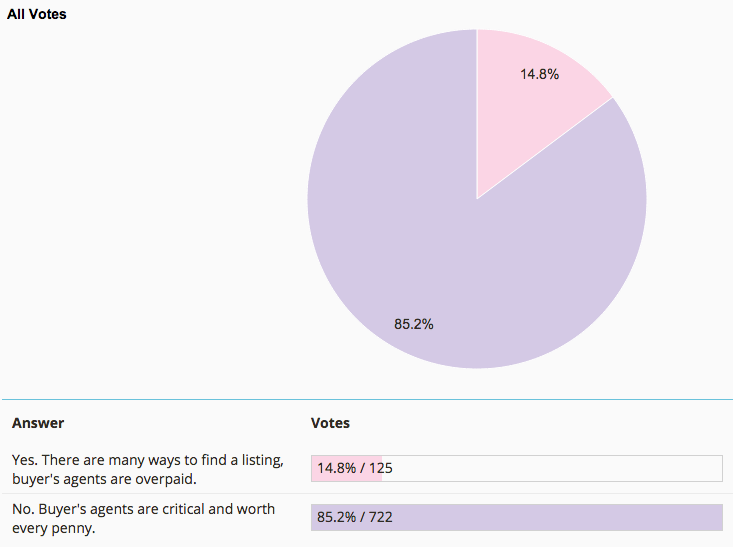 Even though most respondents thought the model would flatline, a remarkable number (125) felt that Quill Realty might be on to something.
Given the rise of popular portals like Zillow, Trulia and Redfin, homebuyers have ample opportunity to find homes without an agent's assistance. That's Quill Realty's bet, at least.
Given the firm's tiny size — it closed just 12 deals in 2014 for a volume of approximately $12 million — some readers dismissed the model immediately.
"Fourteen (transactions)? WOW, go ahead and get out of MLS. No worries," wrote Jeff Payne, a Keller Williams Realty agent, in a comment on the original story.
Others questioned the model's ethics.
"Not offering a compensation to a buyer agent is a disservice to the seller," wrote Cindy Mansey, an agent with a Keller Williams Realty office in New Jersey,in another comment.
"Closing down the number of buyers the home can be exposed to … Talk about professional ethics, humm."
A number of readers thought the brokerage's model ridiculous and, given its tiny size, didn't warrant Inman coverage.
"A brokerage or even an agent that closed just 12 deals and $3 million in volume in 2014 shouldn't garner a mention on Inman, let alone a whole article," wrote Mark Washburn, a real estate agent in Sudbury, Massachusetts.