Editor's note: Realogy's holding its third annual startup pitch competition in San Francisco today, and Inman's here to chronicle the action live. Times reflect the Pacific time zone.
SAN FRANCISCO — Fifteen real estate startups are pitching their wares at Realogy's third annual "FWD" Innovation Summit. Realogy will award a grand prize of $25,000 to the firm with the best presentation.
3:05 p.m.
Avenue wins!! Onward!
2:55 p.m.
The finalists are:
Tactile Finance
Avenue
SOLOpro
Now the audience votes for the FWD winner. Stay tuned.
2:45 p.m.
Judges are stepping out for five minutes to announce the three finalists.
2:35 p.m.
Spacio Pro uses beacon technology to enable real estate agents to market information to consumers at open houses and offices.
The Spacio Pro automatically populates information to a buyer's Spacio Pro mobile app as soon as they go into an open house, Spacio Pro Founder Melissa Kwan said.
Agents can not only capture leads, but also followup with consumers through the app, Kwan said.
Buyers can use Spacio Pro to clip listings from their online home search and collect them in one place, which helps generate consumer adoption of the app.
Agents pay $20 per month to use the app.
2:20 p.m.
BoostUp is a crowdfunding platform for consumers to save for a down payment or other big purchases.
Brokerages and agents can offer a "boost" of cash to potential buyers through BoostUp, the firm's founder John Morgan said.
The average boost ranges from between $500 and $1,000, Morgan said. Mortgage lenders and title companies can also contribute to the boost.
What's the difference between down payment assistance and a discount? It's a savings reward platform that allows consumers to stack funding from multiple sources including friends, family along with brokerages and agents.
2:10 p.m.
Curaytor is a real estate marketing software for agents that includes a website, automated Facebook advertising and contact management.
"Agents are good at selling but bad at marketing," Curaytor Co-founder Chris Smith said.
Curaytor gives agents a way to put marketing on auto-pilot by creating landing pages, built around specific search criteria that are broadcast on Facebook through ads.
In addition, the service features a listing presentation-ready Web platform and includes Zillow reviews.
Curaytor only works with top-producers and teams: $1,775 per month, which includes $500 per month for Facebook ads.
"We believe Facebook is the future of advertising, not Zillow," Smith said.
2:00 p.m.
Avenue connects buyers and sellers with free advice from an agent in real-time through smartphone app.
The app matches clients with agents based on a shared social graph and location. Consumers can choose an agent based on agent profiles on the app.
Goal is to have five consumers using it for each agent that adds it, Avenue's founder said.
For agents to use the app for free, they have to share the app on their social media accounts to help generate consumer awareness. Otherwise, they pay a fee of $10 per month.
Agents login to the app with their Facebook profile and provide their license number for verification; the app matches consumers and agents with shared Facebook interests and contacts.
Avenue plans to launch in August.
1:50 p.m.
NotaryCam provides document notarization online.
The firm verifies a user's identity through a series of online questions and then connects him or her to a notary via live video. The notary signs the doc with an e-signature and provides an electronic notary seal.
The notary event is recorded and stored for five years.
The technology is legal, but is it accepted? NotaryCam sees pushback from less than 5 percent of notaries it performs, NotaryCam's founder said.
NotaryCam wants to put the agent back in the center of the transaction. As it makes closings more efficient, it's also of value to real estate agents. It's valuable for title, closing and settlement servicers, but NotaryCam's founder envisions agents driving the e-notary ship.
Lunch break
After the final five startups present in the afternoon, FWD's panel of eight judges will choose three finalists.
The judges are:
11:55 a.m.
SOLOpro is an online platform that connects homebuyers with buy-side agents offering unbundled services.
SOLOpro allows agents to set what they want to do when they want to do it and how much they want to do it for.
Consumers enter the address of a home they want to see and when in the SOLOpro platform, and then see a list of agents and how much each will charge for that service.
The firm has 250 agents now on the platform in North Carolina and is looking to experiment with partnerships at the brokerage and brand level.
The agent-broker commission split can stay intact through the platform, SOLOpro co-founder Tommy Sowers said in response to judge questions. Sowers said the firm has raised $1 million.
"We're a marketplace, not a brokerage," Sowers said of the firm's ability to scale.
11:45 a.m.
Tactile Finance provides clarity around home financing. The firm paints a picture of how much a home costs with a mortgage and all fees. It also tracks how much a home appreciates over time.
The software also helps homeowners visualize how much money they'll net if they sell at different times.
Agents pay $30 per month to give their clients access to the tool. The firm sells enterprise-level deals that allows firms to plug in to their systems. Agents can also buy it on an individual basis.
"Our whole business is about outcomes," Tactile Finance founder Nicole Hamilton said. Tactile Finance is a way to help agents provide financial transparency to consumers. "Transparency creates opportunity," she said.
11:35 a.m.
HomeTrackr generates unique property history reports on 99 percent of U.S. homes. HomeTrackr sells brokers a white-labeled product.
The firm has a lot of information on building permits. It highlights the date ranges where that information is more certain and also where it may be spotty.
HomeTrackr is a lead generation tool for agents, brokers and mortgage pros. Brokers can white-label the product, but they can't pull out specific information to put on their own sites.
11:25 a.m.
EMTransfer helps agents, buyers and trust account managers manage earnest money 100 percent electronically.
System produces an audit trail of the transaction. Earnest money, the deposit made to a seller showing the buyer's good faith in a transaction, got skipped in real estate's digital revolution, EMTransfer's founder said.
EMTransfer's business model centers on a monthly subscription. Pricing has been set at the agent level yet. The firm's looking at an enterprise model.
The service solves the time issues that show up for agents when they have to track paper checks, according to EMTransfer's founder.
11:20 a.m.
Keep helps agents keep in touch with past clients by setting up branded automated quarterly email reports that share their home's value and how it's changed over the last 90 days. Keep uses CoreLogic's automated property valuation model.
Cost is $5 per home for four years of emails.
Brokers can onboard past clients when they sign up for Keep.
Keep sends the same data to brokers and agents on a monthly basis, so they have access to the same data.
11:05 a.m.
Dizzle provides white-labeled mobile apps to brokers and agents that allows them to share a list of preferred vendors to clients and leads.
Dizzle vets vendors in local markets. Vendors can buy membership in the app. If there are issues with a vendor, Dizzle addresses them on a case-by-case basis.
Consumers are relying on agents more and more to help them find vendors, Dizzle CEO Will Caldwell said. That's why this app holds promise, he said.
Agents can add their own vendors to the list.
Caldwell says that Dizzle's working on integrating a vendor-rating system.
10:55 a.m.
Homevibe, which provides prelisting inspections to sellers and agents, hits the stage. It launched in Seattle about a month ago.
Listing agents contact Homevibe, one of the firm's partner inspectors, creates an "insight report" — the key things they consider in whether a home is a good deal. The report looks at the electrical system, the water tank, the roof, the home's structure and more.
Homevibe charges buyers $125 for access to this report. That's on the lower end. It's able to streamline inspections, because it works with available inspectors and provides them technology that helps with the survey.
"We have to get there before the listing goes live," Homevibe's presenter said. "That's our bottleneck now."
Homevibe doesn't guarantee that its inspections are exhaustive. It looks at the major elements. The seller has no influence on the content of the report. After the inspection, sellers can comment on the inspection, what they might do to address.
Homevibe says that it needs to sell the report to two buyers to make its revenue model work.
Homevibe recommends a full inspection report in addition to its report. "We're not replacing the traditional product," Homevibe's presenter said. The in-depth report is an opportunity to upsell sellers and generate a referral fee from appraisers.
10:45 a.m.
Now up, Loop & Tie, a gifting platform to help agents build relationships by enabling their clients to choose the gift they prefer to receive from their agent.
Brokers and agents' clients get access to Loop & Tie's "carefully curated boutique," which is segmented by price point. The firm handles all shipping logistics and logs all gift exchanges and communication.
Agents can choose specific charities of their choosing. Brokers and agents can create custom gift options.
One judge asks if agents can set gifts to arrive tied to different times, not just closing. You can.
10:35 a.m.
Flipt, which enables real estate agents to advertise their services to home sellers on mobile and social apps, is up next.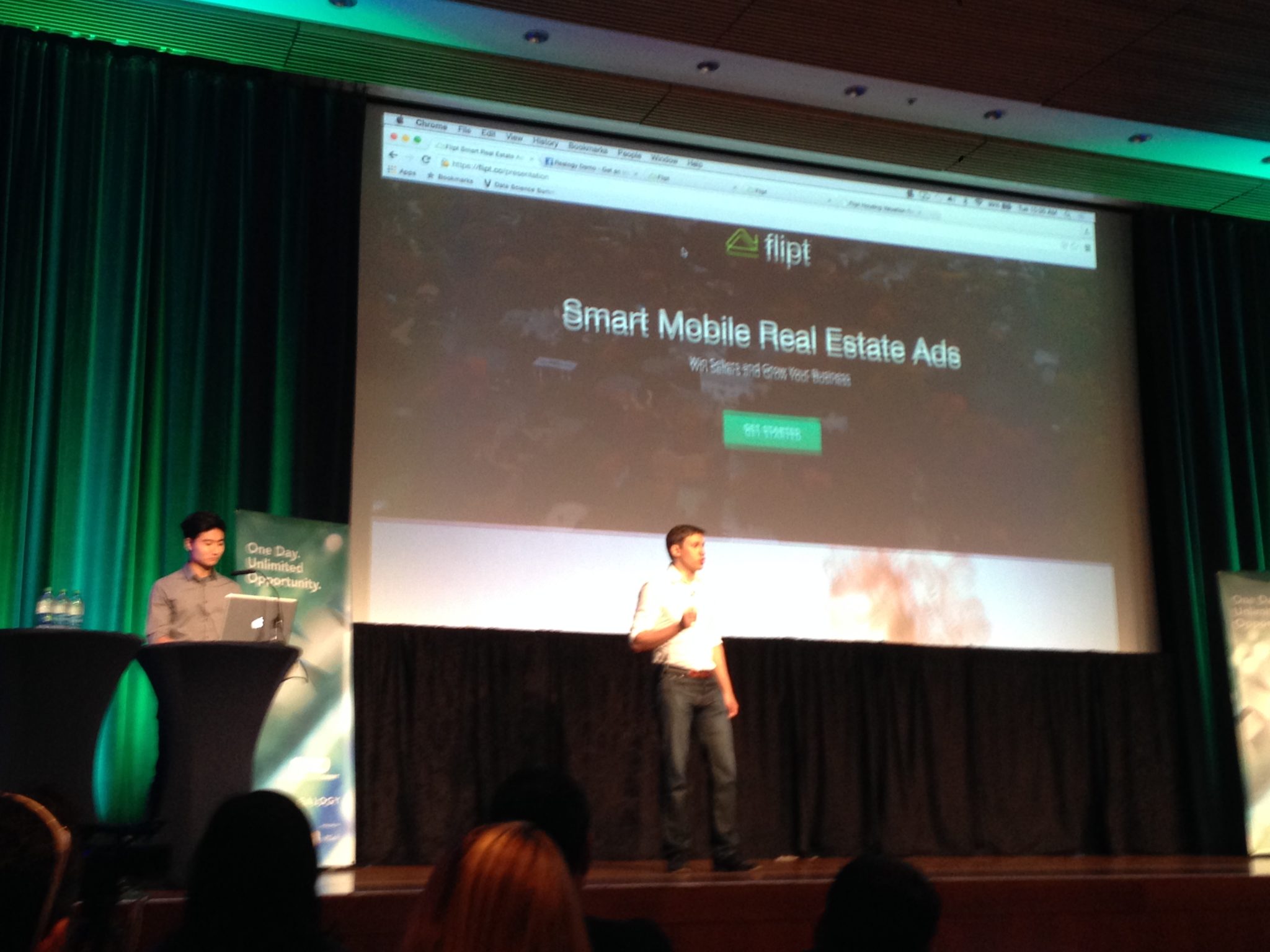 Ads are targeted to sellers looking to find the value of their homes. Ads are targeted to demographics: Single moms get different ads than families.
Flipt uses housing data and ad networks to suss out who might be likely to sell soon.
Six percent of the people who click on a Flipt ad fill out a contact form.
Flipt has customers in 40 states and 5,000 slots.
One judge asks how Flipt differs from AdWerx. Targeting is different, Flipt's Andrey Nokhrin said. Flipt also targets mobile, he said.
10:25 a.m.
First up is Syncro, a firm that makes software that turns a consumer's Web message into a text message to an agent.
It has features that allow agents to preset canned responses and to send texts to other agents when the initial agent is not available. All conversations can be viewed in a "chat vault."
First judge question touches on how the feature integrates with other websites. Syncro has an API, but the Internet data exchange websites must actively approve tie-in.
The system caps the number of agents consumers can establish contact with through the platform at three. Conversations are tied to properties; a consumer can only chat with one agent on one property.
Agents and consumers can't communicate outside of the platform, minimizing the possibility of spam.
10:23 a.m.
Brian Boero, founding partner of real estate consulting firm 1000watt, is the event's emcee. He outlines the format. Each firm will give a five-minute demonstration with no PowerPoint, followed by five minutes of questions from the judges. The judges will pick three finalists, and the crowd of approximately 150 people will pick the winner.
10:15 a.m. 
Alex Perriello, president and CEO of Realogy's franchise wing, Realogy Franchise Group, kicks off the event. Thinking about an entrepreneur in Silicon Valley innovating to push real estate forward keeps him up at night, Perriello said.
Realogy CEO Richard Smith echoes Perriello in kicking off the event. "FWD" is Realogy's way of staying ahead of the curve. "We want an early view" of new technologies.
Seven Realogy execs and one Silicon Valley entrepreneur make up the panel of eight judges, who will pick three finalists.
Follow the action here for live updates from the competition.
Here's the schedule:
10 a.m. Pacific time: welcome address and demos begin
12 p.m.: Lunch
1 p.m.: Demos resume
3 p.m.: Finalists and winners announced
This year's "FWD" participants are: