Ninety percent — or 334 of 370 — of U.S. counties with a population of at least 100,000 are more affordable than historical averages, according to findings by RealtyTrac and Down Payment Resource.
The two firms examined affordability, median income, median home price and homeownership program availability to determine the top markets for low down payment buyers.
Of the counties analyzed, the top five affordable and accessible counties as of April 2015:
Ashtabula County, Ohio
Imperial County, California (El Centro)
Hernando County, Florida (Tampa)
Clayton County, Georgia (Atlanta)
Lackawanna County, Pennsylvania (Scranton)
Other top counties are located in Chicago; Richmond, Virginia; Baltimore; and California's Central Valley (Madera).
Of the top affordable counties, seven of nine feature a median home price below $100,000.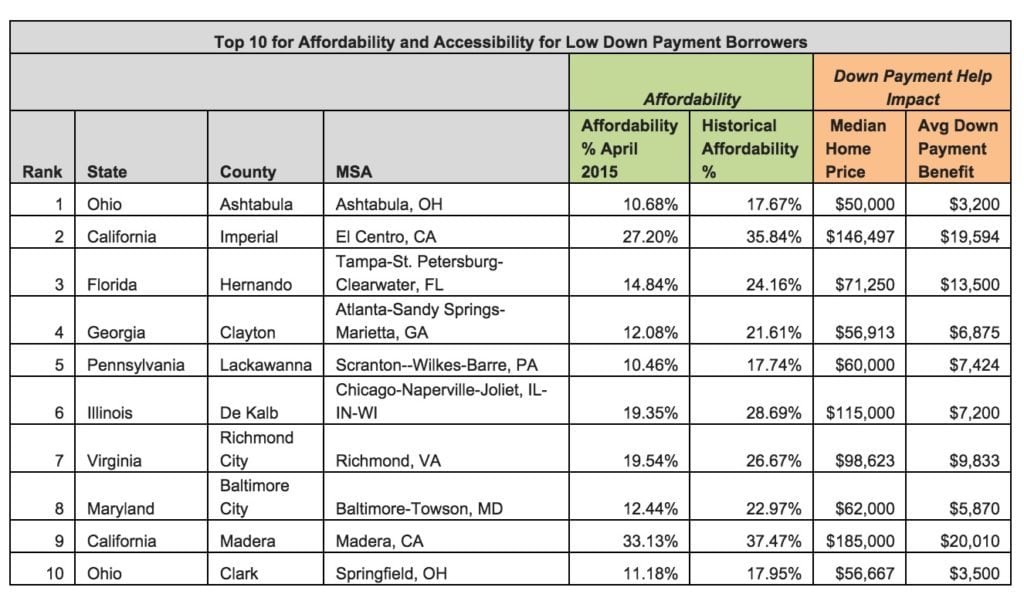 County housing markets ranking as the worst for affordability and accessibility include:
New York County (New York City)
Fairfax County (D.C. metro)
Charleston County (South Carolina)
Santa Clara County (San Francisco Bay Area)
Forsyth County (Atlanta metro)
Of the top nine least affordable counties, three help to comprise the Atlanta metro region. In addition to Forsyth, Cherokee and Fayette counties are all cited as unaffordable, ranking at sixth and ninth.
Five of the top 10 least affordable markets obtained the ranking despite sporting a median home price below $250,000. Three of the markets have median prices under $200,000.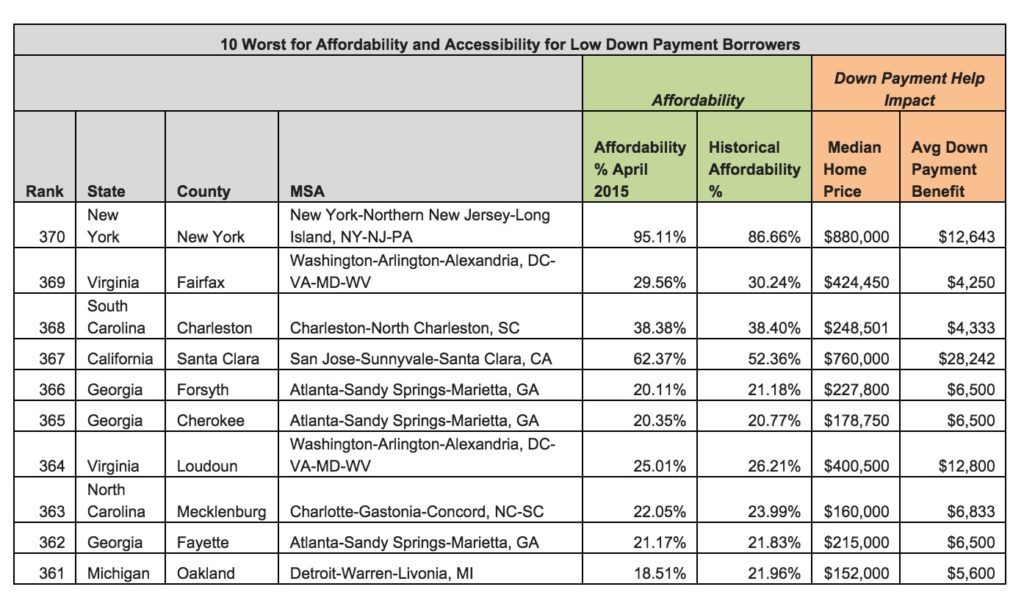 Major counties still more affordable than their historic averages in April included:
Cook County (Chicago)
Maricopa County (Phoenix)
San Diego County (California)
Miami-Dade County (Florida)
Riverside (Southern California)
Counties least affordable relative to their historic averages were San Francisco and San Mateo counties in the San Francisco Bay Area.
Kings County (Brooklyn, New York), Santa Clara County (California, in the San Jose metro area) and Denver County, Colorado, were next on the list. It's no surprise these markets have been cited by housing information sources as the best for price appreciation.
On average, across all 370 counties analyzed the average amount of down payment assistance was $10,443, which accounted for roughly 6.84 percent of a median home's sales price.
Counties with the highest average down payment assistance in dollars were:
San Francisco County, $51,713
Orange County (California), $43,121
Los Angeles County, $40,004
Placer County (California), $35,475
King County (Seattle) $33,735
According to a new CreditCards.com report, affordability is also on the minds of various individuals, as 27 percent of Americans say they're losing sleep over their ability to pay the monthly mortgage/rent.
---
Inman Connect San Francisco is right around the corner — register now and save $200!