Distressed sales volume is at a record low in California, helping the state to return to a "more normal" housing market.
According to a California Association of Realtors (CAR) homebuyer survey, 22 percent of homebuyers who purchased a home spanning February 2014 to February 2015 were previously involved with a distressed sale and are now returning to the market.
Another encouraging sign for California is that 40 percent of recent homebuyers have been first timers. This apparent increase in first-time homebuying has had a direct effect on average and median home prices. According to CAR, 74 percent of homes were purchased for less than $500,000 and 60 percent were bought for under $400,000.
The median sales price of a home dropped from $375,000 to $350,000. The survey found that 28 percent of the time the final purchase price was higher than the initial listing price. On the flip side, 44 percent of the time the listing price was higher than the purchase price.
When purchasing a home, 77 percent of buyers utilized financing, while 23 percent closed with all cash.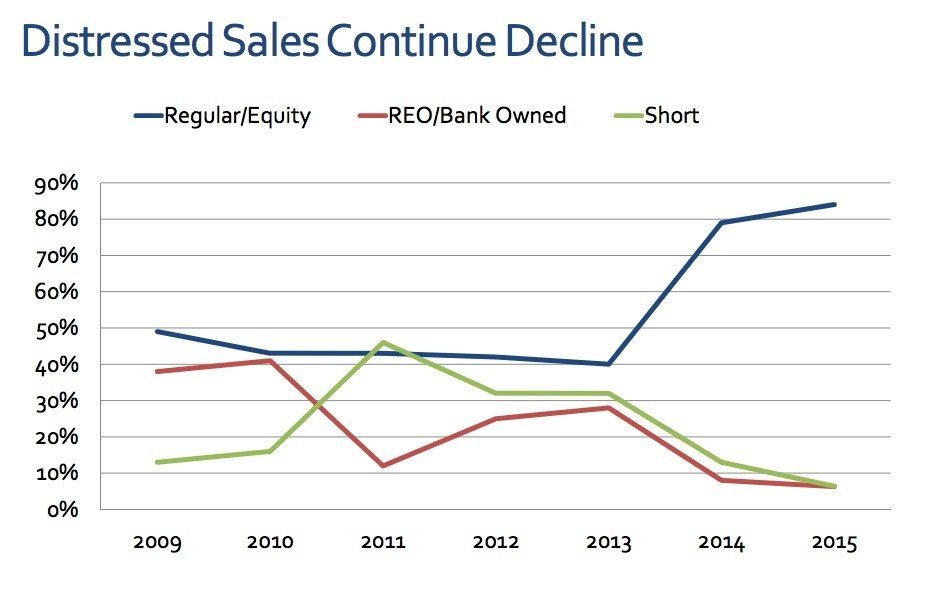 Of the buyers that closed all cash, 40 percent did so by utilizing funds from personal savings. Another 28 percent used proceeds from the sale of a previous residence.
Roughly 83 percent of buyers who utilized financing obtained a fixed-rate loan. A 30-year loan term is the most common, as 75 percent of all buyers that utilized financing went this route.
The average down payment for a home was roughly 24 percent of total purchase price, down from 28 percent in 2014 and 25 percent in 2013.
Other notable survey findings include:
The average number of offers a potential buyer made during the homebuying process dropped to an average of 2.6, down from an average of 3.6 offers during 2014.
More than 9 out of 10 homes — 92 percent — were purchased as a primary residence.
40 percent of homes purchased were located in the suburbs, with 34 percent in urban locales. Nearly half, 44 percent, of repeat buyers prefer homes in the suburbs, while 41 percent of first-timers purchased urban-located homes.
55 percent of buyers found a home through an agent, with 25 percent of owners saying they needed an agent the most when negotiating terms of a sale.
Zillow was cited by 33 percent of respondents as being the most useful website during their home hunt. At 17 percent, realtor.com came in second.
---
Inman Connect San Francisco is right around the corner — register now and save $200!