Takeaways:
New residential construction and remodeling activity — measured by building permits pulled — were down nationally in July when compared to June.
Year over year, new residential permit activity is up 3 percent, while remodeling has declined by 6 percent.
On a year-over-year basis, new residential permit activity is up 3 percent, while remodeling activity has declined by 6 percent, according to BuildFax.
Residential new construction hit a seasonally adjusted annual rate of more than 1.2 million permits in July. The revised June 2015 rate was more than 1.3 million — a 7 percent month-to-month decrease. July 2014 had an estimate of nearly 1.2 million.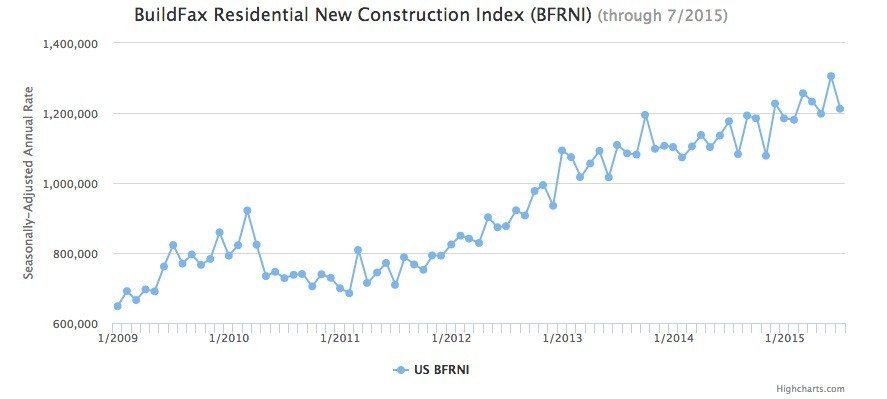 BuildFax notes it reports on total new residential projects, unlike the U.S. Census Bureau, which reports total number of housing units.
Residential remodeling activity reached a seasonally adjusted rate of nearly 3.6 million permits, which is an 8 percent decline from the June rate of nearly 3.9 million. In July 2015, the rate stood at 3.8 million.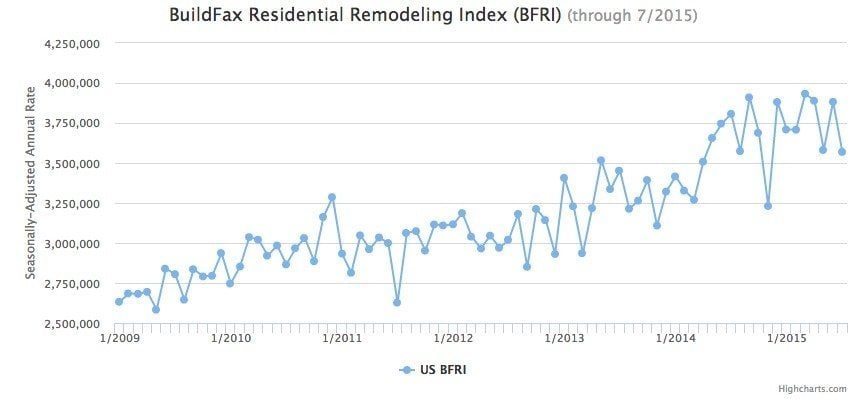 These remodeling figures seem to contrast a recent report from BuildZoom that stated the remodeling industry had fully recovered from the housing bust, with activity in June 3.4 percent above its 2005 level.
From a regional standpoint, BuildFax found new construction activity dropped in three of four regions on a month-to-month basis. However, two of four regions were up from July 2014.
The West is by far the best performing region for residential building, as it saw an increase in new construction on both a year-to-year (35 percent) and month-to-month basis (5 percent).
The South and Midwest have both experienced declines in new residential building activity spanning the past year.
The volume of permits pulled in the South during July represented a 20 percent drop from June and a 10 percent decline from July 2014. In the Midwest, permit volume fell by 5 percent from June and 1 percent from July 2014.
Residential construction in the Northeast is up noticeably on a year-over-year basis – 75 percent. However, month-to-month activity dropped 5 percent.
In July, all regions saw a month-to-month drop in residential remodeling of 2 to 10 percent, with only one region up from July 2014 — the Northeast (10 percent).
Year over year, the Midwest has seen the largest dip in remodeling activity — 22 percent. The South has seen a minimal dip of only 1 percent, while the West lags by 7 percent.