Are millennials really as reluctant to purchase homes as many housing industry analysts claim they are?
Although some have nicknamed young people aged 21 to 34 the "generation of renters," both the National Association of Realtors (NAR) and realtor.com are proving the critics wrong with data suggesting that millennials may actually comprise the largest share of homebuyers of any generation.
A NAR report, "Home Buyer and Seller Generational Trends," which was based on a survey of about 6,500 recent homebuyers located through Experian's database, says millennials comprise 32 percent of all homebuyers, which is a larger share than all baby boomers combined.
By comparison, younger boomers (ages 50 to 59) are the next-largest group of buyers, comprising 16 percent of all buyers; older boomers (ages 60 to 68) comprise 15 percent of recent homebuyers; Generation X (ages 35 to 49) made up 27 percent of recent buyers; and the "silent generation" (ages 69 to 89) has the smallest share of homebuyers at 10 percent, NAR said.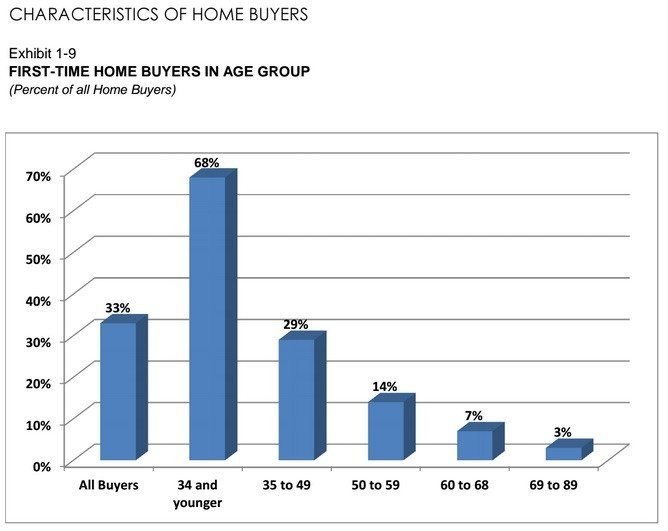 Realtor.com is also chiming in on millennial myths, saying that according to a recent analysis of data from comScore and current population estimates, millennials are 70 percent more likely than the average adult to be currently looking for a home to buy on its website.
Realtor.com Chief Economist Jonathan Smoke attributed the trend to home prices becoming more affordable in the last year and builders providing a more affordable supply of new homes.

The home inspection is not just for homebuyers
Use pre-inspections as a home seller differentiator
READ MORE
"People who believe that millennials are disinterested in homeownership are grossly mistaken," said Smoke. "This generation hit the job market during one of the largest recessions of all time, and they've had to work hard to establish credit and save for a down payment.
"With the older segment just beginning to enjoy the life events that drive homeownership — marriage and children — now is the most appropriate time for them to consider homeownership, and that's what we're seeing."
"People who believe that millennials are disinterested in homeownership are grossly mistaken." – realtor.com Chief Economist Jonathan Smoke
NAR's report focuses on millennials' particular preferences in buying homes, while realtor.com analyzed mortgage market trends and top markets for millennial buyers.
According to NAR's report, 39 percent of millennial buyers purchased a home simply because they wanted to own a home of their own. Prior to buying, 59 percent of millennials rented an apartment.
Contrary to popular belief, millennials are open to moving to unfamiliar markets and tend to prefer new homes, NAR said.
According to the report, these buyers tend to stay close to their previous residence — often within 10 miles — and they tend to prefer older or previously owned homes. Ranking convenience to their place of employment and affordability as their top buying considerations, younger buyers often pull the trigger on a home that has a better price and overall value, NAR concluded.
Other characteristics about millennials that NAR noted in its report:
They expect to live in their home for 10 years before moving on
They are most likely among all generations to look online for information about the homebuying process, with more than half of them using a mobile device to do so
They typically find the home they purchase through the Internet instead of a real estate agent
They typically make a down payment of about 7 percent
They are considerably more optimistic that their home purchase was a good financial investment in comparison to older buyers
According to realtor.com, a survey of active home shoppers in June and July showed that millennial homebuying decisions were triggered by:
An increase in income (35 percent)
Tired of current home (34 percent)
Favorable home prices (32 percent)
Favorable interest rates (28 percent)
Increasing rent (22 percent)
Change in family circumstance/composition (20 percent)
Planning to increase family size (19 percent)
Increase in family size (18 percent)
Other data produced by realtor.com in partnership with Optimal Blue, an enterprise lending service platform, also revealed that the key for millennial buyers who want to close on a home is to be very financially healthy, with high FICO scores and low debt-to-income ratios.
"This can be attributed to the fact that 97 percent of millennials have to finance their home purchase," remarked Smoke.
On average, millennials' FICO score was 714; they made down payments of 7.1 percent; their interest rate was 4.03 percent; and their debt-to-income ratio was 36 percent, realtor.com said.
Realtor.com also listed the top 10 markets where millennials represent the highest share of purchased mortgages — contrary to another popularly held belief, they aren't flocking to hot markets like New York or San Francisco.
Instead, Smoke said the data underscores millennials' interest in these growing, yet affordable, areas:
Des Moines, Iowa
Provo, Utah
Baton Rouge, Louisiana
Pittsburgh, Pennsylvania
Lafayette, Louisiana
Grand Rapids, Michigan
Madison, Wisconsin
Clarksville, Tennessee
New Orleans, Louisiana
Shreveport, Louisiana
Both NAR and realtor.com shed light on some of the barriers that are impeding millennials' entree into homeownership.
According to NAR, many millennials are hampered by student loan debt. About 46 percent of buyers said struggling with student loan debt makes it difficult for them to save for a down payment.
About half of millennials said they made financial sacrifices in order to buy a home, and common sacrifices include cutting spending on luxury or non-essential items, entertainment or clothes, NAR added.
"As inventory returns to more normal levels, expect the blooming of millennial homebuyers to turn into a boom." – realtor.com Chief Economist Jonathan Smoke
And according to Realtor.com's assessment, 40 percent of millennials surveyed said they have not yet found a house that meets their needs due to inventory shortages; 37 percent said they can't find a house in their budget range; 36 percent they were just beginning to explore the market; 28 percent said they are having trouble saving a down payment; and 23 percent said they have not yet decided on a specific neighborhood or town.
"Despite the increased role of millennials in the housing market, setbacks still exist and are preventing first-timers from making even more of an impact," said Smoke. "As inventory returns to more normal levels, expect the blooming of millennial homebuyers to turn into a boom."