A rise in the volume of bank repossessions is a major contributor to the overall increase in foreclosure filings.
Metros that saw year-over-year increases are spread throughout the nation.
California markets appear to be seeing the biggest reduced in foreclosure activity.
More than half of the nation's largest metros witnessed year-to-year increases in foreclosure activity during the third quarter.
According to a market report from RealtyTrac, foreclosure filings — default notices, scheduled auctions and bank repossessions — were up annually in 11 large metros, with eight of these markets experiencing double- or triple-digit increases:
St. Louis (113 percent)
Boston (55 percent)
Dallas (39 percent)
Detroit (39 percent)
New York (33 percent)
Seattle (14 percent)
Houston (12 percent)
Minneapolis-St. Paul (11 percent)
"It's no surprise that foreclosure activity is up from a year ago as banks slowly but surely, work their way through their pipeline of foreclosed inventory," said Matthew Gardner, chief economist at Windermere Real Estate.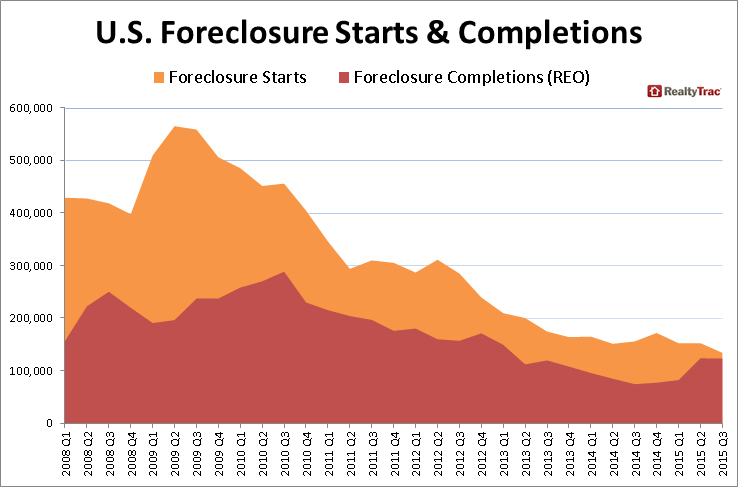 Some large metros did post year-to-year decreases in foreclosure activity during the third quarter including three in California – Riverside-San Bernardino, Los Angeles and San Diego. In each market, activity declined by roughly 20 percent. Miami also saw a 16 percent dip in filings.
With one in every 97 housing units with a foreclosure filing in the third quarter, Atlantic City, New Jersey, posted the nation's highest foreclosure rate among metros with a population of at least 200,000.
In Trenton, New Jersey one in every 172 homes had a foreclosure filing during the quarter, ranking the market as the sixth-highest for activity.
These filing volumes are one reason why New Jersey has the highest foreclosure rate of any state — one in every 171 homes. Bank repossessions in the state were up 351 percent year-over-year.
Five Florida cities posted third quarter foreclosure rates that were among the highest nationally: Jacksonville, Deltona Beach, Tampa, Miami, Lakeland and Ocala.
No surprise, Florida ranked as having the second-highest foreclosure rate of any state during the quarter, despite a 17 percent year-over-year drop in filings.
Nevada, Maryland and Illinois were cited as having the nation's third-, fourth- and fifth-highest foreclosure rates.