Illinois overall sales and median price rose in March.
Dr. Hewings attributes some growth to increased interest in foreclosure properties in appealing neighborhoods.
Home sales and prices grew in Chicago on an annual basis.
A monthly market report published by Illinois Realtors shows that both home sales and home prices increased year-to-date in March. Overall, home sales rose 1.9 percent while home prices ascended 4.3 percent.
Statewide sales numbers show that home sales rose to 11,900 from 11,676 this time last year, and the median sale price jumped to $172,000 from $164,950. March also saw a decrease with average time to sell dropping from 85 to 77 days.
The time it took to sell a home in March averaged 77 days, down from 85 days a year ago. Available housing inventory totaled 58,613 homes for sale, a 12.3 percent decline from March 2015 when there were 66,852 homes on the market.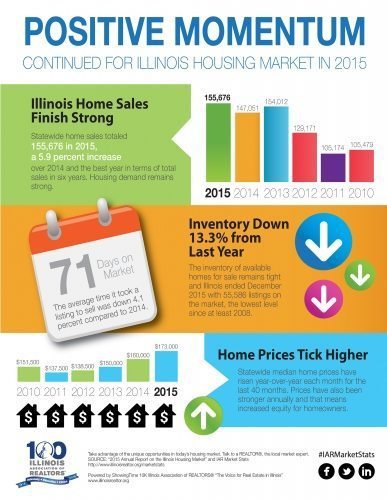 "March recorded the usual monthly surge in sales in both Chicago and Illinois," said Dr. Geoffrey J.D. Hewings, director of the Regional Economics Applications Laboratory at the University of Illinois, in a press release issued Wednesday.
Hewings leans toward the increase in prices on foreclosed properties as one attributing factor for growth.
"I think that some buyers are finding value in selected foreclosed properties especially in more appealing neighborhoods," he said in an email. "Over the last six months, we have seen many months where the increase in prices of foreclosed properties exceed the increases for regular properties."
He admitted that it's a been wild year despite the election, and the Chicago market is still dominated by reticent buyers and sellers.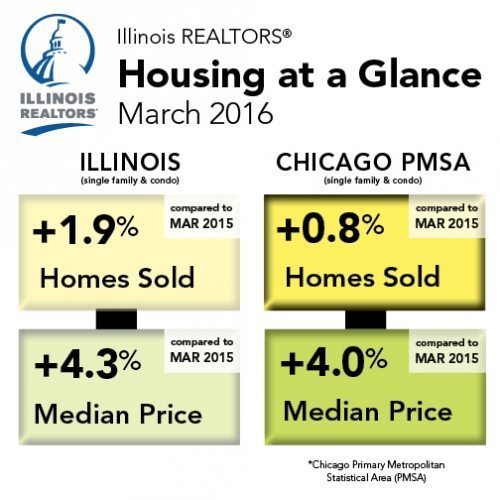 And although Illinois' overall numbers reflect growth, the city of Chicago actually saw a 3.4 percent year-over-year decrease in home sales. Chicago's median sale price rose $8,500 to $168,500 in March 2016.
"With more properties coming on the market as consumers embrace the spring selling season, we should see inventories better able to meet significant buyer demand," said Dan Wagner, president of the Chicago Association of REALTORS® and senior vice president for government relations at the Oakbrook-based Inland Real Estate Group of Companies, Inc., in the release.
"Homes are selling faster than they were last year, so consumers need to act quickly if they are interested in buying."