On February 17, 2010, I embarked on a year of insanity – at least that's how I view it now, looking back. On that day, I started 365Atlanta.com. I didn't stop to think that it would take over my life and consume me, cut into my personal time, my family time, my me time. I also didn't stop to think that it would change the way I view my city, my business and my connections.
It started out as a way to connect my relocation clients (over 60% of my team's business) to their new city – introducing them to great places to eat, see live music, shop, hang out, hike, and experience things they couldn't get in their old hometown. It was also a way for me to explore Atlanta with a purpose, get out and do new things and translate them for others. Finally, it was a platform for me to blog about something that I found interesting and exciting – blogging about market stats and average home prices wasn't doing it for me, and while I recognize the importance of those topics, they simply did not inspire me.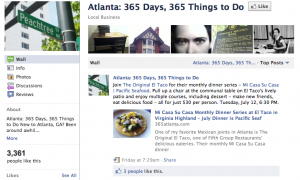 Lots of others started 365 sites at the same time I did: the only other two who survived and made it to number 365 on day 365 were Dale Chumbley in Vancouver, Washington and Dawn Thomas in Silicon Valley, California. (Of course, we were not the first – to give credit where it's due, the original was Kristy Owen in Austin, Texas — I wasn't even aware of her site when I started mine, but seeing what she's created is inspirational.) The reality is, those of us who made it through to our one-year anniversary worked incredibly hard to get there – and I don't think any of the three of us would recommend that path to anyone.
So now, I caution others now about starting a 365 blog. Here's why:
It's been done. Probably the reason that holds the least weight, considering the fact that, technically, it had "been done" when I started my site. But still, there's something about encouraging originality that makes this point legit. It has been done — so reach way down in that creative mind of yours and figure out something new. What are your interests, your hobbies, your passions? Can you put them to work for you, to work for your business? It's about making your blog work for you, not the other way around.
Think about your city, your neighborhood, your market area. What is missing in the world of online material? What local information are you not finding online that you wish existed? Maybe it's a site about dog-friendly parks, restaurants, events, hotels, and other locations for canines and their humans. Maybe there's a need for gay-friendly service-providers, vendors, and other public services. Whatever is missing, you can create it – build a simple, informational site that pulls together that information and present it to the public in a non-biased and informational format. And voilà! Your new and creative idea is born!
It's too broad. Let's face it — writing about everything going on in a city like Atlanta provides plenty of blog fodder, but it also is too broad of a spectrum to really hone in on any one niche — whether it's by area, demographic, neighborhood, etc.
Creating content that speaks to the type of client you want to work with or the type of client in which you specialize is a more focused approach to your blog efforts. I happen to be passionate about my city. I relocated here and felt an instant connection (which I attribute partially to my childhood obsession with Gone With the Wind and believing that I really was Scarlett O'Hara), but I realize that not everyone who moves here feels that connection. When I moved to Atlanta more than a decade ago, I fell in love. Before I was a REALTOR®, before I had a blog about all that my new home had to offer. Starting the site really was a fit for me because it was about the things that I love here in a city that is my new hometown. It is my passion, broad though it is. But broad can also be overwhelming, and I heartily suggest narrowing your focus for your own site.
If you're passionate about something, writing about it consistently and with love should come easily. Those 365 posts in 365 days were hard work, but nevertheless, it was work that came easily. It was work that I loved – exploring my city, writing about my adventures, awakening in others the desire to do the same – it was challenging and fun and time-consuming, but I loved it. What do you love?
It takes time. I can't stress this enough. It. Takes. Time. Lots and lots…and lots…of time. In order for my site to have the authenticity and credibility I wished for it, I only wrote about things I did, places I went, food I ate, events I experienced. Those things take time — time away from other things in your life. Most people don't have that kind of time. Heck, I didn't really have that kind of time, but I made the time because I was enjoying it. The demand, however, of writing one post a day is overwhelming. And once you've established a readership, they notice when you miss a day (and call you out on it!).
One of the most important aspects of a good blog (besides compelling content and, in my opinion, correct grammar, spelling and punctuation) is consistency — you can be consistent without writing every day. Unfortunately, once you've put the number "365" in your blog title, you've created a fairly obvious expectation. Managing expectations is a part of our daily lives as REALTORS®, so it should extend into our online efforts as well. Posting good content three to four times a week – versus posting potentially weaker content every day – is a better plan. It's more reachable, more realistic, and it can get you the same results.
When I reached m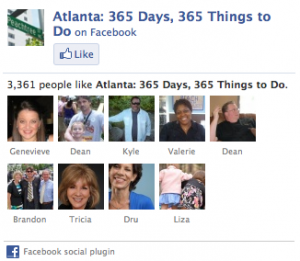 y one-year anniversary, I decided that every day posting was no longer a goal of mine – I had a strong readership, a respectable number of "likes" on my Facebook page, and a fantastic Twitter following. I cut back to three to five posts a week, depending on how much was going on in Atlanta that I felt compelled to write about. The un-surprising result: my average number of hits per day stayed consistent and even increased slightly some days, the average amount of time readers stayed on my site went up, and my number of "likes", followers and email subscribers has continued to grow. Proof positive that every day isn't necessary but consistency absolutely is.
This post started out along the theme of "3 things I learned from the '365 debacle'" (not my words). I thought, What an easy post to write! But then I realized that, though I probably wouldn't do it the same way again, I would do it again. What started out as a reference for my clients who were new to the Atlanta area and a way for me to explore my city has turned into a revenue- and lead-generation resource. I wouldn't call it a "debacle" – I would call it a learning experience, and a fun one at that. It proved to me that writing about things other than real estate can be productive and can lead to business, because I was writing about things for which I have passion (much more passion than I ever had for writing about market statistics) and it showed.