Vflyer, the online classifieds ad generator, launched User Enhanced images yesterday with a service they're calling WatermarkPlus. The service lets you add you own graphics to any image you upload to the site. You can add graphic and text elements to your pictures using an easy 3-step process and you can even add watermarks to your picture as well.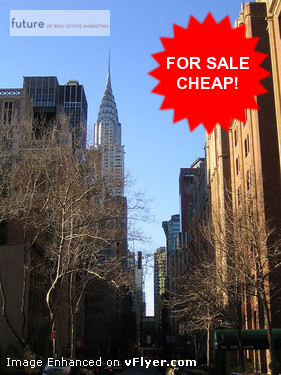 vFlyer calls this "merchandizing" a photo and I suppose that's a good way of describing what it does. The watermark feature especially is very useful. Plus, vFlyer lets you download and take your image with you or you can choose host the photo with them.
vFlyer has established itself as superb tool that should be all real estate marketers' arsenals – and a lot of that is due to this generosity. vFlyer doesn't lock down its feature set but rather encourages its users to use their site and then do what they want with the output.
Ultimately, successful products are those that solve a problem and vFlyer does just that, it makes it easy to market a property online and get creative doing so.
If you're looking for what not to do with your real estate photos, check out some of the Bad MLS photos on RE Agent in CT.
Technorati Tags: real estate marketing, real estate, real estate advertising, vFlyer