Two years ago, when Ron Weaver first became aware of how hard the economy was hitting people who worked in the real estate industry, he thought again and again about his father's struggle to support his family during the Great Depression.
"My father dropped out of ninth grade and he drove a truck the rest of his life," said Weaver, a land-use lawyer in Tampa, Fla. And in the darkest years of the Depression, he anxiously took that truck on distant, lonely and sometimes perilous routes, Weaver said.
"It was what had to be done for his family," he said.
Weaver sensed that some members of the real estate community in Tampa might be struggling, silently, in a comparable way today. He estimates that 30,000 people in Hillsborough County, Fla., which encompasses Tampa, have been affected directly or indirectly by what he terms "the real estate and construction calamity."
"This economy here has been compared to the 1926 real estate depression in Florida, when the bottom fell out," he said. "It's unprecedented in our lifetime."
So he set out to lend a hand, not realizing that his calls inviting a bunch of people in the real estate community to a brainstorming session would have such a broad reach.
Two years after that organizational meeting, the group that became known as Real Estate Lives has helped find new jobs for at least 451 people and has worked with more than 1,000 who were left unemployed in the real estate downturn.
More than 100 industry volunteers have coached them in such things as resume-writing and interviewing skills, hosted networking and social events, and maintained an online job board that's updated daily, among numerous other support efforts, he said.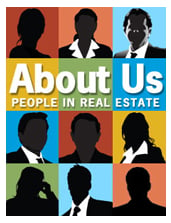 The group defines "real estate" in broad terms, Weaver said. The obvious industries — home sales, homebuilding, commercial real estate — are well-represented among both the volunteers and job-seekers. But the group realizes that the struggling industry encompasses an array of skills, he said.
"There is not a single part of our profession that isn't represented," said Weaver. "There are landscape architects, accountants, backhoe operators, receptionists, developers, lawyers, human-resource people — almost every subspecialty from our real estate companies."
The nonprofit is officially structured as a volunteer task force of the Tampa Bay Chapter of NAIOP, the Commercial Real Estate Development Association, but has filed for its own 501(3) tax-exempt status, Weaver said.
The group's most visible effort is probably its twice-monthly REbounder gatherings, which feature networking and speakers. But as the group has grown, it has developed offerings to suit special needs, with the help of 50 active speakers and coaches, Weaver said.
For example, it arranges one-on-one peer mentoring with some job seekers; another arm of the organization offers small-group mentoring for gatherings of up to 12 people. Volunteers teach sessions on how to use social media sites such as LinkedIn and Facebook to look for employment.
Some gatherings are just for fun, such as a picnic for families of job-seekers. Real Estate Lives has hosted 15 "big" social events and 35 minor ones, many of them training-oriented, with food and meeting spaces often donated by area businesses, he said.
Among its major sponsors are the Greater Tampa Association of Realtors and Commercial Real Estate Women of Tampa Bay.
Although Real Estate Lives strives to keep the tone of its events upbeat, the organizers have learned that discouraged job-seekers sometimes just need a place to sound off, he said. So some volunteers created peer-facilitated meetings where the attendees can talk about the things that stress or worry them, he said.
"You share what you're going through with 10 to 14 other people," he said. "Sometimes they're laughing, sometimes they're crying."
Psychological support is critical to making it through long stretches of unemployment, Weaver said. The group even has hosted events specifically for unemployed single parents and for spouses of the job-seekers so they could share their own difficulties, he said.
Much of the Real Estate Lives' outreach efforts come from its phone bank, a network of about 15 volunteers who have placed more than 14,000 calls in the past to years.
"We call and check in on (the job-seekers)," said Weaver. "They're called by a caring person and we ask them what they need."
Sometimes they merely seek the group's basic job-hunting support, but he said some of them have told the organization of more drastic concerns: Their cars have been repossessed. Or they have no food.
The organization isn't able to solve such problems itself, but it tries to direct them to social-service groups and governmental programs, Weaver said.
Its jobs board, at RealEstateLives.org, receives postings locally and from around the country and is updated daily by volunteers, he said.
Of the 451 known success stories — he estimates there are more who found work but didn't report back to the organization — about 35 percent found jobs similar to the ones they had lost; the others have gone to related or to totally unrelated fields, he said.
He recalls one student who the group helped get training in the use of a particular kind of software who did so well in the class that he ended up being hired to teach others how to use it.
Weaver said he's waiting for the day when his group isn't needed.
"Our job is to go out of business, but after two years, it's about 80 percent as bad as it was," he said. "There are some mildly encouraging areas, such as in the apartment-rental business, but it's still going to be a really bad year."
In the meantime, he devotes a couple of hours a day to Real Estate Lives, and keeps making those check-in calls — about 10 of them at a session, every two weeks — to see how the job-seekers are doing.
"I think it's the best couple of hours I could possibly enjoy," he said.