I recently caught up with Marc Davison, co-founder of marketing, design and strategy firm 1000watt, to discuss the latest upgrade to Nudge, the company's marketing app. The latest version of the application is a significant upgrade that features Instagram integration.
The following is my Q-and-A with Davison:
Q: What is Nudge?
A: Nudge is a simple tap that gets someone's attention, which is what we call our marketing app because it enables our customers to work within certain boundaries to publish the perfect piece of truly compelling digital marketing.
Q: Version 2 was just released and includes a bunch of new features. Can you talk about the new features and the thought process that went into the upgrade?
A: The big feature is the Instagram API (application programming interface) integration that allows agents to import all their beautiful photos into Nudge as the centerpiece of their marketing.
For agents who do not have Instagram, we also included the ability to import photos from your desktop. We also added a WYSIWYG ("what you see is what you get") text editor so users can customize their copy. Finally, we redesigned the final Nudge output to be more colorful and beautiful and gave users the ability to customize many of the design features of the Nudge.
Our thought process is simple: build an app that helps users create beautiful, effective, compelling marketing on their own, in seconds.
Q: Platforms such as Facebook, Pinterest and Instagram have changed the way real estate pros create and deliver marketing materials. Can you talk about the visual Web?
A: Let me share some simple but striking facts. Each day, about 300 million photos are uploaded daily to Facebook. Instagram has more than 100 million users who have shared more than 1 billion photos. And Pinterest, its traffic has doubled since May 2012.
It's now the fourth-largest source of traffic after Google, direct traffic and Facebook — in that order. Essentially, pictures are everything on the Web. Since digital marketing is Web-based, if agents aren't incorporating gorgeous visual images into everything they are doing, I'd love to know why.
Q: I see a lot of email marketing in the real estate industry that is unfocused, busy and just plain ugly. Nudge isn't your traditional monthly newsletter. Can you discuss the anatomy of a well-designed email-marketing piece? I see brands such as Apple, Groupon, Threadless and others incorporate a big, bold headline, stunning image, copy and call to action.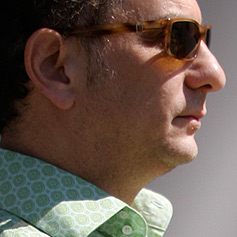 Marc Davison
A: We saw the same things. As a creative branding and marketing agency, we decided to fix that problem accentuated by the misinformation that has been spread around about what great marketing is.
Great marketing isn't long-form newsletters, irrelevant conversational gibberish, or complicated housing graphs and market trend charts. While the latter is actually good content, market trend graphs require a lot of copy for the reader to understand, and marketing around complicated content isn't a sound strategy.
A sounder strategy is to mimic what the brands you mention do — create simple, visually appealing marketing the reader consumes in less than a second and can decide if they want to click through and learn more.
Nudge was birthed from the tenets of what Apple, Groupon, Starwood, etc., know, and from what we know as a marketing firm: A bold headline, stunning image, simple details and a big call to action is the best first marketing strike you can create. Nudge's simple, four-step process takes seconds to complete. The result is a digital marketing ad that resembles a Groupon that you can share via email or through your social networks. Since you do it yourself, you can create a piece of marketing anytime you want.
Q: Monthly newsletters, recipes, fliers and other traditional materials: Are they just empty marketing calories or do they still have value?
A: Each sample you mention should be judged on its own merit. Sending a recipe is absolutely boneheaded.
A monthly newsletter, if it's designed right, light on copy, has good photography and offers content the user will benefit from, I think it could have real value.
Bear in mind, good marketing is all about how useful the content is. If Starbucks were a real estate agent, they would send me a birthday card on my birthday. How useful is that? Not very, in contrast to the free cup of coffee that comes across my app instead.
I'm not suggesting agents send free cups of coffee. What I am suggesting is that touching your database with anything versus things with substance or things they can grasp immediately can make a huge difference between acknowledging your marketing and acting upon it with interest.
Q: Mobile has had a significant impact on the real estate industry. Nudge is a Web app. Are there any issues creating a Nudge on a mobile device? Are Nudges optimized for smaller screen sizes?
A: Mobile is significant, and Nudge renders beautifully for a consumer on their phone or iPad. Nudge is designed to work easily on an iPad but not so easily on the phone. For now. We have plans to build an iOS version of Nudge, as we also have plans for many more updates for it. All in good time. 
Q: Is Nudge available to brokers and real estate agents? What are the pricing details?
A: Like WordPress, Nudge is somewhat agnostic. Anyone who wants to create a beautiful piece of digital marketing can use Nudge: agents, brokers, associations, title, mortgage, as well as anyone in any business who has something he would like to market.
Nudge is $149 a year for anyone regardless of what his or her title is. If a business owner wants to provide a Nudge platform to his agents, we offer a very painless pricing model that we've been told is the fairest model for brokers in real estate. Go to our broker page for more details.
Q: How can we learn more?
A: I'm the easiest guy to reach. People should just call me. Go to the Nudge website or our Facebook page where we offer many marketing tips including a Nudge "Tip of the Day," where we create a Nudge that gives our users ideas on what to create.