[php function=1] Jim Marks is an Internet Anthropologist.
Watch the video to see where that title comes from.
As the President of Virtual Results, Jim is on a mission to create websites that work by analyzing the necessary data and making the right adjustments.
Conversion is actually king.
We always hear that content is king. Poll 100 real estate agents and ask them if they were more interested in creating content or acquiring leads and I think we know what the answers would be. This could of course be a chicken or the egg debate but my point is that if your hub on the web is not generating any business then you really need to take a look at making changes today! As Jim puts it, "if you go to a Mexican restaurant and they hand you an Italian menu it gets weird".
Just like we have expectations offline the web is really not all that different. You have to make it as easy as humanly possible for consumers to find EXACTLY what they are looking for.
How much is MY home worth? Find a home now.
If those two options are not blatantly available on your site, above the fold, make that happen as soon as possible. Lose lingo like Search the MLS which just do not connect with consumers.
We also discussed the tendency of agents to put their head shots in the header and how that can really hurt conversion. Jim and Virtual Results has created in my opinion some of the best real estate websites available.
Sue Adler is the #1 Keller Williams agent in New Jersey. Check out the way her New Jersey home search is featured front and center. There are also a number of easy to find calls to action to connect with Sue in a variety of ways. The image below is clickable if you would like to spend a few minutes cruising her site.
Lori Bee is a Realtor in the Charlotte Metro area. I really love how consumer centric the verbiage is on her home page IDX.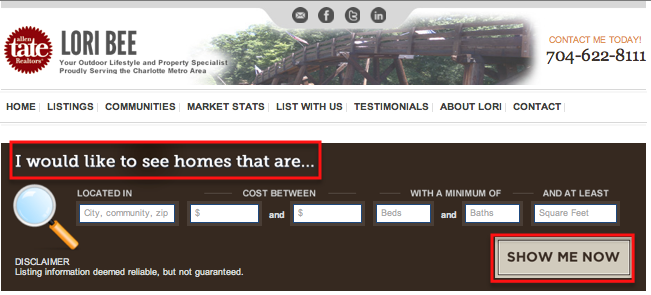 I really like the conversion first mentality that Jim and the Virtual Results team takes to their design.
You can learn more about the different Virtual Results website options on their site.
Let us know what you think of the two sites featured here and if you were able to pick up a few ideas for your own website.
Any questions for the Anthropologist can be left below!
Can't view the video, click here.