Robb Heering is not Hispanic … well, maybe a little. A great-great grandmother was born in Argentina.
"I do have Hispanic blood, but you have to look deep," he says, laughing.
Why this matters is that Heering is the founder of Casa Latino, a fast-growing real estate franchise that's focusing on what it believes to be an insufficiently served market: the 47 million people in America who identify themselves as Hispanic or Latino.
Founded in 2005 in Connecticut, Casa Latino now claims more than 80 franchises in 16 states and in Colombia and Costa Rica, with deals in the works in six other countries, Heering says.
By the end of 2010, he expects to have more than 200 franchises. He estimates that the current offices will handle about 5,000 transaction sides this year.
"We speak your language, we understand your culture," promises the company's promotional literature.
Heering says the latter is critical, and heretofore the real estate industry's efforts to attract Hispanic buyers have been feeble. It's not enough for real estate firms merely to hang a sign in the window that reads, "Se Habla Espanol," he says.
Most agents in Casa Latino offices are bilingual and of Hispanic heritage, but it's not a requirement, he says.
"What is mandatory is that they be bicultural," he says. "They have to understand the problems faced by the Hispanic community, the discrimination. Or that their needs have (in some cases) been ignored or exploited."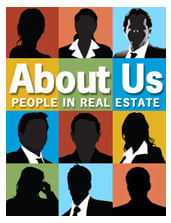 Nor do the clients have to be Hispanic, he says, though he says people frequently ask him whether the franchise discriminates against people who aren't.
"Of course, (to serve only Hispanic clients) would be discrimination," he says. "We service the broad community, everybody. We have a particular ability to service those who are underserved or mis-served."
"Everything we've created has a Hispanic bent to it to make our brand more inviting to our target clientele."
Heering says he does speak Spanish ("I am conversational, but I would be uncomfortable giving a speech," he says) and he has made a point of studying the differences and nuances among the numerous subcultures within the Hispanic community.
It was a lesson that began with a phone call in 2004 that convinced him that the U.S. real estate industry just didn't understand the Hispanic consumer.
At the time, he headed his own mortgage brokerage firm, Fortune Lending Group in Connecticut. About one-quarter of his loan originations were within the heavily Hispanic communities of Danbury and Norwalk, he says.
One day, a client he had preapproved for a loan arranged to go house-shopping with a local real estate agent who Heering had recommended.
"The agent showed up to take him to see houses, and he comes out of his apartment with his wife and three children and two nephews from El Salvador," Heering recalls. "He was bringing his mother-in-law and a friend who had something to do with the building trades who was going to inspect the house." …CONTINUED
The agent told him she would take him and his wife, but the rest of the entourage would have to stay home, he says. The client was offended and called him to tell him so.
Heering, who possessed a real estate license and had multiple listing service access, then arranged — in two cars — to take his client and the whole crowd out to look at houses, and the client did buy one.
That transaction led to a slew of mortgage-client referrals, and started him thinking about a gap he perceived in the real estate marketplace — and in his own career.
"I had so much fun with that family that it was the first time I felt satisfied with what I was doing," Heering says.
By most measures, it had been an accomplished career.
"I was a regular, poor, lower-middle-class kid in Connecticut," Heering says. "I was the only person in my family to go to college, and I wasn't expected to go to college.
"My dad thought I was going to keep my job at the local grocery store, working for the rich family that owned it. My dad thought that I could become the manager."
After attending the University of New Haven, he got a law degree from Ohio State University, then worked for a Wall Street firm before moving on to handle facilities leasing and acquiring real estate for United Parcel Service.
But corporate life didn't suit him, he says, so in 1989 he left to become what he describes as "a country lawyer" in Bethel, Conn., with a general practice that tended to focus on real estate.
"I grew up a country kid and had wound up doing the corporate thing," he says. "I wasn't happy, didn't see any satisfaction handling large transactions for a multi-billion-dollar company.
"I thought I was going to work with people, not companies," he says.
In 2000, he founded the mortgage firm, and within two years he personally was handling $100 million annually in mortgage originations, he says.
And then, one day the unhappy Salvadoran called him up to complain about his real estate agent. The experience led him to go into real estate full-time in 2005, turning the mortgage operations over to his associates.
"There was one agent: me," he says. Aided by a bilingual assistant, the business grew, and in 2006 he rolled out the franchise business, perceiving a gap in the nationwide market "big enough for me to drive a truck through."
About a year ago the company headquarters relocated to Celebration, Fla., though Heering remains in Connecticut.
Building the franchise has meant constant travel, he says, estimating he was on more than 150 flights in the past year, which he regards as a constant but necessary evil.
"It's not like I like sitting on an airplane," he says, "but we're growing a legacy brand.
"I want somebody to say Casa Latino played a role in changing the lives of people and helped build a healthy Hispanic middle class," he says.
"Thirty to 50 years from now, the majority of Americans will be Hispanic, and we need that community to be fiscally responsible and prosperous," he says. "And the foothold for that is sustainable homeownership."
Mary Umberger is a freelance writer in Chicago.
***
What's your opinion? Leave your comments below or send a letter to the editor.