Before "branding" was a household word, Arthur E. Bartlett, the founder of real estate franchising giant Century 21, knew the power of a big name.
In 1955, at the age of 22, he sold products for Campbell Soup Co. to stores in the Los Angeles area. He saw supermarkets get bigger and mom-and-pop stores slowly disappear. So, in 1971, when he co-founded Century 21 in Santa Ana, Calif., he knew franchising was the way to help little guys fight like big guys.
"Correct or not, consumers have confidence in the big, brand name," Bartlett told the Los Angeles Times in 1982. "Franchising has been the savior of free enterprise in this country. It has given the small businessman a way to survive."
Bartlett died on Dec. 31, 2009, from complications of Alzheimer's disease, according to his daughter, Stacy Bartlett Renshaw. He was 76.
Now a Realogy Corp. subsidiary, Century 21 Real Estate LLC is the world's largest residential real estate franchise company with 7,700 independently owned offices in 67 countries and territories and more than 120,000 sales employees, according to the company's Web site.
Bartlett was born in the midst of the Great Depression on Nov. 26, 1933, in Glens Falls, N.Y. He was the middle of three children. His mother was a hairdresser and his father was a truck driver for General Mills. The family moved to Long Beach, Calif., to care for a sick aunt when he was in the ninth grade.
After school, he worked at a clothes retailer from the age of 16 to 21 where he learned the art of selling. He was a natural-born salesman, Bartlett told franchise book author John P. Hayes. Hayes wrote a profile of Bartlett around 1990.
"It's not enough to have the desire to sell and to win," Bartlett said. "You've got to really enjoy the satisfaction of helping people by accomplishing the sale."
Only one thing bothered Bartlett about his job selling clothes: the low pay. In the mid-1950s, he met Collette Cupiss at a party and fell in love at first sight — though she didn't. His skills as a salesman prevailed, however, and the couple married in 1955. They had a daughter and stayed together until Collette's death in 2002. He re-married in 2005.
After his first marriage, Bartlett began working for Campbell. In 1960, after winning several sales awards, Bartlett went back to school to study real estate.
"It was a straight commission business," Bartlett told Hayes. "And I knew you could make a good living doing it. It requires the use of sales abilities and talents, and a lot of energy, all of which I had. So it made sense for me."
His first job as an agent was at Forest Olson in the San Fernando Valley, then California's largest residential real estate company. In short order, he became a branch manager, but left in the mid-1960s to open his own brokerage, Four Star Realty, in Santa Ana.
He later also founded Comps Inc., one of the first companies to offer computerized comparable sales data for the real estate industry. Unfortunately, the company did not do well, and Bartlett eventually sold it.
After the sale, a chance encounter with former Forest Olson employee Marshall Fisher changed the course of Bartlett's life. Fisher worked for CJS, one of only two real estate franchises at the time (the other was Red Carpet) and told Bartlett about real estate franchising.
In that idea, Bartlett saw a solution to a problem that had bothered him both when he worked for Campbell and when he worked in real estate.
"The chains offered tremendous training for new salespeople. They had a big image. They could buy full-page ads. When I was with a large real estate firm, we had all of this. But when I opened my little company, we had none of it. And when I operated Comps Inc., I saw the little companies, and I knew they were destined to lose in this market. I saw the big get bigger and the small get smaller."
Bartlett and Fisher founded the company in 1971. A brainstorming session led to the name of the new venture: Century 21. A bit futuristic, but that was Bartlett's style.
"Art had an uncanny ability to take a new idea and develop it beyond anyone's wildest dreams. His marketing and sales approaches were very aggressive," said Jim Cummings, former Century 21 International president and chief executive officer, in a statement.
"Art was a legend whose actions helped to write the very history of real estate and franchising," said Tom Kunz, current Century 21 Real Estate LLC president and CEO, in a statement.
Central to the growth of the company was its most powerful symbol: the gold coat. Not long after founding the business, Bartlett "stole" rival Red Carpet's national franchise sales director Bud Shultz, who insisted Red Carpet staff wear red coats.
Shultz's only condition on switching his allegiance was that Century 21 staff wear gold coats. Bartlett preferred a more subdued brown color, but eventually agreed to a mustard gold version.
Shultz passed away in 1989, according to Cummings, who stayed in touch with Bartlett until the day before he died.
But the coat lives on as what the company calls "walking, talking business cards." …CONTINUED
"That was one of the turning points of the company when Bud Schultz was able to convince Art about the gold coat," Cummings said. "In a room full of brokers, once the Century 21 brokers were in a gold coat, they dominated the room."
Although wearing the gold coat was never a requirement, most employees, including Bartlett himself, wore one every day. He and Fisher used it to sell Bartlett's pioneering version of franchising: conversion franchising.
Instead of starting from scratch, Bartlett and Fisher turned already established small businesses into franchisees under Century 21's brand name.
"(The franchisees) didn't have the resources or the know-how to do everything needed. Art offered his (franchisees) affordable expertise and tools in all aspects of business like recruiting, sales, marketing and accounting," said Jim Mitchell, former Century 21 senior vice president and general counsel, in a statement.
The company sold regional franchise areas to "master franchises" who would then sell individual franchises within that area. Bartlett set himself a goal of bringing in 300 franchises per month.
"He had the innate ability to select and motivate to excellence. That is how Art built and expanded his businesses," said Art Turner, his former Four Star Realty partner, in a statement.
Each year, the company reported doubling its franchisees.
"Century 21 was designed not only to save these people (small businesses), but to grow them like hell," Bartlett told The New York Times in 1979.
Two (eventually corrected) mistakes made the company unstoppable. The first was that Century 21 signage initially did not allow brokers' names alongside the brand name. The company quickly figured out, however, that "the more successful the broker, the bigger the ego," Bartlett told Hayes.
Changing that rule "brought in the high-quality brokers," Bartlett said.
The second was more monumental. Initially, regional brokers' councils decided how much to charge franchisees for advertising. Because rates varied widely, the company decided to create a common advertising pool instead.
That move meant that Bartlett had to go all around the country and convince each franchise to join the pool, which at the time numbered more than 2,000.
That model still exists today. Brokers currently contribute an average of 2 percent of their adjusted gross commissions to the pool, while the corporation itself contributes 10 percent of its gross, according to Bev Thorne, the company's chief marketing officer.
In return, franchisees get national exposure on and off the Internet, participation in programs that provide leads, various tools on the company's intranet, and one-third of the fund goes to marketing materials for use in local markets, Thorne said.
That fund eventually led to 98 percent of homeowners recognizing Century 21 and its gold-coat-wearing real estate agents. The company made $23 million in 1978, more than twice what it collected the year before, according to the New York Times.
The next year, Bartlett sold the company to Trans World Corp. (which eventually became Realogy) for $89 million in cash and stock, according to the Times.
Bartlett stayed on as chairman until 1980, when he left because of a disagreement with Trans World's board of directors. He felt that the corporation had decided not to invest in the future growth of Century 21 in favor of the corporation's other companies, Cummings said. The board asked Cummings to leave Century 21 in 1981.
By the time Bartlett left, the company had 8,000 franchisees and an estimated 80,000 sales force; Bartlett was also "the architect of Century 21 global expansion" and had established franchises in Japan by the mid-1970s, Cummings said.
Bartlett was instrumental in investing the company's marketing budget in television advertisements, which also contributed to Century 21's wide recognition. For examples of ads featuring the company's gold-coated protagonists, see story.
Although Bartlett was not involved in company decision-making after 1980, he did not approve of the company's decision to stop running TV ads in favor of online marketing.
"He felt that the synergy of the brokers … having one giant image, that TV was a very important part of that," Cummings said.
Still, Bartlett saw the advantages of computerization. According to Cummings, in the late '70s, Bartlett bought a computer for the company that took up a 10-by-12-foot room. …CONTINUED
"The computer stored information about the company. It stored listings and he was in the early stages of trying to computerize the MLS (multiple listing service). He was very futuristic in his vision," Cummings said.
After leaving Century 21, Bartlett bought and sold a mall in Tustin, Calif., and then started his own remodeling franchise, Mr. Build, in 1981. The company did not do well and Bartlett eventually sold his share in order to spend more time with his wife, who was ill.
"I knew that if I couldn't devote 100 percent to the business, I had to give it up. And I did," Bartlett said.
He continued to invest in real estate from home.
In 1996, Century 21 CEO Robert Pitman decided to do away with the company's signature gold coats.
"There is no gray area about this coat. You either like it or you don't like it," Kunz said. "When Pitman came in, there was an upswell of agents who didn't like it and we let our competition embarrass us into (not wearing the coat). They knew how powerful it was.
Bob Pitman said "I'm not an agent, so I don't have to wear one," so a lot of agents stopped wearing one, Kunz said.
Bartlett was always proud of the coat and lamented the company's decision.
"He thought having the real estate agents and brokers and owners of the franchises be recognized as Century 21 set them apart from other real estate agents because most agents did not have what we call 'career apparel,' branding in that sense of the word," his daughter Stacy said. She was 6 years old at the time he started the company and 13 when he sold it.
"He wore (the coat) all the time. He wore it to work every day and to all the conventions and business meetings. He was very proud of it. He was proud of his work life."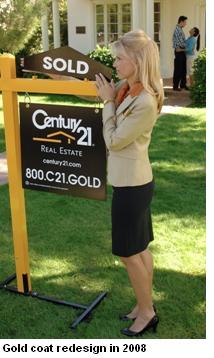 In 2005, Century 21 took its highest award and renamed it the Art Bartlett 2100 Cup Award in his honor. The annual award is given to a company that demonstrates the highest level of customer service, professionalism and leadership, the company said.
"He was a humble man, proud about the Century 21 brand. He was opinionated, but he brought out the best in people. He was a consummate businessman and salesman," Kunz said.
The company re-introduced the gold coats in 2008. Focus groups showed that consumers associated the coat with quality and a certain level of expertise. The company hired clothes design company Geoffrey Beene to re-design the coats; it toned down their color and made the ladies' version more fashionable.
Although the company does not keep track of how many coats it has sold, the company said thousands have been sold since the coat's re-introduction.
"It was a very successful resurrection. Those that use it make deals with it," Kunz, who wears the coat every day himself, said. He likened the coat to the Nike swoosh or Target's bulls-eye.
"It's amazing how that coat is recognized in the marketplace," he said.
Now, the company never puts out a depiction of an agent without one, Kunz said.
Agents buy the coats themselves — they're not bought with the aforementioned ad pool funds. The company negotiates the prices and designs with different manufacturers. Design takes into account local markets.
"Miami is different from Boston," Thorne said.
The cost ranges from $75 to $350, depending on the design and fabric type, with an average of about $200 each, the company said. For an example of pricing for men's and women's coats, click here.
For Bartlett's daughter Stacy, there was no epiphany moment when she realized the extent of her father's success.
"It was inherent that you knew he was a very successful man. When I see Century 21 owners and brokers wearing a gold coat it makes me very proud," she said.
***
What's your opinion? Leave your comments below or send a letter to the editor.