Dust doesn't settle on the resume of Alain Pinel. It doesn't get the chance.
Now a Massachusetts real estate executive, his long and varied tri-coastal career began in journalism and has hop-scotched across two continents. He has retired and un-retired — a couple of times. Change, he says, is a tonic.
"To be honest with you, I'm kind of a funny animal because I like to move," said Pinel, now an executive with William Raveis Real Estate in Massachusetts. "If there's one thing I cannot accept, it is getting bored at doing anything."
In his first career, as a journalist in the late 1960s and early '70s, he covered politics, foreign affairs and economic policy in his native France and throughout Europe for major French publications and in broadcasting.
"I loved it, I absolutely loved it," Pinel recalls. "I said I would never leave journalism."
It was his first lesson in never saying "never." He hadn't counted on marrying a Californian who was studying at the Sorbonne in Paris. At the time, he was editor of two French economic magazines.
"Paris was an exciting town and all, but I was traveling and she hardly saw me," he recalls.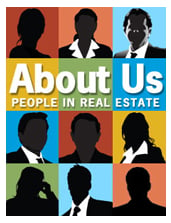 When his wife wanted to live in the United States again, "I decided I would have to leave journalism behind," he recalls. "It was definitely the turning point in my life."
There weren't a lot of openings for accomplished French journalists in Northern California in the 1970s. With a wife and child to support, he turned to sales — though with a sense of dread, he recalls.
"At some point, everybody in the U.S. has sold something," he said recently. "Frankly, the concept was new to me and I was not excited about the prospect of doing it. But since I had to do it, I had to put my mind to it."
The product was educational courses, he said, sold "literally from one door to the next," Pinel recalls. "It was absolutely exhausting but I was focused on the goal to provide well for my family, and I did well.
"I was surprised," he says. "I had no idea that I would enjoy it."
That led to a management job and high-profile promotions with a sporting-goods manufacturer. Then the father of a good friend made a helpful suggestion.
The friend was Skip Cashin, whose father, Emmet, owned Fox & Carskadon Real Estate, a prominent Northern California firm.
"Emmet Cashin was an incredible man," Pinel says. "He became a true mentor for me, and I liked him immensely. …CONTINUED
"He kept telling me, 'You know, Alain, what are you doing traveling nonstop every single week? You never see your wife, you never see your kid. Why don't you make as much money selling real estate and enjoy your life?' "
It was life-changing moment No. 2. In 1976, Pinel obtained his real estate license and went to work for Fox & Carskadon, selling his first listing — a neighbor's home — quickly in what he recalls as a market that was "not too great."
He loved residential real estate right away, he recalls.
"There is nothing more personal — it's where you raise your family, it's where you find yourself," Pinel says. "Real estate is noble and rewarding and exciting — you're a part of people's lives."
Nonetheless, within a couple of years he left sales, moving into management and opening an office in what is now called the Silicon Valley, and then ascending the ladder at Fox & Carskadon, becoming executive vice president and general sales manager.
"I grew the firm considerably," he said. "We were extremely successful. We had 32 offices in California. It was pretty exciting stuff."
But Pinel left when Fox & Carskadon merged with Better Homes & Gardens Real Estate Service in 1988. With two partners, he founded his own firm, Alain Pinel Realtors.
At the same time, he wondered if he was finding real estate "a bit stale" and, drawing from his international background, set out to carve a niche by marketing listings around the country and abroad.
"I wanted the firm to be a window to the luxury market for several countries," Pinel says. "Today it is a concept that's normal and logical and legitimate. But in 1990, I can guarantee you it was avant-garde. People were thinking that real estate is something within 5 miles and there was no sense shopping for buyers outside the region."
He also realized that a new world of technology was emerging in his own backyard. Years before the Internet caught on with the masses, the company created an intranet for staff communications.
"When we started (the firm), we had a computer at everybody's desk," he said. "In 1990, this was revolutionary."
The firm did well in a slow market, but Pinel said he was feeling an itch to move. Within a short time he sold his interest to his partners — the brokerage still bears his name — and decided it was time to return to France and take it easy.
"It was with the idea not to stay, but to take a sabbatical, breathe the fresh air, have a good time traveling," he recalls. "It did not turn out that way."
Soon he found himself handling marketing for a large real estate developer, then for an investment firm that specializes in large commercial and industrial properties. "It was exciting because I had never been in real estate in Western Europe," he said.
But a few years later, while on a visit with his children in California in late 1994, he was having lunch with an old friend from Coldwell Banker, who confided that it was about to purchase his old firm, Fox & Carskadon. …CONTINUED
"We had a friendly lunch, and he told me something hilarious," Pinel said. "He said, you are not going home."
Though startled at the offer, Pinel shortly left his European job and returned to Silicon Valley to a management post for Coldwell Banker, where he remained until 2002, deciding to return to France.
It was rose-smelling time again, or so he thought.
"Every time I decide to relax, it never works," he said.
Instead of idling on the Riviera, he found himself starting a new business, an online information-sharing operation based on the American MLS model.
"I left after four years because it was time to go back to the U.S.," he said. "I know it sounds crazy."
But California wasn't calling this time — it was an adult son who had moved to Massachusetts. A brief visit three years ago evolved into another of those life-changing moments.
Charmed by the village of Cohasset, he and his wife bought a home with the intention of living there part time. After traveling extensively throughout New England and Canada, he said, "I knew I liked it there a lot. I thought, maybe we can do something."
Of course, he did.
"I got bored doing as little as possible, and obtained my Massachusetts real estate license," he said. In short order, he found himself contacting William Raveis, who heads the extensive East Coast brokerage that bears his name.
"I didn't know him, but knew of him," Pinel says. "He knew of me, too."
He signed on in 2008, and today he is vice president and general manager for Raveis' 19 Massachusetts offices, managing 420 associates.
"I love what I'm doing, I really do," Pinel says. "When I met with Bill, I told him, I will give you five years. I don't want to do anything without doing it totally."
But he acknowledges that he'll probably always have that itch to try something new.
"I don't think I see myself (making yet another life change)," he says. "But at the same time, my life story suggests that it doesn't really matter what is today."
Mary Umberger is a freelance writer in Chicago.
***
What's your opinion? Leave your comments below or send a letter to the editor.