In 1985, Dan Ortega moved to Seattle for a year for a job that didn't work out, but while he was there he had one of those light bulb moments that changed his life.
Looking for a place to live in Seattle, Ortega and his wife had stumbled upon a small "house manager" business whose owner recruited the couple to live in and take care of a vacant, upscale, 3,500-square-foot lakefront home that was for sale, in exchange for a small monthly rent.
"She had 15 houses in her system, and I thought, 'What an incredible idea,' " Ortega recalls.
When he returned to his hometown in Edmund, Okla., the next year, he resolved to do the same thing, only on a bigger scale. Unquestionably, he succeeded, as the company he co-founded, Showhomes of America, grew across state lines, went national, and turned into a franchise operation.
Today, although he has sold his interest in the franchise company and now runs his own home-manager firm in Atlanta, Ortega is regarded as the "godfather" of an industry that has become a valued partner in many real estate markets.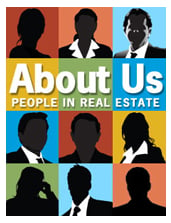 It's a concept that tends to thrive when housing is hurting and when employment is in the tank — two circumstances that Ortega saw when he began in the '80s and which, of course, he's seeing now.
"When the housing market is in trouble, the concept we've developed becomes an incredible blessing for people — not only people who have houses that are sitting and not selling, but also for people who find themselves in need of more economical housing than they're used to," Ortega says.
"I always tell people, 'The same economy that produces vacant houses produces people to live in them for us,' " he says.
The basic idea is staging on steroids: It's practically real estate dogma that vacant houses, no matter how attractive, are harder to sell than occupied or furnished ones because potential buyers have trouble visualizing what it might be like to live in a place when it's empty. And the owners of vacant properties face myriad maintenance responsibilities.
So home-management companies install a person — a manager — who pays a nominal rent for an upscale house and agrees to pay the utilities, keep the place immaculate, and handle lawn care, pool maintenance, etc.
It's a win-win, from Ortega's point of view — both renter and owner are able to cut their overhead.
"We have people (who are managers) who see this as a wonderful way to save money," Ortega says. "They may get to live in a $700,000 house for $900 a month."
But not every aspiring manager possesses a particular, non-negotiable requirement: He or she must possess attractive furniture that's appropriate for the house — and plenty of it, in the case of some of the empty palaces that Ortega's and other companies are charged with overseeing.
Ortega practices what he preaches. He and his wife are now the resident managers of a house — for the 38th time since they moved to Atlanta in 1989.
"And before that, in Edmund — gosh, I can't remember how many there were," Ortega says. "I guess probably four or five."
They stay from a few months to a year or so, and by now, such transience seems perfectly normal. When the house sells and it's time to move — well, it's just time to move, he says.
"Most people see moving as a nightmare, but when it's the business you're in you prepare for that," he says. "We have systems all set up. It's not a painful process, it's part of the business."
Not that there wasn't a learning curve — or two — along the way, he says. The most important lessons came in learning to spot potential managers who weren't cut out for the job or whose furniture didn't do a thing for the houses they were supposed to be dressing up.
Or both, he says. "Obviously, the furniture is critical because you have to pick the furniture that matches the house," Ortega says.
"With the home manager, it's critical they understand their role and what they're there for. Everybody involved in the marketing of this house — and that's what they're doing: marketing the house — needs to be on the same page." …CONTINUED
The descendant of the original company, now called Showhomes, which Ortega sold in 2004, has 52 franchises. That firm recently estimated that it has been involved with the marketing of more than 25,000 homes worth more than $8 billion since its inception.
It began, however, with little more than a notion, Ortega recalled.
"We started up with no investment money," he says. "We borrowed offices and phones from the father-in-law of my business partner, Kelly Rose."
The soured economy of the '80s worked to the startup's advantage, he says. Savings-and-loans in Oklahoma found themselves saddled with vacant foreclosures in a market where buyers were scarce.
"So we would walk into S&Ls and tell them what we had to offer (in home management) and they would hand us a list of 150 houses, and say, 'Hey, fill every one of them,' " he says.
They filled a lot of them, and soon, they expanded into several cities in Texas. After about 18 months, an executive from PHH Home Equity Relocation (later to become part of Cendant Mobility Services) saw the company's brochure and set up a meeting.
"We signed an agreement with them to provide this service for all their vacant houses," Ortega says. "We started opening up offices in different parts of the country and that's how I came to Atlanta in 1989."
By 1990, Showhomes of America was filling 750 homes at a time, many of them bank-owned (REO) and relocation properties, he says.
"We eventually got into 15 markets — Boston, Los Angeles, Chicago, Houston, New York — we expanded all over the country and were very busy," he says.
But in 1992, home sales picked up and Showhomes of America lost a lot of inventory, Ortega says. The company didn't want to carry the costs of all those offices, so it converted them to franchise operations.
In 2001, he bought out Rose's interest in the company and then concentrated on expanding the franchises, he says. In 2004, Nashville franchise-holder Bert Lyles bought the company from Ortega.
But Ortega remains active in the business: He owns Showhomes of Atlanta, which is independent from the original, larger firm.
Business is good, he says, and he expects it to stay that way because he doesn't think a turnaround is imminent in the high-end market that home managers cater to.
"Our largest group of customers at this point is private homeowners, but we're on the verge of moving into a new group" as a source of clients: investors who are buying portfolios of homes, Ortega says.
"We're waiting for this flood of inventory (of unsold, foreclosed homes) to finally get settled down into somebody's possession. Banks are trying to figure out what to do with them," he says. And he thinks more are coming.
"There are people who are in the real estate business whose opinion would weigh more heavily than mine," he says. "But I certainly feel there are a tremendous number that are yet to come."
Yet, he says, though the times would seem to be on this business concept's side, most who go into the home-tending business don't manage to do it on large scale.
Generally, he sees other companies (outside the current incarnation of the company he co-founded) who are overseeing a dozen or fewer houses. And he sees a high rate of failure.
"People see this concept and want to get into this business, and they think, 'My goodness, anybody ought to be able to do this,' and most of the time they rush out and get a bunch of houses and get a bunch of people (to be managers), and mostly it doesn't work," he says.
"I tell everybody, 'This is a house-by-house business.' You get to going too fast and start compromising in quality, then financial pressure comes and you let quality go by the wayside because you're looking at revenue.
"It's a great thing for a vacant property if it's done right," he says. "It's horrible if it's done wrong."
Mary Umberger is a freelance writer in Chicago.
***
What's your opinion? Leave your comments below or send a letter to the editor.