Sunny Shuptrine is one of those people who says she never dreams at night. Or, at least, she doesn't remember her dreams after she awakens.
But she clearly recalls a dream she had one night in 1998, because it changed her life. Now Shuptrine, a deeply religious woman, hopes it will change the lives of women in her community.
"It was in Technicolor — very vivid," said Shuptrine, a Keller Williams agent in New Bern, N.C. "I was just walking through as Realtors do, looking at the floor plan."
The home in the dream was a blue-frame "shotgun"-style two-story design, a style that's very common in her area. But upstairs, instead of just having two or three bedrooms, it also contained a bathroom and an unusual feature — a second kitchen.
When Shuptrine awoke, she decided the dream was a message from God.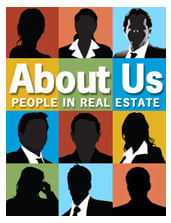 "He spoke to my heart and said, it's a maternity home," she said in a recent interview. "I knew how desperately the area needed a home for girls to go for safe haven."
Many years and a couple of life detours later, Shuptrine is very close to seeing that dream literally turn into reality. She is a board member of STAFF House, a Christian ministry that provides housing, education and employment services for pregnant women who are homeless or victims of domestic violence.
And she believes she found the very house that she "walked through" that night, though turning it into an actual shelter took dogged perseverance and copious use of construction knowledge that she acquired on the job as a real estate agent.
At the time of her dream, however, Shuptrine was in the midst of a self-described "seven-year sabbatical" from real estate, having given up the business in Texas after her husband, a dentist, bought a practice in North Carolina and she went to work in his office, helping to run his practice.
But the idea of helping pregnant women was already a subject close to her heart, as she was on the board of directors of a local pregnancy-counseling organization.
After she had the dream, she met with a fellow board member, the pastor of a local church, and asked him if he knew of any property in downtown New Bern that was zoned so that it might be used as a shelter.
"He said, 'Our church just bought two houses because they had big back yards,' " and the church planned to demolish them for additional parking. "He said, 'Let me show them to you.' "
One of the houses bore some similarities to the house in her dream, though it didn't make much of an impression initially, she said.
For one thing, it was white, not blue.
"When we went in, downstairs it was the same floor plan as my dream, but it was probably pretty standard for a '30s-era house here," Shuptrine said. "But when I went upstairs, there was another kitchen and another bathroom, just like in my dream.
"My knees buckled," she said. "I was visibly shaken."
Shuptrine and the pastor talked about the possibility of the church donating the house for use as a shelter.
"I went home, wrote a two-page letter (to her organization proposing that the group take up the project), and said, 'Thank you, Lord'," she said.
And that was pretty much the end of it, in her mind. She wanted to go back to Texas to be with her three grown daughters, and her husband sold his practice and they moved to Huntsville.
"I was in Texas then for seven years, and nothing jelled, nothing went right," Shuptrine said. "My marriage was crumbling. I separated from my husband."
When their divorce was settled, she found herself in possession of the house where they'd lived in North Carolina, which they had been renting out.
And Shuptrine felt herself called by some unfinished business there, she said.
"I left North Carolina ahead of God's will," she said. So she went back.
"I drove in with my dog, my ice chest and my suitcase," she said. When she arrived at the house, the only furniture inside was an inflatable bed.
"I camped out there for six weeks — the porch swing was the only thing I had to sit on," she said. She decided to return to her real estate roots. And, more importantly to her, she decided to take up the cause of the "home of her dreams" one more time.
"My Doubting Thomas family and friends in Texas thought I was losing my mind," she said.
She settled into residential real estate, and began working on a way to create a shelter. The church still wanted to turn the space into parking, and planned to demolish it, though it was willing to consider donating it to Shuptrine's group, if it would move it to another location.
"But the historical society in New Bern didn't want the house destroyed or moved," she said. The group, joined by neighbors and the city, sued the church.
The suit dragged on for two years and finally was resolved when church leaders agreed to save the two old homes in exchange for permission to demolish an old, unused sanctuary on its property. And it agreed to deed the "dream house" to Shuptrine's nonprofit.
But her task was only just beginning, she found. She knew the house was going to need a lot of work, and she knew, from experience, how much it was going to cost.
"When I started in real estate in Houston in the early 1980s, I got my salesman's license and my broker's license, and that required 900 hours of (class) work," she said. "Texas, along with California, was the toughest (in licensing requirements) in the nation."
At the time, she was investing in commercial properties, and she decided to focus on coursework that might help her with commercial construction.
"I ended up doing a lot of construction, going to job sites, which was the biggest plus they could have taught me," she said. Later, she switched to residential real estate and specialized in foreclosures.
But those days at construction sites in Texas (plus her experience rehabbing and flipping properties there and in North Carolina) convinced her that the house was going to cost a lot to make it habitable and meet code requirements.
"We got the title and the deed in December of 2008, and I started praying for 'Daddy Warbucks' to write a check $120,000," she said.
But it turned out not to take a Daddy Warbucks. It really took Shuptrine and her determination to tell everybody who would listen about her organization's project.
Shuptrine essentially functioned as its general contractor. Soon, tradesmen — many of them — were donating time, she said, because the economy had put them out of work and they and their staffs had time on their hands.
Others offered to work on the house on their days off. Many building materials were donated.
"I started praying for exactly what we needed," Shuptrine said. "At one point, I started praying for a 4- or 4.5-ton gas pack compressor" for the building's air conditioning system. Somebody heard of Shuptrine's need, and donated one.
Construction began in June 2009 and was largely completed in December — considerably under budget.
"It should have cost $120,000 to do this house, and I know that," she said. "But (with the donations) it cost $48,000."
The board of directors of STAFF House (an acronym for Shepherds That Attend Father's Flock, a phrase adapted from a biblical verse in the Book of Zechariah) is now looking to hire supervisory staffing for the house, and expects the place soon will be able to accommodate up to five women at a time.
Shuptrine jokes now that she might actually have some time to think a little bit more about her official line of work — the one that doesn't involve a massive house rehab.
"I had to weave it in," she said of her real estate practice while she worked to set up STAFF House as a legal entity (for example, the state required 160 pages of documentation, she said) and then relentlessly drummed up help for the remodeling.
"Some weeks I would be putting in 40 hours on the house, 40 hours at real estate," she said. "Sometimes, it was 20 (in) real estate, 40 at the house. Sometimes it was 40 real estate, 20 house."
She concedes the project had its daunting moments.
"If I had known upfront what it would take, I would have been scared," she said.
Still, she regards the whole thing as a miracle, starting with the dream, she said.
And today, the house is painted blue.
Click here to view more People in Real Estate profiles.
Mary Umberger is a freelance writer in Chicago.
***
What's your opinion? Leave your comments below or send a letter to the editor. To contact the writer, click the byline at the top of the story.