Agents and brokers using social media to grow their business are taking notice of Facebook's deletion of a real estate broker's referral network after the National Association of Realtors objected that it included the Realtor trademark in its domain name.
Although Facebook has reinstated the page with a new domain name, the incident not only demonstrates the importance of choosing a website address carefully, but of not becoming too dependent on any one social media site, the broker and other social media experts agree.
While NAR's interest in the Facebook site seemed to surprise some, it was just the latest in a history of actions by the trade group spanning several decades to protect its legal rights to the Realtor trademark.
NAR has held a trademark on the Realtor service mark for 60 years, and aggressively polices its use. A 2008 amendment to NAR's ethics policy also gives local Realtor associations additional powers to restrict members' use of the term "MLS" in a domain name.
Florida real estate broker Jonathan R. Rivera said his "Official Real Estate Referral Group" Facebook page was nearly two years old and had more than 47,000 followers when it was shut down without notice on July 14.
The Facebook group is geared at helping real estate brokers and agents land clients from colleagues in other markets, or earn fees by referring clients to other agents.
But the page's vanity URL (Uniform Resource Locator) — Facebook.com/SocialREALTORs — incorporated the trademarked term, "Realtor," and Rivera prominently displayed the Realtor "R" logo on the site.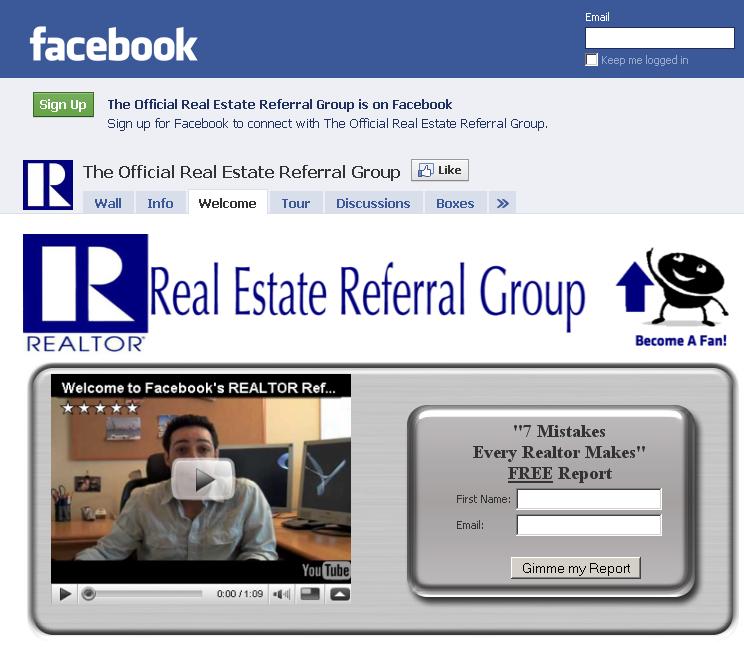 A snapshot of the Facebook page for Jonathan Rivera's referral group as cached by Google on June 25. 
NAR's social media manager, Todd Carpenter, said the group received "several complaints" about Rivera's use of the Realtor trademark in his URL.
"As is often the case Jonathan … simply didn't realize this was a misuse and worked with NAR's legal department to get the URL changed to something that didn't violate the Realtor trademark," Carpenter blogged after the site was restored.
Facebook "responded to Rivera and NAR's request for a URL change by deleting his 47,000-plus member page," Carpenter said. "Fortunately, Facebook eventually reinstated the page with a new URL, but things could have easily gone the other way."
The incident was a "great reminder" that while the services provided by social networks are free, "the blood, sweat, and tears that go into building them up is not," Carpenter said.
Rivera agreed, sharing "lessons learned" from the incident in a "special report." The report advised that anyone using social media as a marketing tool create a network of satellite sites, and build a list of e-mail addresses by offering visitors something of value in exchange, such as a market report.
"Facebook is great, but sometimes we forget that even 'our pages' really belong to Facebook," Rivera said in a separate blog post. "The idea is to leverage the interactions and connections to move people off the page and onto your list where you have control."
When Facebook shut down his page, Rivera said, he had e-mail addresses for 8 percent of his followers — "an insurance policy just in case all hell breaks loose."
"Before buying a domain or naming a page, do your research so you can avoid these types of hassles," Rivera advised.
Facebook allowed Rivera to relaunch his group with a new URL, Facebook.com/RealEstateReferralGroup. He's also substituted a more stylized "R" logo for the NAR block "R" Realtor logo he'd previously employed on Facebook. Rivera, who did not respond to attempts to contact him for this story, is the qualifying broker for R Home Investments LLC.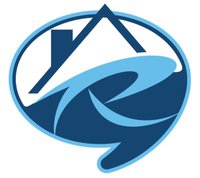 The logo displayed on The Official Real Estate Referral Group after the page was restored by Facebook.
The incident made waves around the blogosphere, including a post on AgentGenius.com in which Maryland-based Realtor Ken Montville defended NAR's actions in protecting its trademark.
NAR, Montville said, has "every right to enforce proper usage of their lawfully registered trademark. They have pages of guidelines, and it is no secret that (the group likes) to make sure that people don't misuse the trademark and associated logos."
Ironically, Texas-based Realtor Benn Rosales launched AgentGenius in 2007 as "RealtorGenius.com," and changed the blog's name and URL after he was notified by NAR that RealtorGenius was an improper use of the trademarked term.
NAR's guidelines for the Internet use of its trademark and logo stipulate that the term "Realtor" may be included in a domain name, but only when it refers to a NAR member or the member's firm, such as "JohnDoeRealtor.com."
What NAR objects to is the use of Realtor in conjunction with descriptive words or phrases, such as "Number1Realtor.com." Descriptive words can't be mixed with the Realtor's name, either, NAR says — even "JohnDoeMyRealtor.com" would be a prohibited use.
If NAR is unable to resolve a dispute over a domain name, it can take its case to ICANN, the Internet Corporation for Assigned Names and Numbers. ICANN's Uniform Domain-Name Dispute-Resolution Policy requires that trademark-based domain-name disputes be resolved by agreement, court action, or arbitration.
In 2002, NAR took Renown, a company based in Sri Lanka, to arbitration over Renown's registration of a domain: Realtor.biz.
Renown did not respond to NAR's complaint, and the arbitration panel found in NAR's favor, noting that Renown was "a known broker in domain names and has registered numerous domain names that incorporate the well-known marks of others."
Because of "the well-known nature of (NAR's) Realtor mark," Renown was "on notice as to NAR's rights … when it registered the Realtor.biz domain name," the panel ruled.
But in another case before the National Arbitration Forum the same year, NAR lost its bid to reclaim the domain Realtors.biz from a South Korean man, Park Sungjo.
In that case, the arbitration panel noted that the term Realtor "is also listed in the dictionary as an ordinary noun to indicate a real estate agent" and that "multiple companies and persons other than (NAR) have registered and own multiple domain names and trademarks related to 'realtor(s).' "
While the term "realtor" may have once been recognized only as the trademark of NAR, over time, "its use became ordinary and it gradually lost its function as a trademark and has become an ordinary noun," the panel ruled.
Realtors.biz is still registered to Park Sungjo, but the site is inactive.
Realtor.biz, on the other hand, is currently operating as a real estate lead-generation site, and is registered to a Norwegian man who did not respond to a request for comment from Inman News.
Other real estate lead-generation sites capitalizing on the term include Realtor.net and Realtor.us.com, which offers a toll-free number to "be connected directly to a licensed realtor in your community."
Ralph Holmen, NAR's associate general counsel, said that while it's not as involved as a full-blown lawsuit, there is time, effort and cost associated with an arbitration proceeding.
"We're pretty pragmatic about it," Holmen said. "We make a judgment about whether (a site violating the Realtor trademark) is prominent, or whether nobody is going to find it and it doesn't merit the effort."
The arbitration panel's decision in the Realtors.biz case illustrated a potential weakness in NAR's claim to the legal right to restrict usage of the term "Realtor."
But two years later, NAR won a decision from the U.S. Patent and Trademark Office's Trademark Trial and Appeal Board related to its protection of the "Realtor" term.
As noted by Montville in his AgentGenius post, some would say that Realtor "has become the default reference, in the public mind, when referring to a real estate licensee whether (the licensee pays) dues to the NAR or not."
That was the argument made in 2003 by attorney David Barry to a three-judge panel of the Trademark Trial and Appeal Board.
Barry, representing a former hotel management student at Cornell University who had registered approximately 1,900 domain names containing the word "Realtor," maintained that "Realtor" and "Realtors" are generic terms, and that NAR's trademark rights to them should be canceled.
Not in dispute is that the term Realtor dates back to at least 1916, when C.N. Chadbourn urged the National Association of Real Estate Boards, as NAR was known at the time, to formally adopt "a professional title to be conferred upon its members which they shall use to distinguish them from outsiders."
But Barry argued that NAR did not trademark the term until 1950, and that it has always been used in a generic sense to refer to all real estate agents — regardless of whether or not they are NAR members.
Barry cited a 1999 survey of 96 consumers, in which only 10 percent recognized Realtor as a brand name. NAR presented its own survey of 204 real estate brokers and agents, of whom 84 percent recognized NAR's definition of the term.
In a precedent-setting 2004 decision, the Trademark Trial and Appeal Board sided with NAR. The decision noted, among other things, that "aggressive marketing of these marks and constant policing of media usage" supported NAR's position that it has "preserved for the term no small degree of proprietary meaning, even among general news outlets."
Barry, a San Francisco lawyer known for filing antitrust cases against real estate associations and multiple listing services, dedicated part of a 2005 report to the Federal Trade Commission, "Nine Pillars of the Citadel," to the trademark battle.
Barry concluded that although the Trademark Trial and Appeal Board concluded there were flaws in the consumer survey his case relied on, "The ruling left the door open to another petition to cancel the realtor trademark."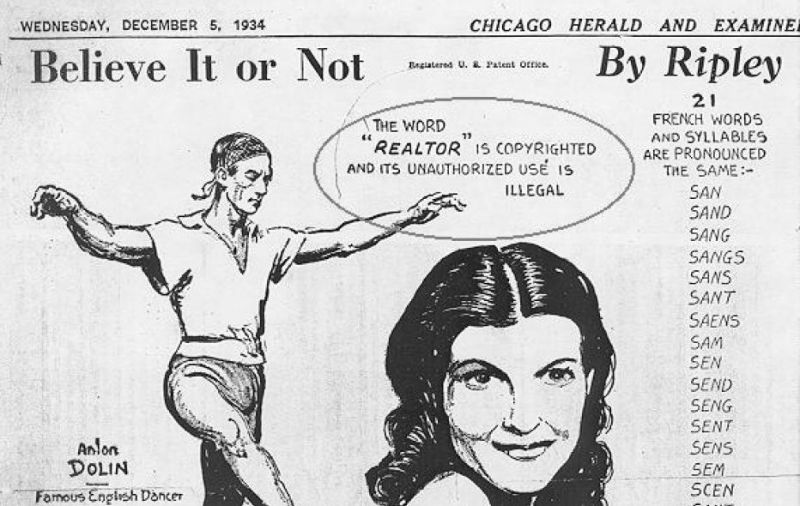 In 1934, "Ripley's Believe it or Not" found it worth noting that the word Realtor was copyrighted.
The debate over whether Realtor is a generic term helps to explain NAR's efforts to police its usage.
NAR has also positioned itself to come to the aid of member associations that run multiple listing services, or MLSs.
Unlike the Canadian Real Estate Association (CREA), which holds a trademark on the term "MLS" in Canada, NAR has no inherent legal standing to police usage of that term.
But in 2008, NAR added a new section to its Code of Ethics and Standards of Practice that allows local Realtor associations to discipline members who use the term MLS in their Web site address or marketing materials.
The new section stipulated that Realtors may not "use URLs or domain names that present less than a true picture, or register URLs or domain names which, if used, would present less than a true picture" of their business in their advertising and marketing materials.
For example, NAR said, a brokerage using a website URL that included the letters "MLS" might lead consumers to conclude that the site was operated by an MLS rather than a brokerage.
While some MLSs already had policies in place specifically restricting subscribers' use of the term "MLS," the amendment to NAR's Code of Ethics gave Realtor Associations — which often run their own MLS — an additional enforcement tool.
Carpenter, NAR's social media manager, said Realtors who misuse NAR's Realtor trademark risk more than attracting unwanted attention from NAR's legal staff. They also risk tarnishing their reputation with colleagues.
"Don't underestimate the negative perception formed by other members when you misuse the mark," Carpenter blogged about Rivera's Facebook experience.
"NAR's legal team spends far more time responding to member complaints about the mark's misuse than it does trying to find them on their own. If your goal is to network with other Realtors, make sure you aren't creating a barrier to those connections by not using the mark correctly."
Marc Rasmussen, a Sarasota, Fla.-based Realtor who lost a legal battle with the Sarasota Association of Realtors over his former website, TheSarasotaMLS.com, said he sympathized with Rivera.
"Fortunately, John was able to change his URL and protect his investment in time and energy," Rasmussen said in an e-mail.
Rasmussen said he understands why NAR has to respond to complaints from members.
"However, it is a bit annoying that Realtors would actually complain about something like this," Rasmussen said. "At the end of the day was anyone really being harmed?"
Rasmussen said his "hunch is that the Realtors who complained about this probably did so out of jealousy instead of the need to protect and uphold the Realtor trademark."
Rasmussen's battle with the Sarasota Association of Realtors predated NAR's change to its Code of Ethics.
After losing the TheSarasotaMLS.com domain to the association in an arbitration proceeding, Rasmussen filed a complaint in the U.S. District Court for the Eastern District of Virginia. The court dismissed the complaint, saying it had no jurisdiction, and initially awarded the Sarasota Association of Realtors $30,000 in legal costs.
The court later reversed itself on the matter of fees, saying the association could attempt to recoup its costs from the attorney who represented Rasmussen.
Rasmussen's old site, TheSarasotaMLS.com, now redirects to SarasotaRealtors.com, the Realtor association's official site.
In 2007, the Regional Multiple Listing Service of Minnesota settled an antitrust lawsuit filed by a former member and two companies over a new rule restricting the use of "MLS" in domain names. The settlement grandfathered in a handful of mompanies using MLS in their names before the rule's adoption in March, 2006, and allowed members to redirect traffic from noncompliant URLs to another address through Dec. 31, 2008.
The amendment to NAR's Code of Ethics and Standards of Practice does not allow for grandfathering, although its intent was to avoid misleading the public, rather than an outright prohibition on the use of the term MLS, the association's general counsel, Laurie Janik, said at the time.
In Maryland, former Keller Williams chief technology officer Dave Therrien has been able to continue using MLS.biz, having reached an out of court settlement with a South Carolina-based company that had challenged his use of the domain in an ICANN arbitration process, he said.
After losing a 2002 arbitration ruling, Therrien said he filed suit against the company in federal court to retain control of MLS.biz, acquiring four more disputed domains along the way.
"At the time, there was no U.S. case law that applied but there was Canadian case law on point," Therrien said.
Although Therrien, who is an NAR member, acknowledges that MLS "is a publicly understood abbreviation for 'multiple listing system,' " he said that he intends for MLS.biz to stand for "Maryland's Listing Specialists," denoting his sales team, the Dave Therrien Group at Keller Williams Flagship of Maryland.