Scott DeNeve is used to being the youngest businessman in the neighborhood.
At 7, he tucked tomatoes from the family garden into paper bags and went door-to-door, selling them to neighbors.
At 9, he was mowing lawns — with a vengeance — eventually earning enough from 16 regular customers to pay for his own riding mower, plus two go-karts and bicycles.
At 24, he started his own real estate brokerage. That was five years ago. This month, Platinum Realty ranked 129th on Inc. magazine's list of the country's fastest-growing companies.
His success, he said, is a natural extension of what he learned at a young age.
"I was used to working for what I wanted," he said. "It gave me confidence. I could make anything happen with my own hands if I wanted to work for it."
The magazine's list ranks Platinum, based in Overland, Kan., at No. 1 in its real estate category, with a three-year leap in growth of more than 2,000 percent, from $116,202 in revenue in 2006 to $2.5 million in 2009.
The company currently has three offices and more than 250 agents, he said.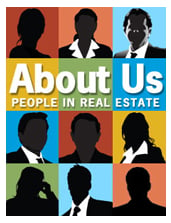 A college dropout who said he had long been attracted to real estate, DeNeve managed family-owned rental properties, then got his license in 2003, working for Reece & Nichols Realtors, now owned by HomeServices of America.
"I wasn't a profound agent — wasn't an out-of-this-world successful agent," he said, "but I worked hard."
Two years into the business, at 24, he got his broker's license, inspired by a concern that has run through many an agent's head.
"I started Platinum for a selfish reason," he said. "I was giving half my commission to my broker. That next year (after founding the brokerage), I was making twice as much money and I didn't have to work any harder."
But it was certainly an interesting year, having recruited 20 agents who were based in a single office that measured all of 120 square feet. The tiny space met two of his key business criteria, DeNeve said: frugality and creating a certain kind of appearance.
His immediate goal, he said, was to avoid debt: He was financing the startup out of his own pocket. (The company remains debt-free, he said.)
"The whole thing was not a get-rich-quick idea — it was the opposite," he said. "We made sure we were paying as we were going. A lot of real estate companies go get the big space and the huge resources and say, 'How are we going to pay for it?'
"They say, 'Let's rack the commissions up from the agents and that will pay for it.'
"I said, 'Let's get the agents first and pay for it as we go.' "
Nonetheless, he said, he had strong ideas about what kind of impression a real estate office should make on clients.
"I don't believe in strip-mall, tacky offices," he said. "If you're going to pay that street-frontage rent, you should invest in nicer offices."
So he set up his first shop in an executive suite in an office building.
"It was very, very small," he recalled, laughing. I had two computer desks in there, and a file cabinet. I brought my own laptop from home, and had another laptop that I got from an eviction when I was a property manager."
There was some overflow space — agents had access to conference rooms where they met with clients, though they had to share the rooms with other tenants in the building.
Tight as it was, it worked, he said, because agents tended to be doing business from home or out in the field — and the overall space created the image he was looking for.
"We put up a solid appearance," DeNeve said. "From the outside looking in, we were established."
Making a proper appearance is critical in his business, he said.
"My goal is to bring class back to real estate," he said. "Class, to me, is how you dress, how you talk, how you present your company, having pride in what you're doing.
"With so many real estate companies, when people walk in they're not professional-looking," DeNeve said.
Recruiting those initial agents at the age of 24, though, wasn't easy, he said.
"That was my biggest struggle," he said. "Nobody took me seriously because of my age."
He didn't start out seeking a specific agent profile because he couldn't afford to be terribly choosy.
"I was more thankful for the people who did give me a chance at first," he said. "I gave them my spiel and people were attracted to it. They were sold on my ideas and my enthusiasm."
Of course, a relatively generous commission split helped, he said.
"We didn't have the overhead and were able to give back to the agents," he said. "At first, we attracted independent-minded people who didn't need hand-holding."
As the company grew, though, he also recruited agents who wanted the mentoring and coaching that Platinum Realty began to provide.
His company's immediate goal, DeNeve said, is to increase its position in the Kansas City market, and then develop a regional presence.
Eventually he may franchise his brand, he said. But, he insisted, it will never be vice-versa.
"I believe in following my own dreams and goals," he said. "I don't believe in following somebody else's goals by being a franchise. I'd rather make the waves than ride the waves."
Mary Umberger is a freelance writer in Chicago.