Authorities in Ohio have charged two men with the Sept. 20 murder of a 67-year-old Realtor who was showing a vacant home in Youngstown, and issued a warrant for a man wanted for questioning in the murder of another Realtor showing a home 40 miles away on the same day.
Police say the murders are unrelated, although one of the men charged in the Youngstown murder has also been charged along with his brother in the Sept. 15 robbery of another real estate agent showing an apartment.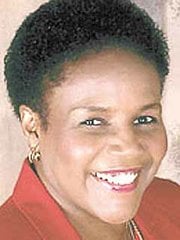 Vivian D. Martin
Robert Brooks, 25, of Youngstown, and Grant Cooper, 21, of Hubbard, are charged with the murder of Realtor Vivian D. Martin, 67, who was scheduled to show a vacant home in Youngstown at 1:30 p.m. Monday, Sept. 20.
When firefighters arrived at the burning house an hour later, they found Martin's body burned beyond recognition. An autopsy later revealed she had been strangled.
Brooks and Cooper have been charged aggravated murder, aggravated robbery, aggravated arson and kidnapping, the Associated Press reported.
Brooks and his brother, Paul, have been charged separately in a Sept. 15 robbery of a 53-year old real estate agent in Boardman Township who was reportedly held at gunpoint for an hour. Both have entered not guilty pleas.
In the days after the robbery, real estate agents reported to police a series of suspicious individuals who claimed to be house hunting. One agent who was closing an open house just as the suspects arrived jotted down their license plate number. The license plate led police to Robert Brooks, helping them obtain a search warrant that led to the suspects' arrests.
The real estate agent who provided the license plate to police told WKBN news that she'd turned down the suspects' request to go inside the open house, saying something about the situation didn't feel right.
Martin, the broker-owner of Essence Realty, specialized in real-estate owned (REO) properties. She was active in community organizations including the Youngstown Warren Realtist Association, A. Philip Randolph Institute, and Buy Into Youngstown.
A member of the Youngstown Columbiana Association of Realtors, Martin leaves behind a daughter, Donna James, who is a marketing specialist for Essence Realty. Services were scheduled for today.

Andrew "Andy" VonStein
In another, unrelated case, police have issued a warrant for Robert Grigelaitis, 59, who is wanted for questioning in the murder of Realtor Andrew "Andy" VonStein, 51.
The Portage County Sheriff's office told the Florida Sun Sentinel that Grigelaitis is the husband of a former client of VonStein's who had purchased a home in 2002 that ended up in foreclosure.
VonStein's body was found with a single gunshot wound to the chest in the basement of a vacant home he was showing on the afternoon of Sept. 20 in Franklin Township.
VonStein, who worked for Cutler Realty and is a former president of the Ravenna Area Chamber of Commerce, had a wife and two grown daughters.