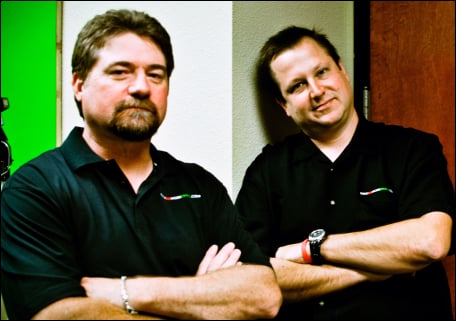 Frank Garay, left, and Brian Stevens. Photo courtesy of ThinkBigWorkSmall.com.
As a news team, Frank Garay and Brian Stevens are unlikely to snag any journalism awards for their daily reports on the housing industry.
A comedy award, maybe.
Garay and Stevens are the proprietors of TBWS Daily, a video blog that's a weird mix of news items and commentary on such things as Fannie Mae policies and existing-home sales data, plus sales tips, silly graphics and the occasional pratfall.
The Fairfield, Calif., pair has cultivated an online following within the mortgage and real estate industries, not to mention a couple of outpourings of indignation from officials in Washington, D.C., over their comments.
"Our flavor is not for everybody," Stevens said. "Some people find we're just two obnoxious loudmouths."
That's OK with them, as long as real estate agents and mortgage brokers continue to check them out at ThinkBigWorkSmall.com, where in addition to their daily real estate reports they offer video training and online lead-generation services for the two professions.
They claim to have more than 100,000 unique visitors every month. One of their reports, questioning the resolution of the collapse of mortgage lender IndyMac, went truly viral and clocked millions of viewings, Garay said.
Until three years ago, Garay and Stevens were both workaday mortgage guys — Stevens as a loan originator and Garay as a branch manager, each with more than 20 years on the job.
In July 2007, Garay said he stumbled into video when he was at his wits' end over how to motivate the 60 loan officers he managed, many of whom were foundering in the housing downturn.
"The market started caving in," he said. "These guys were good technicians — they knew how to process a loan — but they had gotten into the business when the getting was good, and they didn't know how to sell."
He decided to create a video. Sitting in front of his monitor's camera, he twanged out a tune on a jaw harp and stomped his foot while his brother, who at that time worked with him, held up a series of signs that trumpeted such coaching gems as "Get off your ass!" and "Do something!" and "Pick up the phone!"
They uploaded the 45-second video to YouTube.com and sent the link to his loan officers. The video got 65 views.
"I got to them," Garay said. "I got them all."
Thereafter, he started doing daily videos with slightly more finesse, he said. Several months later, his brother left the business and another company bought out Garay's firm. The new owners asked Garay to continue the videos full-time ("though they paid me scraps," he said), and suggested Stevens as his new partner.
The two warily agreed — they said they didn't like each other very much initially — and a partnership was born.
But Stevens also continued to work as a loan originator, so the two would arrive at their makeshift studio at 3:30 a.m. to produce the segments, and then Stevens would adjourn to handle his mortgage clients, putting in days that often stretched until 7:30 p.m., he said.
Gradually, the news reports became a full-time endeavor for both, though Stevens said he quit loans completely only about 10 months ago.
They still get an early start, with Stevens arriving at their upgraded, more professional studio about 6:15 a.m. to scan the news and start writing the script, and Garay coming in about 40 minutes later, they said.
Garay described Stevens as "the news junkie" who writes most of the report; Garay handles graphics and editing.
The whole process takes about five hours, though they said they're still putting in long days because of research and editing for future segments and because they also produce twice-weekly in-house news and training segments for the RE/MAX Gold brokerage, based in Rancho Cordoba, Calif.
"The RE/MAX stuff doesn't have the biting, cynical stuff that we would have on the daily," Garay said.
They're also developing syndicated videos aimed at other RE/MAX affiliates that the individual brokerages can customize with their own content, they said.
In the past year, they've begun speaking at Realtor association events around the country, and in December they'll host a two-day seminar in Dallas to teach mortgage originators and real estate agents how to shoot and edit their own promotional videos.
It's been a cosmic leap for two guys with no prior experience in entertainment or theater ("unless you count one attempt at a little pornography when I was in the Navy," Garay joked).
The daily reports are four to five minutes of industry-related briefs delivered at breakneck speed, with frequent cutaways to photos and graphics, all in a visual style that would seem to owe a debt to the JibJab.com satirical political videos and Comedy Central's "The Daily Show," with a whiff of Marx Brothers thrown in.
Everything is interlaced with their commentary, and the topics lean toward regulatory changes the two find onerous to the housing and mortgage industries.
Their most popular video, they said, attracted 4 million viewings — and a rebuke from the U.S. Federal Deposit Insurance Corp.
Their contention earlier this year that the terms of the sale of IndyMac's assets to investors ultimately could hurt taxpayers bounced around the Internet so rapidly that the federal agency issued what the New York Times described as an "unusual" response, with the FDIC pronouncing the report "blatantly false."
Garay and Stevens said the sentiments they expressed weren't original to them — that similar grousing had been floating around the blogosphere for months when they focused on it in a segment in February. And some mainstream media later dug into the story, they said.
When the duo attended congressional hearings in Washington this past spring, they posted video they said showed Rep. Bill Posey, R-Fla., snoozing while Federal Reserve Chairman Ben Bernanke testified.
Posey told the Vero Beach Press Journal, a newspaper in Florida, that he wasn't sleeping — he was looking at his BlackBerry, he said — and called the video blog entry "an outright lie."
The two bloggers, of course, said they thrive on this, and that their traffic is testament to it.
And despite their joined-at-the-hip relationship to the mortgage business, when asked whether they miss doing loans they said their current gig is more fun.
"Hell, no," Stevens said. "I'm doing something now that I absolutely love."
Garay put it in a more TBWS style:
"I think I would rather be electrocuted than do a loan right now," he said.