Through the dot-com boom and bust and one of the most tumultuous real estate roller-coaster rides in the history of housing cycles, the Real Estate Connect conference has persevered as the place where industry professionals and techies converge to network, share ideas, and dream.
Over the years, the speaker list has been populated by brilliant newcomers whose companies, creations and brands would go mainstream.
In 2011, Real Estate Connect celebrates its 15th year.
Among its long list of attendees and presenters are out-of-the-box thinkers, builders, tinkerers, visionaries, progressives and revolutionaries who have gathered to talk, collaborate, move the industry forward, and find new ways to captivate and educate consumers about the industry and its practices and processes.
Founders and execs from Craigslist, Google, Microsoft, Realtor.com, Trulia, Yahoo and Zillow are among the tech leaders who have graced the stage at Connect events — in some cases before consumers were familiar with those names.
Netscape Communications Corp. co-founder Marc Andreesen; RE/MAX co-founder Dave Liniger; Zillow and Expedia founder Rich Barton; Barry Diller of Internet company IAC (InteraActiveCorp); Alex Perriello, president and CEO of the Realogy Franchise Group; interviewer and broadcast journalist Charlie Rose; J. Lennox Scott, CEO for John L. Scott Real Estate; and Wall Street Journal tech writer Kara Swisher are among the real estate and tech powerhouses who have taken the stage at past Connect events.
Connect audiences have seen technologies dazzle and fizzle, flash and crash, engage and enrage.
Technology and real estate have not been easy bedfellows over the years — some power mongers in the real estate industry had historically viewed tech wizards as outsiders, false prophets, interlopers and intermediaries who were treading on the industry's turf and cutting into its revenue while attempting to distance real estate professionals from consumers.
For this reason and others, some technologists have found the intricacies and peculiarities of the real estate business a tough nut to crack.
Real Estate Connect brought together the two parties in an effort dispel some of the fears and myths about technology and to show that technology can be a useful ally — and not an enemy. The speed of innovation has accelerated, and the real estate industry as a whole is today far more welcoming of technology than it was in Connect's early years.
"It was clear to me that the old industry was in fear and was doing everything it could to squelch innovation," said Bradley Inman, Real Estate Connect creator, Inman News publisher and a longtime innovator who has launched such companies as HomeGain, TurnHere and Vook.
"I started Connect to give the new breed a platform to connect with enlightened members of the legacy industry. We created a safe place for the young entrepreneur to shout from the roof top to introduce their products," Inman said. "Today the industry is incredibly conciliatory and, for the most part, innovators have embraced the industry as necessary to their success."
Connect was positioned as an alternative to traditional conferences for the real estate industry, Inman said, "which really weren't addressing technology." And in his work as a consumer writer, Inman said he had a vision for real estate to be more consumer-centric.
Real Estate Connect became the place to "give innovators an audience, which they didn't have" before, he said. "They weren't invited to speak at traditional conferences."
Inman said he recalls some negative reactions by attendees to some of the startups that took the stage, among them LendingTree and ZipRealty. "I don't think we ever shunned controversy," he said.
After Google co-founder Larry Page took the stage at a Connect event, Inman was approached later by an industry broker. "He said, 'Who in the heck is this guy?' That tells you where (the industry was) at the time," Inman said.
"There is no question that the conference has sped up innovation. I'm still a believer in new business models." Many startups fail, but Inman noted that Connect has always been about "surfacing new ideas" and giving a voice to entrepreneurs.
He added, "Tech is your best partner if you learn how to use it."
Craig Newmark, founder of the now-global Craigslist.org network of classified and community sites, who has been a frequent speaker at Real Estate Connect, said he was drawn from the event's early days to its technology discussions.
"I remember being very impressed that Brad included a number of speakers, including myself, who spoke about big issues outside of real estate. In particular, that included, and still includes, the effect of technology on our lives," Newmark said.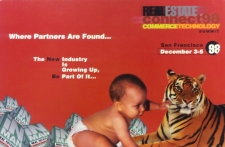 Real Estate Connect 1998 advertisement
And John M. Peckham III, an innovator, real estate author, speaker and co-founder of the Real Estate CyberSpace Society who has been a longtime Real Estate Connect attendee and spoke at the first event in 1997, said Connect represents "the largest gathering of creative real estate people that I'm aware of."
He said, "I would bet that there's a much higher percentage of people who were attending the Inman (Connect) conference that made it through the downturn … than the general real estate population."
When he attends the event, "I take a lot of notes — I come back with 20 pages of notes," said Peckham.
He noted just how far technology has taken the real estate industry. In 1963 he founded Data Realty Corp., which used IBM keypunch technology to match investors with for-sale properties.
"How amazing technology is today: two weeks ago I was negotiating the sale of the Ritz Hotel in Istanbul to the owners of the Taj chain in Mumbai, India — and I was doing it all from my desktop here in Boston. It's an astounding world," he said.
Prior to launching the Real Estate Connect conference, Inman organized a gathering "out in the middle of the woods" in Sonoma, Calif., attended by about 50 people.
People huddled in hand-warmers and blankets as Stanford University's Ward Hanson gave a speech about "disintermediation" — a buzzword that the real estate industry would later latch onto, Inman said.
As a journalist at the time, writing for a consumer audience, Inman said he hoped that the industry would become "more consumer-centric."
He envisioned a more progressive industry in which property listings information and property photos would be widely accessible to the public.
Inman recalled the state of innovation in those days: a 360-degree virtual tour camera was about "as big as a Volkswagen car," he said.
Also prior to the launch of Connect, Inman organized a one-day conference in San Francisco that brought together hundreds of real estate professionals and technologists. About 800 agents attended, he said.
"It was pretty daring then," he said. "My idea (was) that agents need to understand technology."
Ira Luntz, vice president of data products for LPS Real Estate Group who, along with Peckham, was a speaker at the 1997 Real Estate Connect conference, said he knew Inman when Inman was working as a writer for the San Jose Mercury News.
He said Inman "was a spectacular speaker" when he heard him at another event prior to Connect's launch, "and he connected the dots" that a real estate and technology event was something the industry needed.
The event in San Francisco preceding Connect "was quite a phenomenon," Luntz said. He remembers a party associated with that event, held in a rented warehouse, with "lights and drinks, things glowing in the corners. It was in the early Internet days."
Luntz said that Real Estate Connect's success owes to "this whole sense of community (that) has always surrounded these events" and the concept that "we're all in this together — this is not a huge industry; there's no reason for a data supplier not to talk to another data supplier.
"Inman Connect shows have always pushed that notion of community forward: 'Let's do cool stuff, let's have fun,' " he said.
The events, he said, are "the best place to meet new people, come back energized to define the next generation of technology and products. Brokers are more likely to show up at Inman because of the freshness."
And more than the "things" at the conferences, "it's the people, it's the connections that you make" that are valuable, he also said.
Inman said Connect's focus is still on helping real estate professionals be more successful with technology, and he noted that the industry is still grappling with some legacy issues.
"There's still the fear (of new technology) that's built into the industry. People are trying to hold onto (listings) content. They're still stuck with this same cost structure. Their actions sometimes got in the way of innovation."
But Real Estate Connect has never been about the disintermediation of real estate professionals by technology, Inman said.
"I think the agents using technology have never been stronger."
Share your Real Estate Connect memories here: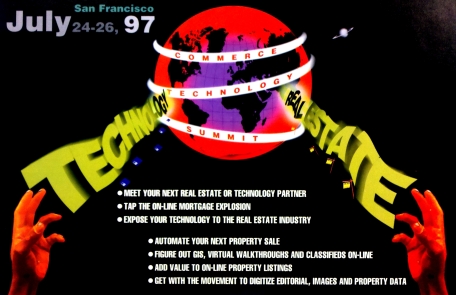 Real Estate Connect 1997 advertisement