The boss belittled him on national television, calling his work "a total mess." And then he fired him.
Wade Hanson frowned and lumbered out of the boardroom and into a taxi, yet another in a long line of "Apprentice" wannabes who had taken a figurative kick in the behind from Donald Trump.
Was he dejected? Regretful?
Nah.
"I'm the most well-known real estate agent in Minnesota now," he said in an epilogue to the end of the Oct. 16 episode, in which his team went down to an inglorious defeat.
He very well may be that. "I get stopped at the Starbucks now," said Hanson, 33, an agent with Re/Max Results in Woodbury, in the Twin Cities area. "(The show) increased my name recognition and my brand tenfold."
And his participation in "The Apprentice" television program has led directly to new business in the form of property listings, he said.
"One of the things I get (from clients) is, 'If you're good enough for Donald Trump, you're good enough for me.' "
He was, apparently, not quite good enough to emerge at the top of the "Apprentice" heap; the current season of the reality series is still mowing down competitors each week, with about half a dozen remaining from the original 16 who began alternately collaborating with and backstabbing each other in September.
Though in recent years "The Apprentice" has featured celebrities, this 10th season of the show is a return to its original format of "ordinary people" taking on concocted business tasks and vying to please Trump with their performance; those who fail are "fired" and ride off into the night in a cab, second-guessing where they went wrong.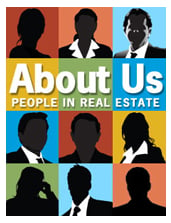 This year, the show picked its cast from thousands of applicants who claimed to have been adversely affected by the recession, and the 16 include an unemployed publicist, entrepreneur, banker, attorney and others who are complaining of rough economic times.
And then there was Hanson, who wasn't out of a job, though real estate was very slow when he applied for the show earlier this year. He said he had been told more than 100,000 originally sought a spot in the series, which screened applicants rigorously.
"Getting there was harder than being there," he said. "We submitted an application and resume and references and went through all kinds of background checks and interviews."
The process culminated in an interview with Trump and producer Mark Burnett.
"It was grueling," he said. "(Trump) takes pride in hand-selecting the people."
The gist of what Hanson told "The Donald," he said, was that he has a positive attitude.
"When I sat in front of Trump, I told him I have no excuses in life," Hanson said. "I told him I was doing well when everything was good, and now it isn't. But I still suit up and try to make a buck. I think he liked that."
With the economy as the show's theme this season, being in real estate probably helped him get selected, he said.
"Obviously, the real estate economy has been affected most, other than maybe the auto industry," he said. "I'm working twice as hard and getting half the results. My real estate investments and my portfolio have been cut in half and my day-to-day sales have been cut in thirds or less."
Once selected, the 16 competitors spent the month of June in New York, divided into teams of men vs. women through most of the taping schedule. The teams were charged with such chores as making a promotional video for a popcorn company or managing a doggie daycare business.
Hanson's stint on "The Apprentice" hit the fan when he volunteered to be project manager for the assignment of staging a fashion show to promote Rockport shoes in front of Trump and assorted other business types.
How badly did it go?
"It was like watching a horse die," one of his teammates said later.
Hanson seemed to pick the right teammates to shop for clothing for the models, but things went completely off the tracks in his choice of emcee. The master of ceremonies never quite cobbled a script together for the fashion show and stumbled through what little narration he was able to devise.
"It couldn't have been worse," Trump pronounced later in the post-mortem for the men's team. He fired them both.
Hanson said he knows who ultimately won the top spot in the series, but is contractually prohibited from revealing it until the end of the season.
The show definitely has affected his business approach, he said. He's focusing on higher-end properties now, and he has a new attitude, he said.
"I'm more selective in the market now," he said. "If (the show) taught me anything, it's that when you think of Trump, you think of luxury, white-glove service. I'm focusing on quality over quantity."
"The Apprentice" isn't his first brush with business notoriety. In 2004, he was recognized by Realtor magazine in its annual "30 under 30" list of young professionals to watch.
He shared space on the magazine cover with Katrina Campins, a Florida agent who had participated in the first season of "The Apprentice."
Hanson began in real estate at 21 at his family's brokerage in upstate Walker, Minn. Eventually he took over the brokerage and then sold it in 2006, he said.
"The stars aligned," he said. "The money was on the table and I saw the market had started to tip."
Although he still sells properties occasionally in that lake resort area, Hanson relocated with his family to the Twin Cities in search of good schools, he said. He became an investor in Lakeplace.com, a website that specializes in vacation properties in Minnesota and Wisconsin, later selling his share of the business to his partners, he said.
He then worked for Weichert Realtors for several years as a business-development director, in addition to doing real estate coaching, he said. He joined Re/Max in January.
While Hanson said he has no regrets about his television experience, he'd rather not be in charge of any more fashion shows. The experience was transformative, he said.
"It definitely affected my way of thinking about real estate," Hanson said. "I think a lot of us have gotten into a rut, with the same old habits. 'The Apprentice' challenged you to think outside the box and do things you weren't used to doing.
"In the long run, it was a success for me," he said. "I've come back bigger and stronger."