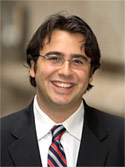 Adam Hirsch
While keeping the technology systems humming for a boutique Manhattan real estate firm during the heyday of the latest real estate boom, Adam Hirsch found the time to check up on some online real estate and tech sites.
As director of business affairs for Peter Ashe Real Estate, Hirsch said he was "an all-in-one office/IT department/secretary/administrative assistant/Web design kind of guy," a sharp career turn from his earlier aspirations to be a cook.
"I started reading a lot of blogs," Hirsch recalled. "I started reading Curbed.com." The firm became a pioneer advertiser on the Curbed.com real estate blog.
Hirsch, a Cornell University graduate, later changed firms, working as director of operations for NYC Living Realty, and continued to follow several real estate and tech blogs. "I started reading social networking pieces. That led me to Mashable."
And while reading the Mashable tech blog, a page with a call for guest writers caught his eye. "I sent a bunch of ideas" for blog posts to write for Mashable, Hirsch said.
But Pete Cashmore, the site's founder and CEO who had launched Mashable from a small town in Northern Scotland in 2005, didn't respond.
And Hirsch didn't give up. "Two weeks later I submitted some more ideas. Then more. It led to this whole long e-mail chain one night."
At that point, Hirsch had already decided that he was going to leave real estate. "I knew there was going to be a bubble burst," he said.
At the time there were only three people on the Mashable staff, and Cashmore invited Hirsch to serve as the site's community manager.
Hirsch, who will deliver a keynote presentation during the Inman News Real Estate Connect conference next week in New York City, worked on building partnerships with big firms and growing the company beyond a simple blog.
"One of the things people started noticing: (Cashmore) was not in the (Silicon) Valley. All of the other technology blogs were started in Silicon Valley," Hirsch said. Cashmore was covering stories and topics missed by many other media outlets, and found a major niche covering the social networking side of technology.
As the company grew, so did the mystique of the founder — even to the company's own employees. Hirsch said it was several months after he was hired before he actually met Cashmore in person.
"No one had ever really met Pete. We were all afraid — we only saw his picture. We were afraid he was going to be this weird guy. It turns out he's this awesome person," Hirsch said. And while some expected him to be 30-something, he's just 24, having launched Mashable at age 19.
Mashable has helped to carve a path in the brave new world of new media — and now collects a reported 30 million page views or so each month.
While the staff has now grown to about two dozen employees, and some employees do have formal journalism training, the growth of the company was fueled by a break from convention, Hirsch said.
"We made our own rules. We sort of looked at the market and saw what worked, what didn't work. We were able to change whatever we wanted to do on a dime," he said. "We were able to try things and fail."
And because the company is self-funded, Mashable has retained control over its business decisions. That can keep the company from being too risky in its spending and business strategies, "But at the same time, risk is definitely an important part of the Web," he said.
Hirsch worked on ways to monetize the site, such as luring Twitter brand sponsors to pay for visibility of their Twitter feed on a Mashable sidebar.
The company developed a series of events, including simple meetups and larger summits.
"I like to say that Mashable is a news source and a resource," he said, providing information and more in-depth education. One of the first informal gatherings, held at a bar in New York City, drew hundreds of people.
In his current role as chief operations officer, he is responsible for Mashable's overall business strategy, which includes advertising, events, marketing and partnerships. He launched the site's annual Open Web Awards and the Summer of Social Good initiative, which leveraged the power of social media to raise money for a handful of charitable organizations, and organized "Summer Mash Tours" road shows and educational series.
As a side project outside of Mashable, Hirsch co-founded My Social Dog, a social network that connects dog owners — his tech background and pet Lhasa Apso, Sunny, served as inspiration.
He has some simple advice from lessons learned at Mashable: "Put your content where the people are," whether that's on iPads or Android devices, newsletters, RSS feeds or syndication to other major sites. "It helps you establish credibility and helps brand your content in general." Mashable has created mobile apps for iPhone, iPad and Android users, for example.
As its audience has grown, Mashable's content has broadened beyond an initial focus on social media to cover the digital media landscape as a whole.
Among the range of recent posts on the site: a homeless man's voice talent is discovered via viral video; a Polaroid and pop singer Lady Gaga team up for the launch of a new product line; there is a feature on safe payments via smart phone; and an analysis of the Mac App Store. News categories include: Social Media, Web Video, Startups, Apple, Mobile, Entertainment, and Development and Design, among others.
There is a French-language edition of the site, and the U.S. writers stretch from New York to San Francisco.
What lessons can real estate professionals take from new media success stories?
"Don't be spammy," Hirsch said. "Be transparent. Be an expert."
Also, he said, it's important to create a narrative and convey a story to your audience. As for technology trends, "Mobile is definitely going to be huge and I think storytelling on the Web is going to be one of the bigger new things. He says online vehicles such as Tumblr, Foursquare, Gowalla and Posterous are "all about telling stories in short snippets."
He encourages aspiring marketers to check out how the major brands are using social media to spread brand messages and to create brand identity.
Some Twitter users bypass basic marketing essentials that tell readers who you are and what you do, he said.
"Think about it from the perspective of your clients."
See Adam Hirsch deliver a keynote presentation on "10 new apps you can put to work now" during the Real Estate Connect conference in New York City, which runs from Jan. 12-14.