Nearly half of economists, real estate experts and investment strategists polled by MacroMarkets LLC this month said they now expect national home prices to "double dip" this year and hit a new post-crash low.
MacroMarkets polls more than 100 housing experts with a wide range of views, including FusionIQ CEO Barry Riholtz, Moody's Analytics economists Mark Zandi and Celia Chen, National Association of Realtors Chief Economist Lawrence Yun, Freddie Mac Chief Economist Frank Nothaft, and Rosen Consulting Group's Kenneth Rosen.
Panelists are asked to project the path of the Standard & Poor's/Case-Shiller U.S. National Home Price Index over the coming five years. In December, only 15 percent of the panel said they expected home prices to double dip.
Now, with national home prices less than 1 percent away from establishing a new post-crash low, on average the panelists expect that national home home prices will fall by 1.38 percent in 2011, before appreciating by 1.26 percent in 2012, 2.72 percent in 2013, 3.19 percent in 2014, and 3.42 percent in 2015.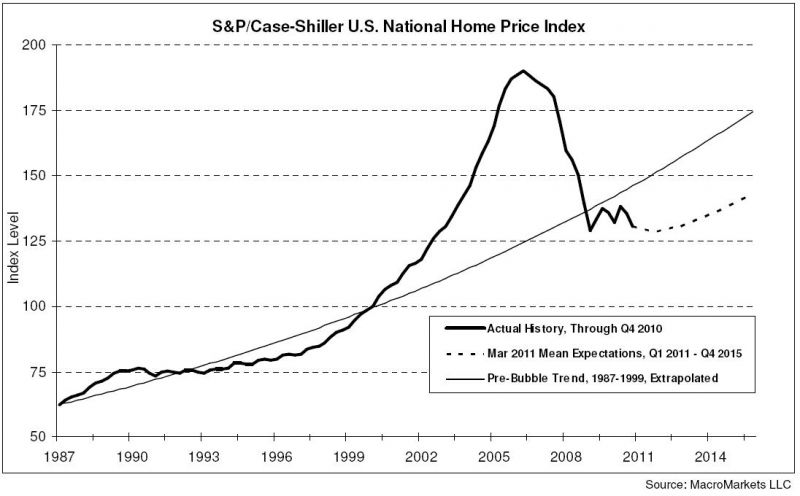 Right-click to enlarge image.
Persistently weak market fundamentals are the likely driver of this "uninspiring view" for a weak recovery that doesn't take hold until 2013, said MacroMarkets Chief Economist Robert Shiller in a statement.
High unemployment, supply overhang, an unabated foreclosure crisis and constrained mortgage credit continue to be a drag on prices, Shiller said.
Eleven of 20 markets tracked in the S&P/Case-Shiller 20-city composite hit new lows for the downturn during the fourth quarter.
There's a considerable range of opinion on the MacroMarket panel about where home prices are headed. Three panelists expect cumulative growth in national home prices of 20 percent or more through 2015, compared with the 9.64 percent average for the panel as a whole.
Optimists include Bill Cheney, chief economist for John Hancock Financial, who expects national home prices to surge 3 percent this year and 5 percent in 2012 and 2013; Joel Naroff of Naroff Economic Advisors Inc., who expects national home prices to rise by a cumulative 24.19 percent during the next five years; and Jim O'Sullivan, chief economist for MF Global.
At the other end of the spectrum, Gary Shilling, president of A. Gary Shilling & Co., thinks national home prices will fall 19.68 percent through 2015, with an 11 percent drop this year and 5 percent declines in 2012 and 2013.
Mark Hanson of Hanson Advisors predicts national home prices won't hit bottom until 2015, falling 8.8 percent this year, 6.2 percent next year, and 3.7 percent in 2013. Hanson is projecting prices will fall a cumulative 18.44 percent through 2015.
NAR's Yun is slightly more optimistic than the average for the panel, predicting that national home prices will rise a cumulative 12 percent through 2015. Yun is predicting that national home prices will be flat this year, rising 2.5 percent in 2012 and 3 percent in each of the following three years.
From his perspective at Freddie Mac, Nothaft is slightly less optimistic than the panel as a whole, predicting 8.12 percent cumulative growth in national home prices from 2011 through 2015. Nothaft projects national home prices will fall 2 percent this year and stay flat next year before rising 1 percent in 2013 and 3 percent in 2014 and 2015.