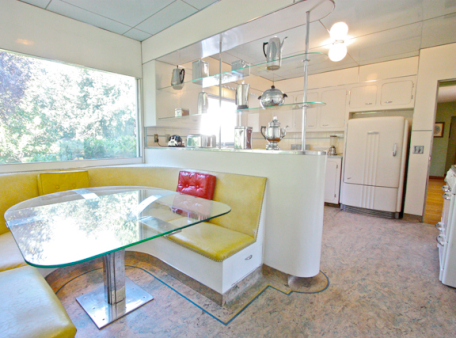 Photo courtesy of Kathryn Madison.
Real estate agent Kathryn Madison had a house for sale that she said was "so perfect" she feared it would scare buyers away This is not a typical circumstance in real estate, but then again, this isn't a typical house.
From the outside, it's your basic ranch home. But inside, it's a pristine example of the style known as Midcentury Modern — a snapshot of the good life America offered in the late 1940s and early 1950s. From its jet-age kitchen table to its ultra-sleek living room mantel, it's stuffed with original features, all of them in exceptionally good condition.
It's the kind of place that would make aficionados of the genre swoon with delight. It also could send people who were looking for a mere house — rather than a time capsule — scrambling for the exit.
"I needed to appeal to that 'vintage' buyer, but if I overwhelmed people with too much detail (in marketing the property), I'd scare 90 percent of the buyers away," said Madison, an agent with Windermere Cronin & Caplan Realty Group in Portland, Ore.
In the end, it all worked out — so well, in fact, that she ended up selling the house twice in a period of two months. But we'll get to that.
The house was built in 1948 in Portland's Raleigh Park neighborhood, which has many homes dating to that era and slightly later, though most have been extensively remodeled and have comparatively few original features.
This place, on Brentwood Street, is much the way it was on the day its first owners moved in. The kitchen, in particular, reflects a category of Midcentury styling known as Streamline Moderne, which has the sleek lines of a vintage Airstream trailer. This kitchen has its original, rounded-door cabinets and a restaurant-style booth (with original upholstery) that would have been right at home in a 1940s diner.
The woman who had listed it for sale — only the second owner of the house — was infatuated with the style, the agent said.
"She's so into that era that she still used the vintage, top-loading dishwasher, which sounded like a train coming through the house when it was working," Madison said. "Yet, it worked beautifully.
"She also used the vintage refrigerator — (its) icebox would hold nothing more than two trays of ice cubes," the agent said. "She worked her lifestyle around the home."
The reason she was selling, Madison said, was because she had found another Midcentury home that had even more intact period features.
Madison began marketing the house by hosting a broker's open house — it drew an unusually high turnout of 60-70 agents, most of whom seemed to take a lot of enjoyment in seeing it, she said.
But would their clients want to buy it?
"I had public open houses, and always got a warm reaction," Madison said. "The two (minimalist) fireplaces — people just grooved on those. The original Masonite paneling in the front bedroom — people loved that."
But there was still no getting around the "museum-ness" of the place.
For example, the bedrooms were almost completely intact, right down to the original windows, she said.
"That's a plus for a Midcentury buyer, but others said, 'This house will cost a fortune to heat,' " she said
Madison is an avid amateur photographer and shot pictures of the rooms herself for the listing — hundreds of them.
A fan of Midcentury styling herself — Madison lives nearby in a house that's a few years younger and is closer in feel to a classic '50s home, rather than Streamline Moderne — she knew that fans of the genre would want to see tiny details.
"I know what excites a Midcentury enthusiast because I have the same illness that they do," she said, laughing. "I get excited over retro doorbells and reed glass (a type of ribbed privacy glass that was popular in the era)."
But too much of that might be, well, just too much for mainstream buyers, so Madison put many of the detailed shots on a "special features" link on the listing that probably only the most curious buyer would dig down to see, she said.
When she began showing the house, buyer reaction became predictable.
"The feedback from the agents was always, 'My client thought it was cool, very special, but didn't have the heart to remodel it,' " Madison said. "I'll bet I heard that half a dozen times."
After a few weeks, Madison got an idea: She hired a company to do a "virtual staging" — a computer-generated version of how the house would look with stainless-steel appliances, more contemporary light fixtures, and other changes she thought would give it a hipper, Dwell magazine kind of look.
But in order to get it ready for virtual staging, Madison, her husband and the homeowners had to spend several hours carting the furniture out of several rooms so that she could photograph them as empty — in order for them to be "redecorated" virtually.
Then, of course, they had to move everything back.
Madison left printouts of the virtually staged room depictions for buyers to see as they toured, so that they might envision the place with some updating — as opposed to a major rehab.
"I went to a lecture a while back by the editor of Atomic Ranch magazine," which specializes in Modernist-designed homes built from the 1940s through 1960s, she said.
"He said there were three kinds of homebuyers," Madison recalled. "One would be like my client who listed this home — if something in it was original, she would die before she would change it, no matter how inconvenient it was.
"The second kind understands the home, and will remodel, but be very respectful of the era.
"The third kind doesn't care if it's a '50s ranch — if they want to turn it into a Colonial, they will stick some pillars in front," Madison said.
Madison was trying to find a buyer in that second category — and that's just who she found, after just a few months on the market. Or thought she did.
The house, which had been listed for $479,000, closed for $459,000 on Dec. 27. But on Dec. 31, the new owner contacted her to explain that a health problem had emerged and the family had a change of heart — they wouldn't be moving in, after all.
So, she asked, could Madison please relist the house and sell it again?
It so happened that Madison had received a backup offer from out-of-state buyers who had bid on the place, sight unseen: Like the then-current owner, they were rabid fans of Midcentury styling.
Madison called their agent, who explained that the relocating out-of-towners were house hunting in Portland. They came over, toured the house, and made an offer on Jan. 1. The place got new owners — again.
Madison said she realizes the long odds against finding not one but two buyers who were smitten with such a specific style — and relatively quickly.
But she suspects the audience for Midcentury homes is growing — after decades of being panned for their "datedness," and too late for the countless cabinets and fixtures from that era that long since been dispatched to landfills.
She thinks real estate agents are increasingly willing to market the homes' style as a positive, rather than a negative. But it's not a slam dunk, she said: The market is a narrow niche.
"You see that term, Midcentury, used more often in marketing houses, but I still don't think that people really appreciate how special some of the features are," she said.
There's a certain consumer who grew up with that style and just wants to leave it behind, he said. But a younger demographic is captivated by its novelty.
"There's a new generation," she said, "that appreciates the details that make it different from something that looks like you bought everything at the Home Depot."