The work of Frank Lloyd Wright tends to inspire almost slavish devotion from his admirers, many of whom undoubtedly dream of owning a home designed by the iconic architect.
Turns out, opportunities to buy Wright-designed homes are more plentiful than one might think, according to Janet Halstead, executive director of the Frank Lloyd Wright Building Conservancy in Chicago, a nonprofit that works to protect his designs from demolition.
One way to achieve that goal is to help sellers of Wright properties find buyers who will appreciate them and maintain and restore them, Halstead said.  Toward that end, the conservancy has developed a service to help owners and their real estate agents market the properties through a page on its Web site, SaveWright.org.
At the moment, the conservancy's "Wright on the Market" page has 17 Wright-designed properties listed (including one gasoline station).
"We know of another eight or 10 houses that are for sale, but haven't been listed with us," Halstead said, "So, there's in the neighborhood of 25 to 27 (Wright-designed properties) on the market now."
That's probably a slightly larger number than usual, Halstead said.  The conservancy has helped market, in print and online, such properties since 1989, she said.
"There are about 270 existing Wright houses still in private hands and used as private homes, so when you think about it, 10 percent of those homes being on the market isn't so unusual," she said.
About 430 Wright-designed buildings of all types (including hotels, offices and other commercial buildings) were constructed during the architect's lifetime and just after his death, Halstead said. About 380 are still in existence, she said.
The recession probably has slightly depressed prices for Wright homes, Halstead said.
"I think, to the same extent that (the economy) has affected the general market, the ones that are selling probably are selling at a little bit lower prices than they would have four or five years ago," she said.
Still, conservancy board member Leo Koonmen wrote in the organization's fall magazine that sales of Wright homes seem to be experiencing difficulties that are directly related to the state of the national economy.
"We have noticed some interesting, but related recent trends," he wrote. "(1) Issues concerning the valuation of Wright-designed houses are beginning to arise more often; (2) Wright-designed properties tend to remain on the market for longer periods of time; and (3) the appetites of prospective buyers to take on large-scale restorations are diminishing."
But Halstead said she believes that such issues are less Wright-related than they are an indication of the sluggishness of the upper-end housing market, overall.
Indeed, although one property on the site is listed for $129,000, the vast majority of the houses on the Wright on the Market page are upper-bracket, priced from $800,000 to $7.5 million.
"In the past, you would have found more affordable Wright homes, priced for less than $500,000," Halstead said. "Those are usually in Wright's 'Usonian' style, which came later in his career." (Wright died in 1959.)
"That was when he made a very concerted effort to use simple, available materials to create affordable moderate-to-lower priced homes for the times," she said.
Usonian homes were typically small, single-story dwellings with carports rather than garages, although some examples are more elaborate. Usually they were designed in an L shape to fit around a garden terrace, with flat roofs and cantilevered overhangs, natural lighting and radiant floor heating.
Wright is better remembered for his Prairie Style designs, which were characterized by low, horizontal lines that were meant to blend with the landscape. The structures tended to have broad, open interior spaces instead of multiple rooms and were built around a central chimney.
Halstead said it isn't unusual for high-end Wright houses to take two years to sell.
"That's a general reflection of the market, too," she said. "Those that are in more desirable locations and have been beautifully maintained are going to be more expensive, and more expensive homes just take longer to sell."
Halstead agrees that some buyers might find taking on a Wright home to be a daunting task, requiring a commitment to restore or maintain the home to historical standards.
"There's a certain responsibility and stewardship that comes with owning a Frank Lloyd Wright house, and there should be," she said. "Some people embrace it wholeheartedly and they understand its value and want to be part of taking care of it."
That's why the conservancy created the Wright on the Market service, which charges $300 for a renewable one-year ad on the site: to connect like-minded individuals, she said.
"The majority of Wright homeowners have a deep appreciation for the architecture and what it means, and a deep appreciation for how it makes them feel to live in it," she said."
A sampling of homes at SaveWright.org: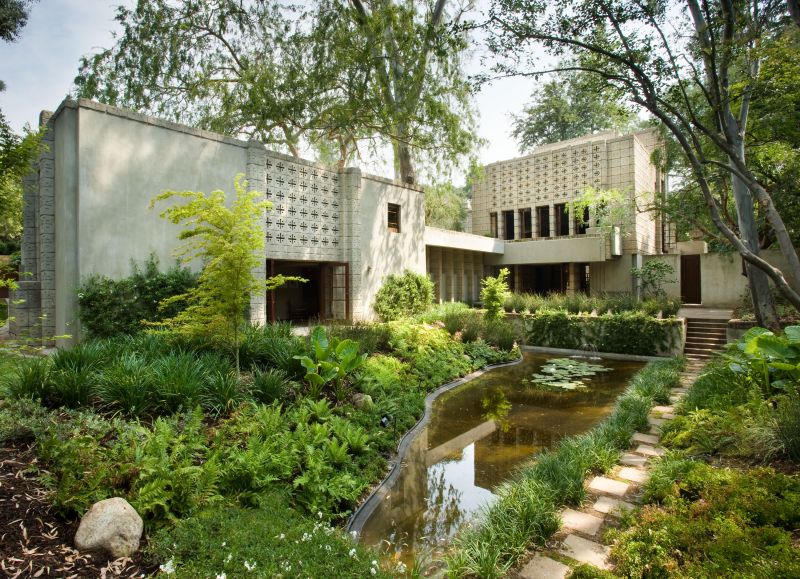 The Millard House in Pasadena, Calif. Photo credit: Scott Mayoral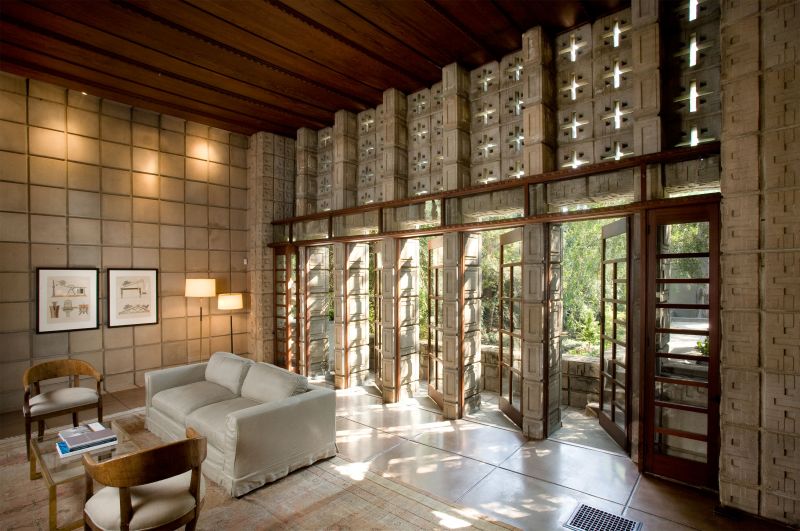 Interior of the Millard House. Photo credit: Scott Mayoral
The Millard House, built in 1923 and known as "La Miniatura," is recognized as the earliest Usonian house and is listed on the National Register of Historic Places.  The first Wright design to use his trademark textile-block building system, it has been elaborately restored and sits on about an acre of gardens within a historic district in Pasadena, Calif. It's listed for $4.995 through Crosby Doe Associates.
The Coonley House in Riverside, Ill.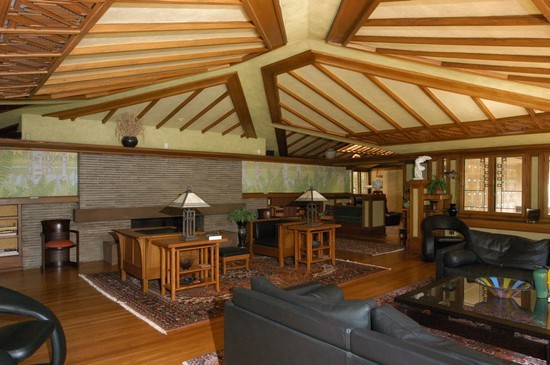 Interior of the Coonley House.
The Coonley House in Riverside, Ill., was built from 1908-1912, and Wright later described it as his "best house." The home was divided in 1950, severing the public space and servants' wing from the bedroom wing.  Thereafter, it was altered many times until 2000, when it was purchased and extensively restored by the current owners over a four-year period.  It's listed for $2.89 million by Marcee Gavula at Baird & Warner Real Estate.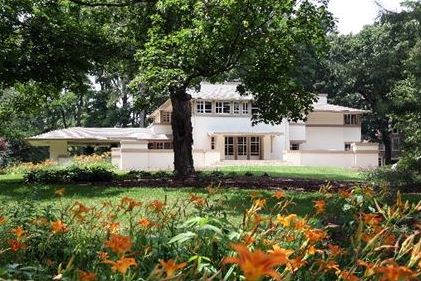 The A.W. Gridley Residence in Batavia, Ill.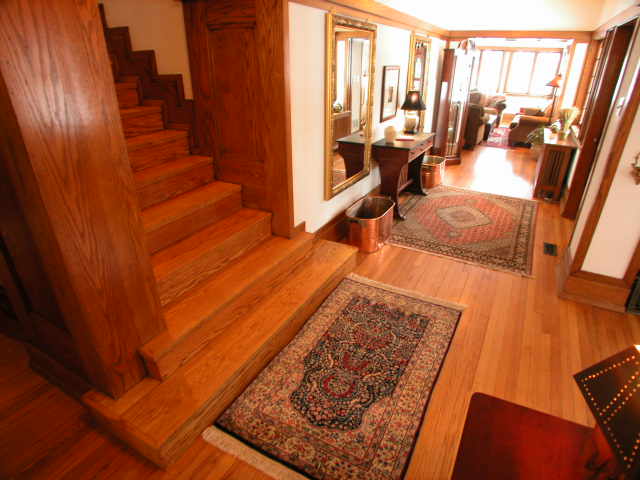 Interior of the A.W. Gridley Residence.
The A.W. Gridley Residence in Batavia, Ill., is one of Wright's larger Prairie Style Houses, with 5,100 square feet in the main living area and about 2,000 square feet in a newly finished lower level. It contains three fireplaces and original built-ins. Listed for $1.45 million by Linda Mahaney at Coldwell Banker Residential.