Online real estate search and marketing company Trulia on Thursday announced new map-search features on its website, including a large map view that fits "the entire size of your monitor" and the ability to search within user-specified map boundaries.
The company reported that custom map boundaries was cited by about 73 percent of respondents in a recent survey for the company as the "No. 1 most desired feature."
Users can click on a tool that allows them to define a polygon by clicking on a map. That customized map area can be saved for future searches, and users can choose to receive alerts when there are newly listed for-sale homes or rentals within those boundaries.
Move Inc. has launched similar custom-search functionality, dubbed Area Highlighter, for its mobile apps, and Seattle-based brokerage firm John L. Scott was among the first brokerage companies to offer a user-defined area in real estate searches — that company's tool is called Neighborhood Wizard.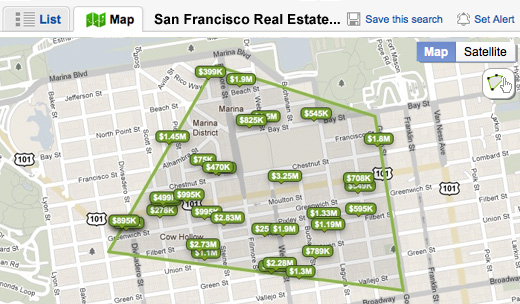 Screenshot of Trulia's custom map boundaries tool.